Four judges assigned to Brampton and the other three to Newmarket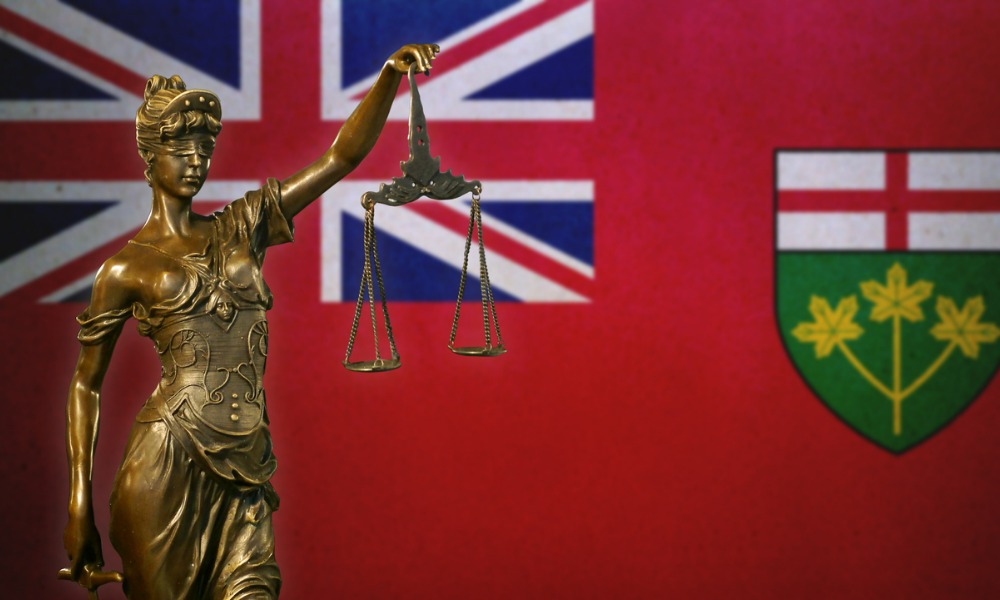 Ontario's Attorney General Doug Downey recently announced the appointments of Raymond Bernstein, Lindsay Daviau, Andrew Falls, Mabel Cheuk Ting Lai, Scott Bergman, Craig Harper, and Rohan Michael Robinson as new judges of the Ontario Court of Justice, effective December 1.
Chief Justice Lise Maisonneuve assigned Bernstein, Daviau, Falls, and Lai to Brampton, while Bergman, Harper, and Robinson will sit in Newmarket.
Bernstein was called to the bar in 1993. He has been Bernstein Newman and Associates' senior and managing partner since 2005 and has defended clients at all levels of courts in Ontario. He has lectured on various aspects of criminal law practice at conferences for the Law Society of Ontario, the Criminal Lawyers Association, and Osgoode Hall Law School.
Bernstein previously worked with young lawyers through the CLA mentorship program. For over a decade, he has participated in the Lawyers Feed the Hungry Program to serve meals to Toronto communities in need. He has appeared frequently as a guest discussing criminal law matters on the Law Garage − a podcast that seeks to make legal education accessible for everyone.
Daviau was admitted to the bar in 2006. She currently serves as an assistant Crown attorney in Hamilton. Before this role, she held a counsel position at Rosen & Company Barristers. Daviau has dealt with numerous trials and regulatory matters and appeared twice before the Supreme Court of Canada.
She was a preferred counsel at the Lawyers' Professional Indemnity Company and has represented clients facing ethical and legal allegations. As a duty counsel with the Pro Bono Inmate Appeal Program, she assisted unrepresented clients before the Ontario Court of Appeal. Moreover, she has volunteered as a mentor with the Advocates' Society since 2017.
Falls was called to the bar in 2002. As the Crown attorney for Brant County, he has prosecuted all criminal offences for Brantford and Six Nations of the Grand River and acted as the Crown lead for Brantford's Indigenous Peoples Court. He previously worked as an acting deputy Crown attorney in the Peel office.
In 2016, he co-launched a drug treatment court that addressed the root causes of crime and provided community support to break the addiction cycle. He also led the mental health team at the Alternative Resolutions Court in Peel, supporting people with complex needs entering the justice system.
He is a former director at Central West Specialized Development Services, a non-profit organization that provides services to people with developmental disabilities. Falls also served on the boards of Community Development Halton and Victim Services of Peel.
Lai was admitted to the bar in 2010. She serves as a Crown counsel at the Ministry of the Attorney General's Crown Law Office – Criminal. Lai has prosecuted criminal cases involving allegations against police and large-scale fraud. She has argued numerous criminal law appeals before the Ontario Court of Appeal and the SCC.
She has been serving as a provincial wiretap coordinator since 2019. In this role, she is responsible for managing the training of provincial wiretap agents and providing advice and education to federal Crown and policing partners. She has presented extensively to the judiciary about digital and expert evidence in criminal law.
She has served as a director at the Federation of Asian Canadian Lawyers' Ontario chapter and is a past member of the Sunnybrook Health Sciences Centre Research Ethics Board. She has participated in law student mentorship programs and coached the Osgoode Hall Law School's Gale Cup moot team for eight years.
Bergman was called to the bar in 2004. After that, he began practising criminal law and became a partner at Cooper Sandler Shime & Bergman LLP in 2011. For the past year, he has served as an advisor to the Ontario Human Rights Commission, providing advice on the systemic review of anti-Black racism in the Toronto Police Service.
In 2019, he was tapped as an independent reviewer to investigate and do a systemic review of the Hamilton Police Service and the events leading to violence at the 2019 Hamilton Pride celebrations. He has also served as a review committee counsel at St. Michael's College School in the wake of eight incidents involving allegations of student sexual and physical abuse.
He is a member of the Canadian Bar Association's law reform subcommittee. As a member, he reviews and approves submissions to the federal government on gender equality, Indigenous rights, and language rights. He is also part of the Lawyers Feed the Hungry Program for the past two years.
Harper was admitted to the bar in 1995. He works as a Crown counsel at the Ministry of the Attorney General's Crown Law Office – Criminal and is part of the appeals practice group. He has appeared regularly at the Ontario Court of Appeal to argue various cases, from constitutional challenges to homicide appeals. Before this role, Harper managed the intimate partner violence portfolio and supported justice sector partners on legal matters and policy issues.
He has presented extensively on issues related to intimate partner violence for continuing education courses and worked with Crown Attorneys' Association to co-organize the week-long family and intimate partner violence course for several years.
Before his legal career, he worked as a journalist for several print and radio news outlets in Yellowknife, reporting on a wide range of topics, including territorial politics and Indigenous land claims.
Robinson was called to the bar in 1998. He has been an assistant Crown attorney in the Guns and Gangs Unit for the last five years. Robinson has worked on large-scale multi-jurisdictional wiretap investigations of two significant gangs operating in the Greater Toronto Area. He previously ran his criminal defence practice and spent over a decade as a partner at Robinson Chartier Taraniuk Owoh & Fedorowicz.
He represented the Guns and Gangs Unit as part of the Ontario Crown Attorney Association's committee on diversity and inclusion. He was also a member of a joint working group of Crown attorney associations and took part in developing policies, procedures, and practices for addressing racism in the courts. He mentored a prospective law student through the Black Future Lawyers Program at the University of Toronto.