Agarwal received the Eric Hoaken Award, Batner received the Laidlaw Medal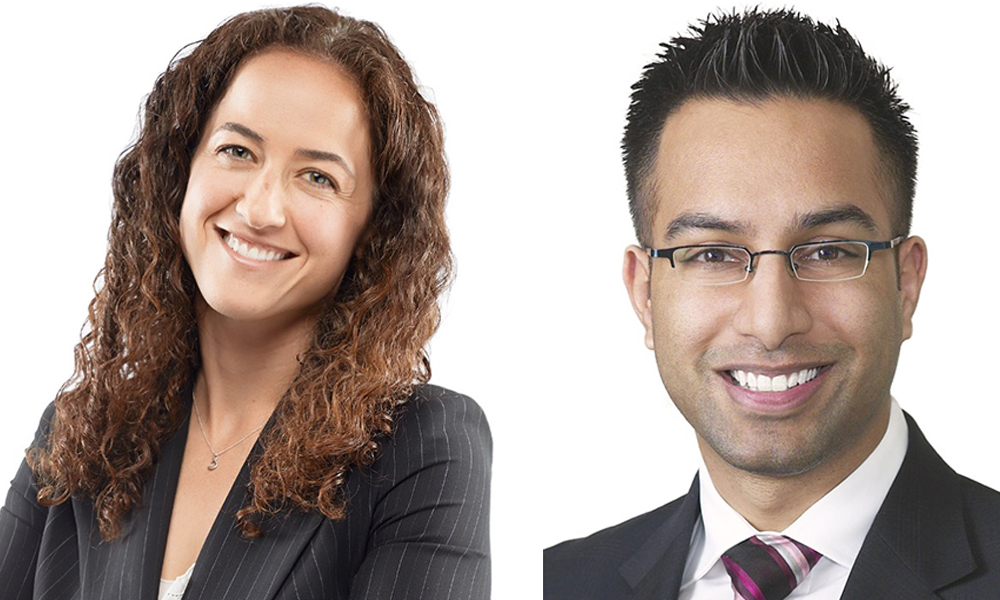 The Advocates' Society has conferred Ranjan Agarwal with the 2020 Eric Hoaken Excellence in Mentoring Award and Sarit Batner with the 2020 Douglas K. Laidlaw Medal for Excellence in Advocacy.
The Hoaken award promotes dedication to mentoring
The award commemorates the memory of Eric Hoaken, a board director at the society and a partner at Lax O'Sullivan Lisus Gottlieb LLP who passed away in February 2019. As a mentor, Hoaken generously shared his time and showed empathy and kindness, said the society.
Agarwal, recipient of the 2020 award, is a Toronto-based partner at Bennett Jones LLP whose practice focuses on complex disputes such as class actions and employment matters. He has held leadership roles in the South Asian Bar Association of Toronto and in the Ontario Bar Association. He is an adjunct professor at the University of Toronto.
Agarwal has been recognized by Canadian Lawyer as a top 25 most influential lawyer and by Lexpert as a leading lawyer in corporate/commercial litigation, regulatory and public law litigation, class actions and workplace human rights.
On Twitter, Agarwal said that it was a tremendous honour to win an award named after Hoaken, whom he described as a former boss, colleague, friend, mentor, partner and role model. Agarwal and Hoaken had worked together for a decade.
"I learned an extraordinary amount from him about civil practice, good ethics, and business development," said Agarwal. "Even after he left Bennett Jones, he continued to guide and shape my career."
Agarwal added that it was Hoaken who had inspired him to mentor and to foster relationships with younger lawyers.
The Laidlaw Medal honours excellence in advocacy in one's middle years of practice
The medal, which goes to a member of the society who has practised for 10 to 20 years, commemorates the memory of Douglas K. Laidlaw, a founding member and director who passed away in 1984. A lawyer at McCarthy & McCarthy, Laidlaw participated in over 50 appeals to the Supreme Court of Canada, said the society.
Batner, the 2020 recipient of the award, is a partner at McCarthy Tétrault LLP's litigation group in Toronto and a member of the firm's board of partners. She centres her practice on complex commercial litigation and arbitrations.
Lexpert has recognized Batner as a leading lawyer in corporate/commercial litigation, medical negligence, professional liability, directors' and officers' liability and class actions.