Immigration lawyers are not convinced that the changes made this year to the federal Parents and Grandparents Program have made it any fairer.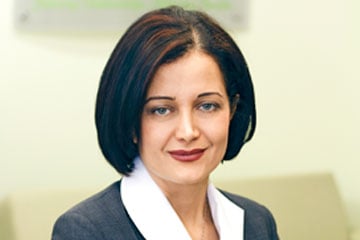 Immigration lawyers are not convinced that the changes made this year to the federal Parents and Grandparents Program have made it any fairer. The federal Liberal government re-launched the program as a lottery in January 2017.
Some immigration lawyers wish the government would either scrap the lottery system as a whole or go back to the drawing board.
"I don't think it's fairer. If anything, it's more arbitrary than the previous model because the selection of who gets to sponsor their parents is basically reduced to a game of chance, the luck of the draw," says Matthew Jeffery, a sole practitioner practising in Toronto.
"[It] means you can have somebody who's well qualified to sponsor their parents, but every year they could be potentially denied the opportunity to sponsor their parents because they're unlucky."
The current lottery system has applicants who want to sponsor their families first fill out an intent form complete with a section that asks applicants if they meet the income sponsorship requirements. That form is then entered into a lottery where, if randomly selected, those families are invited to apply. The first iteration of the lottery system did not have the income sponsorship requirements and drew heavy criticism because many of the randomly selected applicants were actually unable to apply or just did not apply regardless of their being qualified. The previous system to that was a first-come-first-serve model that accepted the first 5,000 completed and processed applications.
Sonia Sidhu, an immigration lawyer with Preszler Immigration Lawyers LLP, says the old first-come-first-serve system worked better for more dedicated candidates because potential sponsors had to go through the qualifications before submitting a full application rather than submitting an interest form to "see what happens and decide later." But she acknowledges that there are pros and cons to both systems.
The form was tweaked this year in an effort to avoid what happened in 2017 when thousands of sponsors — whose interest forms were randomly selected — didn't follow through and apply.
This year, interested sponsors had to confirm that they met the income requirements. But Sidhu says the tweaked form is still problematic.
"[Applicants] have to do an extra step, but there's no actual merit behind it. I could just say, 'Yes, I meet the income requirements,'" says Sidhu.
Jeffery also says there will still be problems, even with the new requirements put in place this year that have prospective applicants provide more information. Asking about income requirements will help to screen out some of the unqualified people, but, inevitably, some people will still fill out the form inaccurately, he says.
Sidhu suggests introducing a process similar to Express Entry, where an applicant has to actually input their income, and if they're eligible, then they get entered into the pool.
In 2016, the Liberal government upped the cap on the parents and grandparents lottery to 10,000 from 5,000 spots. But Jeffery questions if a cap is necessary at all.
"I don't believe that there is a need for the cap," says Jeffery, who also says the government should get rid of the lottery system as a whole.
"I think that the more difficult requirements introduced by the Conservative government that were put in place in January 2014 are sufficient to restrict the number of people who are qualified under the [parents and grandparents] sponsorship category."
Arghavan Gerami, founder and managing director of Gerami Law PC, says the government needs to leave the families who were not selected with a reason for that decision.
"If it's chance, you can't appeal it either," she says. "You can't go to court and say, 'These reasons were unreasonable or incorrect or unfair.' You're left with nothing that you can do to challenge that [decision]."
Gerami says the lottery process, albeit random, is still a decision and the new changes made to the interest form don't address the randomness of the selection process.
"There's no merit assessment, there's no consideration for how compelling your situation [is]," she says.
Gerami says that if the government wants to address issues of fairness with regards to the lottery system, they must look at the merit of an application.
These are individuals who are older, and it's insensitive that they may not be selected year after year and they're separated from their loved ones, she says.
"This is precisely the opposite of the goal of the system: It's to reunify families. That's the goal; that's the intent, and this could have the opposite effect for all those people who aren't selected," she says.
"They're left with nothing."
Gerami says the government needs to come up with a better way to design the parents and grandparents sponsorship system because it's important that the applicant has confidence that the system is reasonable and fair.
"Rather than having this by trial and error, rather than each year adjusting something, it's really important to do an overall assessment of all the options and think through the process and design a system that can be upheld [and] that's justifiable for the applicant and then put forth that system," she says.