Meadus underwent a major procedure as a teenager to treat her scoliosis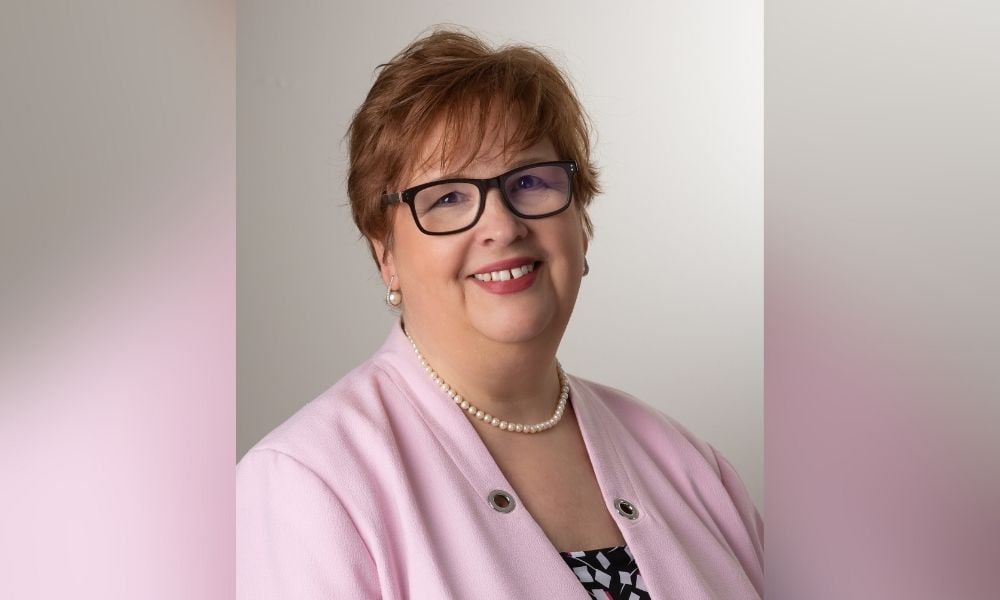 Jane Meadus' interest in social justice and health matters has nudged her into the world of long-term health care advocating for seniors in care and retirement homes. Meadus advocates for seniors with issues related to long-term care home admissions, illegal detentions, substitute decision making, hospital discharge, care costs and seniors who are refused entry into publicly funded health care facilities for "inappropriate reasons."
Meadus began her legal career in mental health law before joining the Advocacy Centre for the Elderly in 1995, providing information, advice and education to seniors and advocating against systemic issues they face in hospitals, psychiatric facilities, long-term care, and retirement homes. She says she articled with a focus on mental health and disability law, giving her some background in long-term health issues.
When the job at ACE came up, she was motivated to apply because even though she hadn't done much work with long-term care homes specifically, she had done a bit of work in the psychiatric and disability area. "I saw this as a really good opportunity to use the experience that I had and to learn and grow and really it's ended up being the perfect job for me."
ACE is a legal clinic funded by Legal Aid Ontario to provide services to seniors for senior-related issues. The clinic focuses on ensuring people are living in long-term care with as much dignity and appropriate care as possible, Meadus says.
Advocating for long-term health care is vital for Meadus because she has scoliosis, a curvature of the spine and began wearing a back brace and going for monthly medical check-ups at 11.
"It was a very visible thing. People didn't quite know what it was and so you get different attitudes." She says she stopped wearing the brace the summer before her surgery and reduced in height. After her surgery at 15, she was in a body cast for six months and says she saw the health-care system from the inside.
"My scoliosis was extremely bad, and I shrank down to about five and a half [inches] and when I went into the surgery when they straightened my spine, I got out of the bed and I was 5'10."
Meadus says she advocated for her elderly roommates and her experience made her interested in the health care system. "Staff members would come in and tell them to do things their doctor had told them not to, and they weren't listening to those people, and I l started advocating for those people in the hospital."
Since she straightened her spine, Meadus has undergone three back surgeries. In her third year at uOttawa law, she says she underwent surgery because of broken spinal rods, and the law school was very helpful in assisting her in keeping up with classes and doing exams.
"I've also had two more surgeries since I've been at ACE because of broken rods and different things so it's a lifelong journey, but it gives you that experience and understanding because you look at healthcare from the inside."
Always having elderly roommates, it's interesting from the inside watching the system and seeing what happens, Meadus says. For example, "having roommates where the nurses come in and would say she's so quiet." She never uses the call bell, and me saying, "Well that's because you put the call bell on the side of her body that's paralysed."
She says she was abandoned in a shower once after one of her surgeries. "I tried to yell, and I couldn't. I couldn't walk, I was in a shower, and it was a horrible experience and the staff who had given me that shower and left me there treated that as a funny joke, and it was horrible."
She says seeing long-term care issues from the inside makes her better understand her clients when they make complaints. "When your clients are calling you and telling you that they're not getting showered or getting their meals brought to them, you believe them."
Meadus says the complaints of older people are valid, but they are often ignored or seen as complainers.
"I did a consent capacity board hearing for someone years ago who was complaining that they were putting something in his food, and he had a strange idea of what they were putting in his food, but in fact, the hospital was crushing medication in his food. So, he was right. He didn't know exactly what they were doing with it, but he knew that they were adulterating his food, but he was being dismissed as being paranoid."
Meadus says she was involved in providing the legal perspective of the residents to the government regarding inspection processes during the 2010 enactment of the Long-term Care Homes Act; however, "Institutional memory is short," she says.
The inspectors stopped annual full home inspections and said that any inspection would do because the legislation said each home had to be reviewed but did not indicate a full inspection.
Meadus says ACE was able to get the ministry and government to hold their promise, and they "ended up having to hire 100 new inspectors to fulfill the promises they had made," but without that institutional memory, and being able to go back and look at things and have documents and provide them, that doesn't happen.
Meadus says she is proud of the work ACE does and the ability to provide information to residents and their families that they would otherwise not have. She says executive and founding director of ACE Judith Wahl was her mentor and whom she got her lead from in approaching elder law cases and honing her craft.
"She really was passionate about her job and elder law and doing this work. She put elder law on the map in Canada and for years, we were the only people doing elder law."