Arbour has received 40 honorary degrees throughout her legal career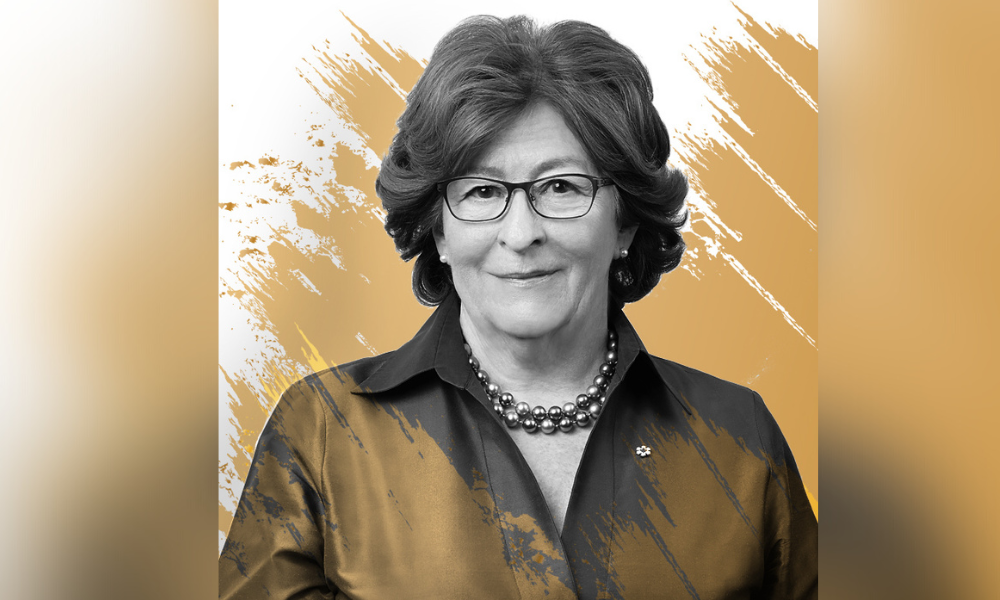 For her outstanding contributions to criminal justice system and the protection of human rights, Louise Arbour, a retired Justice of the Supreme Court of Canada, is 2021 recipient of the Toronto Lawyers Association's Award of Distinction.
"Louise Arbour's long-standing contribution to the practice of law is universally acknowledged. She is recognized throughout Canada and internationally as a champion of human rights and perpetual seeker of truth and justice," Michael White, TLA board president, said in an announcement.
The TLA's Award of Distinction is conferred annually on a Toronto lawyer who has demonstrated a record of excellence and made an exceptional contribution to the integrity of the law and legal profession.
Arbour earned her law degree at University of Montreal. She was admitted to the Ontario bar in 1977, appointed to – what was then called – the Ontario Supreme Court in 1987, and to the Ontario Court of Appeal in 1990.
In 1995, she became the commissioner of an inquiry into the Prison for Women in Kingston, Ontario. During her term, she produced the ground-breaking report which accelerated the move towards modern institutions specifically designed to meet the security and programming needs of women inmates. In 1996, she worked as the chief prosecutor of war crimes before the International Criminal Tribunals for Rwanda and the former Yugoslavia.
In 1999, Arbour sat on the Supreme Court of Canada. After her judiciary stint, she served as the UN human rights commissioner from 2004 to 2008.
For her notable contributions to the Canadian justice system, Arbour was named a companion to the Order of Canada in 2007. In 2009, she was made a grand officer of the National Order of Quebec.
She also became affiliated with numerous prominent societies and organizations, such as the World Bank, Global Commission on Elections, Democracy and Security and Global Commission on Drug Policy from 2009 to 2011.
Throughout her legal career, Arbour has received 40 honorary degrees, including the Franklin D. Roosevelt Freedom from Fear Award and the French Legion of Honour. She was also awarded the North-South Prize and the Tang Prize Rule of Law for her significant contributions to international criminal justice and the safeguard of human rights.
In 2021, Arbour was tapped by the Department of National Defence to investigate allegations of sexual harassment and misconduct in the military.
"Her passion and knowledge of the criminal justice system has always been valued by students, recently called, and established lawyers who share her quest for social justice. She epitomizes the dedication, empathy and pursuit of justice to which we aspire in our profession," White said in the announcement.