As Canada reaches a decade-high filing for personal insolvency, the federal government amended the country's bankruptcy and insolvency laws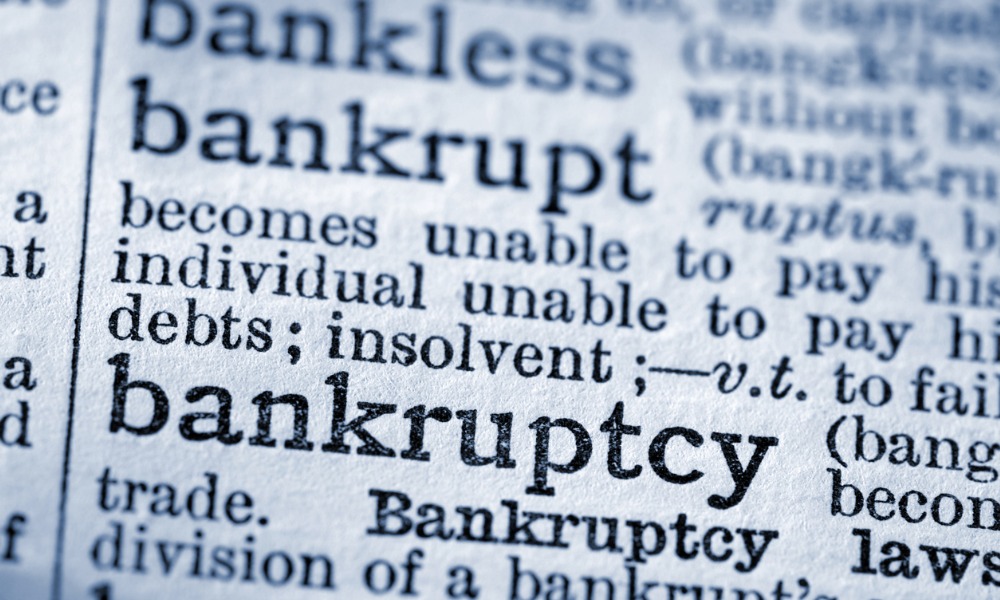 New data released by the Office of the Superintendent of Bankruptcy Canada (OSB) reported that personal insolvencies in Canada are at their highest level for the past decade, with 13,000 bankruptcies and proposals filed in October. That was a 13 per cent increase compared to the same month last year.
The last time a monthly record was this high was when 15,465 Canadians filed for insolvency in September 2009.
On an industry level, mining, oil & gas extraction and the information and cultural industries were the main forerunners of the rise in corporate insolvencies over the past 12 months to September 2019, with both sectors experiencing an increase of over 40 per cent in business insolvency filings.
Other sectors like the finance and insurance, professional, scientific and technical services, and real estate, rental and leasing, also struggled, going through a large increase of insolvency filings.
In addition, as reported by Equifax Canada, Canadians have remained "highly reliant on debt" since 2019, with the average debt per Canadian consumer (including mortgages) reached $71,300 in the first quarter of 2019, an increase of 2.6 per cent over the same period last year.
According to Canadian Association of Insolvency and Restructuring Professionals board member David Lewis, "[These] figures are evidence of a difficult period for some Canadian businesses… After nearly two decades of business insolvencies consistently on the decline year over year, we are seeing an upward trend that will likely extend into at least next year.
Student debt has also been a growing crisis in Canada, and is greatly contributing to the country's reported insolvencies in 2018. Studies also show that student debt can't be dissolved via bankruptcy or a consumer proposal until at least seven years after the debtor has left school, contributing to why the average age of insolvencies falls in the mid-30s.
The alarming statistics not only reflect the country's economy – it also affects morale. Having to face bankruptcy, hiring a lawyer and undergoing the process of insolvency can affect the country on a larger scale – legally, economically, and financially.
Most common reasons for filing for bankruptcy
Bankruptcy Canada reports that 120,000 Canadians declare personal or file a consumer proposal every year. As noted by the same, the following are the top five causes of filing for bankruptcy:
Unexpected disaster
Income reduction or job loss
Illness or medical problems
Separation or divorce
Financial mismanagement
According to Equifax Canada vice president of data & analytics Bill Johnston, consumers were opening fewer new credit products in early 2019, but they weren't curtailing the use of their existing credit.
He said, "Loans are taking longer to pay down and credit card use is on the rise. The headline numbers for non-mortgage debt had been driven by population growth for the past 18 months, but it was increased usage that drove the rise in credit during the first quarter of this year."
Bankruptcy laws in Canada
As defined by Bankruptcy Canada, bankruptcy and insolvency law is a federal law that is governed by two legislations: the Bankruptcy and Insolvency Act (BIA) and the Companies' Creditors Arrangement Act (CCAA).
The latter is overseen by the Office of the Superintendent of Bankruptcy, while BIA was administered by Licensed Insolvency Trustees.
The Bankruptcy and Insolvency Act (BIA), sometimes referred to as "bankruptcy act," is established by the federal government to help "unfortunate, honest citizens" with their financial trouble. It was created to "protect the rights of you and your creditors, and informs trustees and the court of their responsibilities, powers, and duties."
The BIA is also one of the statutes that regulates the law on bankruptcy and insolvency in Canada.
Although the BIA applies throughout Canada, each province still has its own provincial bankruptcy rules. Provinces and territories have exemptions, which may affect the bankruptcy law and its process.
The Bankruptcy and Insolvency Act (BIA) and Companies' Creditors Arrangement Act (CCAA)
The Insolvency Act of 1869 (also identified as An Act Respecting Insolvency), which was effective on September 1 of the same year, was originally applied only to traders, including unincorporated trading companies and co-partnerships. Voluntary and involuntary partnerships are also allowed.
It was the first insolvency and bankruptcy-related act passed in Canada.
Further, the BIA was developed from the Bankruptcy Act of 1919, and was further amended in 1992, 1997, and 2008-2009.
Amendments to Canada's Insolvency Law
On April 8, 2019, the Canadian government introduced Bill C-97, An Act to Implement Certain Provisions of the Budget Tabled in Parliament On March 19, 2019 and Other Measures, which made some comprehensive amendments on the BIA and CCAA.
As reported by Mondaq, the following amendments became effective on November 1, 2019, and are expected to have a significant effect on certain aspects of insolvency proceedings.
The Bill C-97 amends both the BIA and CCAA to:
(a) Add an express duty of good faith for any "interested person;"
All "interested person[s]" in any proceeding under the BIA have a statutory duty to act in good faith in respect of those proceedings.
If the court decides that an interested person has not acted in good faith, the court may make "any order that it considers appropriate in the circumstances."
(b) Increase the scope of look-back provisions allowing the court to review transactions entered into by the debtor company prior to its insolvency.
This applies to compensations paid to a director, officer or manager of the debtor within one year of the initial bankruptcy event, and this includes termination pay, severance pay, or incentive benefits.
The payments will be examined to determine whether these payments were made while the corporation was insolvent or whether they rendered the corporation insolvent.
Additionally, the bill also amends the CCAA to:
Reduce the length of the initial stay of proceedings from 30 days to 10 days;
Limit the relief provided under an Initial Order to that which is reasonably necessary; for the debtor's continued operation in the ordinary course during the stay period; and
Create additional disclosure requirements for "any interested person."