Minden Gross LLP partner Samantha Prasad has come a long way from a Queen's law student who had no idea what she wanted to do with her career.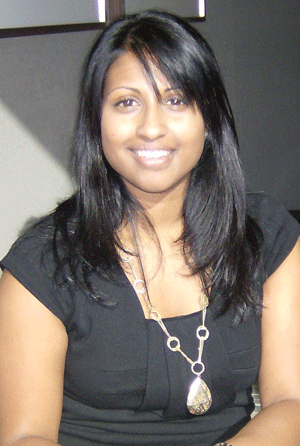 Sitting in a swank boardroom at the firm's downtown Toronto offices, her passion for tax law is enough to make one think they're chatting with an articling student brimming with optimism and excitement. But Prasad, 35, has been practising for over eight years, and is a major contributor to one of the country's top mid-size firms.
She also has come a long way - over 700 km, to be precise - from the small northern Ontario town of Cochrane (population around 5,000) where she was born and raised. She fondly remembers her upbringing in the close-knit, half French-speaking community.
"My parents were involved in the community and I was as well," she says. "When you're in a small town you have to get really involved with things. I played a lot of sports just because you kind of have to keep yourself occupied."
Prasad says her best friends from Cochrane remain her closest pals, although most have joined her in leaving the community for Toronto.
She was led away from the area to pursue her undergraduate studies at the University of Toronto, where she earned a combined major in international relations and political science.
"Which is definitely not what you'd expect from a tax lawyer," she jokes.
Prasad admits a career in the law was never part of her plans, but after entering Queen's University's Faculty of Law - initially without the intention of practising - she was hooked.
She cites as a key experience a summer spent working at the Department of Justice in Ottawa, but adds that at the time she wanted some specific private practice experience.
"I wanted to be in Toronto and I wanted to be at a firm . . . where I was going to be able to try different areas," she says. "But also a firm where I saw myself kind of fitting in and growing, and I wanted to be able to stay at a place like that."
That led her to an articling term with Minden Gross.
"It's the best decision I could have made," she says. "I got to do real stuff right from the get-go. I wasn't just stuck doing research. I was involved on deals and getting to meet clients."
One of the areas Prasad tried on for size was tax law, and she was lucky enough to practise in the area when she returned as an associate in 2000. She says a major pull toward tax law was Minden Gross' outstanding practice group, which grabbed her attention while articling.
"The issues that came up were so interesting," she says. "I find that the stuff we do is so creative. I was pleasantly surprised. When you're in law school, everyone talks about, 'Oh, I have to do tax.' But the practise of it is really different. It's very creative, it's lots of brainstorming."
She suggests Minden Gross helped foster her passion for tax law by showing confidence in her abilities early on.
"I was doing complicated corporate transactions as a first year associate; just me and one of the partners. Whereas, I think if I were at a large firm I would never have gotten the opportunity to do that until my fourth or fifth year . . . It was so amazing."
She says that experience "has given me a taste of what it is that I can accomplish."
Prasad has fuelled her fire for that specialty by writing on it. She was able to link with David Louis, chairman and senior member of Minden Gross' taxation group. The pair wrote "Tax and Family Business Succession Planning," a second edition of which was release last year.
"He's really nurtured that with me," she says of Louis, adding their writing partnership began during her articling term.
Aside from Louis, Prasad lists tax group senior partner Joan Jung as a key mentor.
"Joan and David, when I was an articling student, were the ones that taught me, and they have been amazing," she says, noting various other lawyers at the firm also have supported her growth. "David is so creative, Joan is so technical that the team is unstoppable together."
Prasad has clearly heeded the advice of these leading lawyers, and shown some leadership of her own. Her work with international commercial law firm alliance Meritas - consisting of some 200 firms and 6,000 lawyers worldwide - is helping green the profession in a time of environmental urgency.
In a recent partnership with other blue-chip lawyers selected from Meritas member firms, she co-authored the "Green Guide for Lawyers." The book serves as a best practices guide for law firms to increase efficiency and reduce waste.
It was presented as the alliance's annual meeting in Chicago last May, where it was strongly embraced by Meritas members.
"The hope was this green guide would be a jumping point for Meritas to use, kind of a standard for all Meritas law firms to aspire to," she says. "They loved it. They thought it was great."
Her work on the book has changed Prasad's own behaviour. She recently installed energy efficient windows in her house, and purchased a hybrid vehicle.
While the "Green Guide for Lawyers" is an example of how Prasad has established herself in the profession through hard work and top-notch performance, she admits it was tough to get respect early on as a tax lawyer.
"There's always the gender thing," she says. "I've been lucky that the firm has been amazing about that. It's never been an issue."
But business development has posed challenges, she says.
"As a female lawyer going out there, especially as a female corporate tax lawyer, I'm looking to develop business relationships with clients and accountants.
"It was tough, I'd say, my first five years of practice. Being a young female lawyer, they don't realize I golf too. I love going out for golf games. So that's always been an interesting challenge."
Prasad says simply being in the industry for a while now has eased the gender burden, and she has benefited from attending as many networking events as possible, and taking the added step of maintaining the contacts via lunch meetings.
"One of the other things is just doing a really good job on a file," she says. "It's not just the lunches and the golf; it's being able to respond to [clients]. If they have a quick question, I get back to them right away. That's important to me, and clients like that. And they come back."
---
This story ends our Women in Law series featuring profiles of female lawyers from around the province.