An opinionated neighbour set Emily Lee on the path to a legal career at a very early age.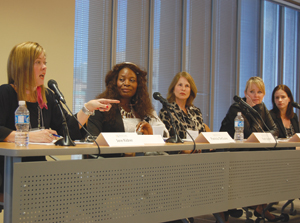 "I was eight years old when I decided I should go to law school, mostly because Mrs. Cogan down the street told me I was bossy and that's what I should be," Lee said.
The suggestion struck a chord with Lee, who quickly moved to accomplish her goal. At 16, she told her parents she was going to study political science at Dalhousie University because she heard that was the best way to get into law school there. She left high school behind with a prophecy in her yearbook page that she would be the first female chief justice at the Supreme Court of Canada.
The first bumps in the road came in law school, where the experience didn't match up to her expectations. Her time articling at a Halifax law firm then brought her career path to a halt.
"I articled out East and had a great time but didn't like the work," she said. "I wasn't hired back, which was probably the best situation for me. Had I been hired back, I probably would have still been there, because I am the typical Type A lawyer, all about becoming partner. Fortunately, the firm made that decision for me."
A serendipitous turn of events brought her to ZSA Legal Recruitment in Toronto. Seven years later, she's now a senior consultant at the firm.
"I still do work a long day, but the difference for me is that I really do love what I do now. I don't get that feeling in the pit of my stomach on a Sunday night that I don't want to get up in the morning and go to work," she said.
Lee told her story at the recent Alternative Careers for Women in Law program put on by the Women's Law Association of Ontario. Sharon Davis, president of the association, says the program aims to fill a void in the field.
"A law career can be so diverse, and we didn't have enough initiatives that encourage non-traditional law paths," she says. "A law career is not something that is static. I think of it as playdough. You can shape it into something and later on you can take it back out and shape it into something else."
Ruth Epstein, vice president of Canada Law Book, made the switch to legal publishing shortly after qualifying as a lawyer. She said she stopped practising after just a couple of years because she didn't enjoy the competitive environment inside the big law firm she worked for.
But the experience hasn't altered the value she places on a legal education. As a result, she encouraged her own daughter to go to law school.
"She has an education that will serve her well no matter what path she chooses," she said. "You can get an interview in a totally unrelated field just because you have a law degree. It's a significant accomplishment, and I think employers take note of that."
But Epstein warned the audience of female lawyers that an alternative career isn't for everybody. She said some law graduates expect a certain level of pay and respect that can't be met in some careers.
"If prestige is important to you or image, that can be a significant thing to overcome. When you go into a different field, you're going to come in at an entry-level position. Pay can be pretty lousy, and I think that's a challenge for some people."
Epstein said she was prepared to compromise on those issues early on because she had young children. At the same time, the more relaxed work environment suited her lifestyle.
"I was doing something I really loved, but it allowed me to have some time for my family," she said.
Several panel members admitted to drifting into their alternative careers almost by accident, but Patricia DeGuire, an adjudicator with the Immigration and Refugee Board, said she encourages young lawyers to try out as many fields as they can before settling on one.
"I tell them not to come to the administrative justice system simply because they have nothing else to do. It must be a conscious decision. Try Bay Street, try everything. Law has become such an amorphous tool that you can take anywhere. Find a niche, that place where you are comfortable."
Jane Kidner, assistant dean of professional legal education at the University of Toronto, said there has never been a better time to embark on an alternative legal career.
"Thirteen years ago, when I left the practice of law, many people thought I was crazy. Today, people don't think you're crazy when you leave practice. They recognize you have amazing skills and amazing talents and great education, and there's a whole bunch of things you can do. There's way more opportunity and options out there now."
Paula Todd, a journalist and broadcaster with CTV's W5 program, agreed.
"A lot of my lawyer friends call and ask me, 'How do I get out of the business?'" she said. "It's expected now that you will do two, three, maybe more things in your career."
However, Lee sounded a final note of caution for those considering abandoning the practice of law by reminding them to be certain of their choice.
"It's not impossible to come back to practice but it can be difficult. The longer you step away from it, the more difficult it can be to go back."
Amanda Smallwood, a student at Osgoode Hall Law School currently studying for the bar exam, has an articling position lined up for next year. But with little prospect of being hired back, she says the program was a good chance to see what other opportunities exist for female lawyers.
"I'm not sure I want to practise, so I'm open to hearing about other options."