OTTAWA – A Federal Court judge will soon be tasked with answering a question that most likely hasn't come up in a Canadian courtroom before: what is a spy?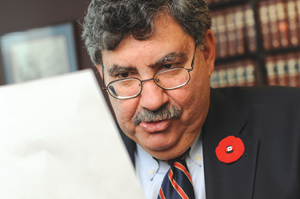 The question is key in the case of a 43-year-old law graduate from Ukraine who has been trying for nine years to get a visa to enter Canada as a permanent resident but has been refused because of his army service in the former Soviet Union.
Military service alone wouldn't normally prevent Dmytro Afanasyev, his wife, and their two children from immigrating to Canada from Ukraine.
But authorities have denied their entry because a visa officer at the Canadian Embassy in Warsaw, Poland, ruled Afanasyev was inadmissible because he engaged in espionage while he was a soldier.
But did he?
Toronto immigration lawyer Gary Segal, Afanasyev's counsel in a Federal Court appeal of the visa officer's ruling, says the answer is no.
Segal says the one-time conscript in the Soviet army who intercepted U.S. radio signals as a private in East Germany was not a spy. He was doing his job gathering military intelligence and had to follow orders.
In fact, Segal says, although Afanasyev could and still does speak English fluently, he had no idea what the encrypted information he transcribed and passed up the ladder meant.
The facts in the Federal Court file on the appeal appear straightforward. There is no allegation Afanasyev falsified information during his three visa application interviews.
He freely told the Canadians, apparently including Canadian Security Intelligence Service officers who interviewed him, about his military service.
The record is summed up in straightforward fashion in an Oct. 2, 2008, letter to Afanasyev from K.L. Erickson, the Warsaw Embassy's first secretary for immigration, who informed Afanasyev he was inadmissible on security grounds.
The letter told Afanasyev he was a "member of the inadmissible class of persons" under the Immigration and Refugee Protection Act for "engaging in an act of espionage or an act of subversion against a democratic government, institution or process as they are understood in Canada" and for "being a member of an organization that there are reasonable grounds to believe engages, has engaged or will engage in" the acts.
The letter goes on to name the Soviet army unit Afanasyev belonged to from 1985 to 1987 and notes his training in radio intelligence that included interception and special NATO telegraphic codes.
It says his duties in Torgau, East Germany, entailed listening to English-language communications coming from U.S. bases in West Germany and identifying and "debriefing" various frequencies and telegraph codes.
The letter identifies Afanasyev's army unit, the 82nd Special Communications Brigade, 11th Company, 1st Platoon, as the "organization" the government has reasonable grounds to believe engaged in espionage.
"I have reached this conclusion because you made these admissions during your background investigation
interviews," the letter states.
But Segal and Peter Rekai, the Toronto lawyer who has represented Afanasyev during his lengthy visa application, argue he was engaging in military intelligence work, not espionage. Rekai made that case in letters to the Canadian Embassy that have been filed in Federal Court, while Segal is making it as Afanasyev's lawyer for the appeal.
"A spy is not what this guy was doing," says Segal. "He was an 18-year-old private listening to gobbledygook going through the air, writing down what he heard, and passing it along.
"That's part of military intelligence. All countries do it. I don't see it any different than 50,000 years ago some Neanderthal standing on one mountain in the sunlight, putting his hands over his eyes, and looking at the guys on the mountain across the valley and saying, 'There's seven guys over there.'"
Segal has asked the court to appoint a special advocate for the case - unusual for an immigration appeal - because federal lawyers redacted five pages of documents they had originally disclosed in uncensored form.
The court record also includes a three-page CSIS memo with redacted sentences and words that describe Afanasyev's response in one or more of his interviews. As of late last week, Segal said he hadn't yet seen the CSIS memo.
That memo appears to be the basis for a recommendation to the embassy from the security directorate at the Canada Border Services Agency to deny the entry visa.
The memo says Afanasyev denied he needed a security clearance to belong to his unit and notes he also told interviewers he lost his military record booklet. There is a reference as well to Afanasyev's father's service in the Soviet army as a translator.
The lawyers representing the federal government found themselves in the embarrassing position of seeking a court order that compelled Segal to return the five pages of documents they inadvertently filed as part of the record.
The documents contained the names of individuals CSIS was investigating as well as the names and telephone numbers of CSIS personnel. Segal had already taken steps to comply with a request to return them before the court granted the order.
Michel Drapeau, a prominent former Canadian army colonel who is now a practising lawyer and lecturer at the University of Ottawa law school, agrees with Segal.
"It may not be black and white but it's pretty close," says Drapeau. "Someone as a private, he is just doing his job, basically listening in. Based on what you're telling me, this guy is a member of the armed forces.
He basically did his job, which is legal under both national and international law, that is, doing a signaling interception, military counter-intelligence, and all the military all over the world, particularly a sophisticated one, does it."