When Adrian Dobbyn began his training contract at a prestigious Dublin law firm in late 2007, the future looked bright.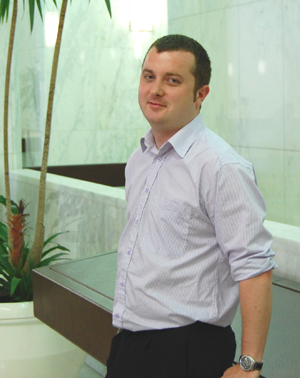 He was among 30 law students hired at William Fry for positions, similar to articling jobs, at a firm with a reputation for hiring back all of its trainees.
Two years and one financial crisis later, the picture had changed dramatically.
"It was October 2008 when the banking crisis struck in Dublin, and from then on it just kept going," he says. "By October 2009, you had an idea that you might need a plan B. It dawned on us that there weren't going to be opportunities for all of us."
For Dobbyn, 27, and many other young Irish lawyers, plan B means Toronto. He applied for a Canadian visa in January after his firm indicated it would have to lay off at least half of its trainees. By April, he was fully qualified and, like 14 per cent of his compatriots, fully unemployed.
Toronto was a natural choice because he knew several people from his year at law school who had already made the move and found jobs. He's now doing temporary work for Bay Street firm Fraser Milner Casgrain LLP.
Carrie Heller, president of the Heller Group Legal and Executive Search Inc., says she noticed the spike in inquiries from Irish lawyers as soon as the downturn took hold.
"I suddenly started seeing an influx of lawyers from Ireland that I had never experienced before," she says. "They were hit very badly, and there weren't many options. Maybe they used to go to London, but London was hit almost as badly as they were. So many people see Canada as a safe haven."
Canada has also become a popular destination more generally for Irish people fleeing a deep recession at home. Recent figures show a 70-per-cent jump in the number of temporary foreign workers from Ireland between 2004 and 2008.
But Heller says licensing issues, a tight job market in Toronto, and candidates' relative inexperience have hampered many Irish immigrants' success at finding jobs in the legal field.
"We still didn't have this surplus of jobs that could take all these lawyers," Heller says. "Whether you're from Ireland or Canada, it's very difficult to place a brand-new lawyer."
Dobbyn has found administrative work at FMC, which he says gives him invaluable experience with a Canadian law firm. "They've taken me under their wing and been really helpful."
Dobbyn hopes to get a more permanent job as a law clerk in order to build up his legal experience here before a possible attempt at qualifying as a lawyer in Canada.
Mark Donnelly, another Irish immigrant, says newly qualified solicitors left stranded by the downturn overseas feel pressured to seek work abroad. "There's no work, but they need to do something because other people are going out and getting qualifications in other parts of the globe.
When work eventually does come up in Ireland, they need to have something on their [resumé]."
Donnelly, who works as a law clerk with Feige Nawrocki LLP, had a head start on other Irish people making the move to Canada.
Although he grew up in Ireland, he holds dual citizenship because he was born in Edmonton. After completing his final exams at law school in Dublin, he skipped the training portion of the qualification procedure and headed straight for Toronto in November.
"Given the way things went in Ireland, there was no point staying," he says.
Donnelly, 29, spent his first six months in the country living at a downtown hostel, where he met people fleeing from similar problems in Britain, France, and Australia.
"If it didn't work out, they were just going to go home," he says. "Irish people don't have that option, especially in law. If it doesn't work out here, you just work harder until it does work here."
Donnelly notes the similarities between the Canadian and Irish legal systems, which both use common law, have smoothed his adjustment to the workplace here. "The running of any law firm in any country is much the same, regardless of whether the laws are different," he says.
Still, Donnelly finds the atmosphere at Feige Nawrocki less stressful than the Irish firm he worked at under a litigation partner. He also finds staff keen to give him work that plays on his legal experience. "I might never go back," he says.