Lawyers say a fight over accrediting an evangelical Christian law school will likely end up before the Supreme Court of Canada after Ontario's Court of Appeal recently heard the case.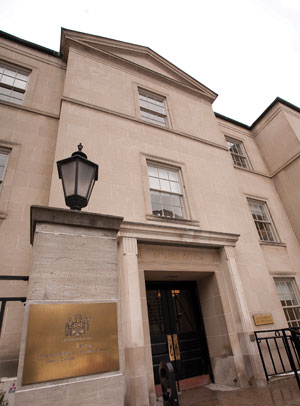 In 2014, Law Society of Upper Canada benchers voted against granting accreditation to Trinity Western University's law school because of a provision in its covenant that bans students from "sexual intimacy that violates the sacredness of marriage between a man and a woman."
Since then, TWU's challenge to the LSUC's decision has made its way through the Divisional Court, as well as the Court of Appeal, and looks like it will likely be headed to the Supreme Court, says Douglas Elliott, a partner in Cambridge LLP.
"If Trinity Western loses, they've got too much at stake to leave this one alone. They'll want to try and take it to the Supreme Court of Canada," says Elliott, who has worked on landmark constitutional cases such as same-sex marriage.
"And I have no doubt that if by some miracle Trinity Western wins in this case, I think there is very strong support for the position the law society is taking in this case and there will be an appeal."
In their factum, lawyers representing TWU said the school's appeal "is about protecting members of a minority religion in our pluralistic society."
They argued that by denying the proposed school accreditation the LSUC "infringed not only the appellants' freedom of religion but also the other rights and freedoms that protect its manifestation: the freedom of expression, the freedom of association and the right to equality."
Albertos Polizogopoulos, a lawyer representing the Evangelical Fellowship of Canada, was one of a number of interveners supportive of TWU's appeal that spoke to a packed courtroom during the Court of Appeal proceedings in early June.
Polizogopoulos argued the school's right to religion had been violated, saying it doesn't give up its rights by entering the "public sphere."
"You don't give up your charter rights by simply stepping into this courtroom," he said.
Lawyers representing the LSUC said the bencher's decision not to accredit the school does not infringe upon the religious rights of TWU and its prospective students.
"In contrast, the terms and requirements of the community covenant, which TWU students are compelled to sign as a condition of attendance, are discriminatory," they said in their factum.
Tim Dickson, a lawyer representing the Canadian Secular Alliance, which was one of a number of interveners supportive of the LSUC, said there is no legal protection for imposing religious views on others.
"That is no longer a religious position. That is a political position," he said.
Some of TWU's argument hinges on a 2001 Supreme Court decision,
Trinity Western University v. British Columbia College of Teachers
, which pitted the university against the British Columbia College of Teachers, which refused to accredit the school because of its covenant. The Supreme Court ruled in favour of TWU, saying the college of teachers could not refuse accreditation to TWU on the basis of discrimination.
Citing this decision, TWU lawyers said in the factum that the LSUC benchers who voted against accreditation "did not properly delineate rights and values at issue and failed to consider the impact of their decision on the appellants' constitutional freedoms."
Dwight Newman, a law professor with the University of Saskatchewan, says the 2001 decision "implicitly recognizes the richness of faith-based education in its encounter with the world.
"And, at a simple level of precedent, it concerned a very similar professional program from not only a similar institution but the very same institution."
He adds that the case set a precedent "on reconciliation of religious freedom and equality rights that recognized that faith-based education needs to be able to operate alongside later regulation within different professions to respect all Charter rights, including equality rights."
Elliott, who worked on the 2001 case, says jurisprudence has, however, since evolved to a point where that decision will not be applicable to TWU's appeal.
"This is an entirely different situation and the case law has evolved in a way since the Trinity Western case that is not helpful to Trinity Western," Elliott says of the 2001 decision.
"I can't remember the last time the Supreme Court of Canada upheld the rights of freedom of religion against the rights of collectivity."
Ivan Steele, a Toronto lawyer who works on LGBTQ issues, says recent court decisions have been "at stark odds" with the 2001 decision.
"In the meantime, we've had same-sex marriage become legal in the country, which was a huge development not in place when the previous case was heard and decided," he says.
Steele says he believes the only way for this particular matter to be solved conclusively is for it to go to the Supreme Court, which could provide some clarity on how and whether the 2001 decision applies.
"Because of the 2001 precedent, it definitely begs for some clarity in this case," he says.
"It is a matter of national interest and legal ambiguity to some extent," he adds.
Trinity Western University has also taken law societies to court in Nova Scotia and British Columbia over their refusal to accredit the school. The case in British Columbia was heard at the beginning of June.
Amy Robertson, TWU spokeswoman, said in a statement on the school's web site earlier this month that "this is about far more than the right to open a law school."
"The Ontario Court of Appeal justices will be deciding on an issue that will affect freedom for everyone — not just faith communities. At TWU we believe in upholding the freedom of all Canadians to believe as they choose and practice accordingly."