Five years into her first job in private practice, lawyer Anjali Banka had had enough. She had been working tedious hours at a Toronto law firm and had no time for social life or taking vacations.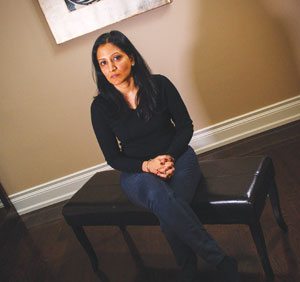 "I actually quit in 2005 without having anything lined up just because I was just fed up, pretty much burnt out," she says.
"I just couldn't take it anymore."
By then, she realized she wanted something different. "At the beginning, I was really looking for the partnership track, very ambitious," she says.
"But once you're there, you realize that the lifestyle it might offer you is less than ideal."
Banka, who now works from home four to five hours a day, is one of the lawyers at Cognition LLP, a law firm that allows for greater flexibility and independent contract work.
Meanwhile, Blake Cassels & Graydon LLP counsel Paul Rand has gone from working in private practice to an in-house counsel position and back to a law firm once again all in the first decade of his career.
Stories like these are evident in the findings of a recent study led by Queen's University sociology Prof. Fiona Kay on career paths in the legal profession. As part of the study, she, along with Stacey Alarie and Jones Adjei, looked at the private-practice career paths of lawyers who graduated law school between 1990 and 2009.
The report suggests the traditional career pathway — one that involves working continuously at a single firm and vying for partnership — is becoming a relic of days gone by. "More common are career paths that include job changes across firms, across sectors of the profession, and with intervals of unemployment or time away from law practice invested in further education, travel, full-time work outside law practice, or raising children," the authors wrote in a report commissioned by the Law Society of Upper Canada.
"Women are at greater risk of leaving than their male colleagues with whom they entered private practice following law school," they added.
The study found two patterns regarding work-life balance. "First is the observation of a difficulty achieving a work-life balance within private practice due to pressures to work long hours with intense work demands. This can lead some lawyers to exit private practice and pursue other career opportunities.
"Second, the law firm environment appears designed not to accommodate family life, perhaps assuming a model where a full-time stay-at-home spouse attends to children (and the care of elderly parents). It may be possible that beyond lacking accommodations, the structure of work routines and expectations within firms may even work to push lawyers with family responsibilities out of the law firm."
Banka says being there in the early years of her daughter's life would have been nearly impossible with a career in private practice. "I'm grateful to have a child, take some time off for maternity," she says.
"You know, I was there when my daughter was young, I was always at home. The ideal, for me, was work-life balance."
When researchers asked law graduates who had left private practice and hadn't returned why they didn't come back, the most common responses was they had left for a better work environment with more women than men choosing that answer. More women also reported leaving for more compatible hours. Others said they had found a better job with higher pay or better benefits.
According to the study's findings, new lawyers are most likely to leave private practice during the early years of their careers with a peak in departures at about seven to eight years in. "This pattern is, however, distinctively male," the authors noted.
"Women's departures from private practice are also elevated during the early career years, but the pattern is better described as an initially rapid exodus followed by a steady stream of women leaving private practice over time."
One of the most interesting observations, according to the authors, was "just how much mobility there is within legal careers." Among lawyers who had started their careers in private practice, the study found the average number of professional positions held to date was three. Rand, for example, started his career at what was then Ogilvy Renault LLP. There, he worked on files for the Royal Bank of Canada. Having a particular interest in derivative markets, Rand says he felt perhaps the only place to hone his skills in that area was to go to a bank.
So when an in-housel counsel position opened up at RBC about five years after he had started working at Ogilvys, it was "too good to pass up," he says.
Seven years later, Rand re-entered private practice when he joined Blakes' capital markets practice as counsel.
The number of moves across the legal sector is "probably a reflection of an increasing tendency towards specialization," says Rand.
"If the moves that you make result in something valuable being added to your set of experiences — whether contacts and connections or an understanding of different perspectives of the business or an area of specialization or expertise — I think in any of those circumstances if the move was done properly, it's [a positive thing]," he says.
According to the study, some areas of law are stickier than others.
"Not surprisingly, lawyers working in litigation were less likely to leave private practice compared with lawyers working in other areas of law," the authors wrote.
"Men working in the area of business law (including corporate and commercial, intellectual property, bankruptcy, tax, and insurance) were also at lower risk of leaving private practice compared with men in other areas of law.
"However, women engaged in business law did not experience this same pull to stay in private practice."
In contrast to other reports, the new study found women aren't at risk of leaving private practice if they take parental leaves. Surprisingly, it found men were at risk of leaving private practice if they took time off to care for children.