NEW YORK - None of the members of the Fatboys Running Club are actually fat - and they are only boys to each other.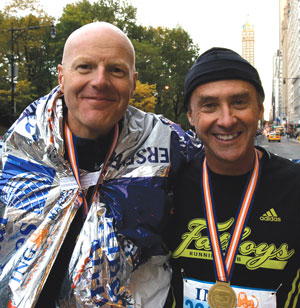 "In the case of one or two members, they were moving to the fat side of the ledger," says Tom Curry, a partner at Lenczner Slaght Royce Smith Griffin LLP. He founded the Fatboys, an informal running club of mostly lawyers, 16 years ago, when he was still at McCarthy Tétrault LLP.
"We're not elite runners. It's just for fun. We're middle-aged, mid-pack runners," says Bill Black, another of the founders and a partner at McCarthys.
When the Fatboys started running in 1992, they chose an ambitious goal: the New York City Marathon. They first sent a contingent to run New York City in 1996, and almost every year since.
Three of the estimated 20 Fatboys - the membership fluctuates along with their weight - ran in the 38th annual New York City Marathon. Curry, Paul Steep, a partner at McCarthy Tétrault, and Stuart Waugh, managing director at TD Capital Private Equity Investors joined the pack.
Members have run marathons around the world, including Chicago, Washington, and Berlin, but NYC is special to them.
"[The] greatest city in the world; greatest marathon," says Curry.
"It's an incredible tour of the city. It's a spectacle: 35-or-so thousand people running is very cool," says Black, who has run the NYC marathon five times but took a break this year. He identifies himself as the member of the Fatboys most frequently at risk of becoming fat. Most of them prefer to be described as Clydesdales - runners who weigh more than 190 lbs.
Curry, Steep, and Waugh comprise the smallest group the Fatboys has ever sent to New York. But Black and the other Fatboys were there in spirit. They followed runners' progress on the internet during the race, and stayed in touch via BlackBerry.
One member asked to be reminded of the date of the next general meeting, otherwise known as a drinking session, at club headquarters, the Longest Yard pub on Mount Pleasant in Toronto. "At which the results of the doping tests will be released, I presume?" she jokes.
Since most of the Fatboys are litigators, discussion while training often turns to real cases and courtroom hypotheticals.
"We set an agenda for our runs," Curry says. That's why Sarit Batner, another partner at McCarthys, started running in 2006.
"Members of the Fatboys could no longer do long chatty coffees and teas with me so we collapsed our talking and running into one. When I started running it was all about the fun of the group," says Batner, who also took a break from NYC this year.
As one of the only core members of the Fatboys Running Club - those who train four to five times a week for several hours - who is a woman, Batner has special pink and white versions of the traditionally navy and white Fatboys running attire.
The annually updated line branded with "Fatboys" written in cursive has included toques and scarves, but is usually limited to warm-up gear like T-shirts and hoodies.
Curry said that the club is always thinking of new ideas for items on which to put the brand. "Some of the Fatboys have smoked cigarettes, including when they're running, so we're always under pressure to create ashtrays," says Curry. "We're also thinking of adding a smoking jacket; a smoking jacket of the kind that Ken, as in Barbie and Ken, would wear. Velour, with a crest on the pocket."
Fatboys have rules and rituals. Many, such as crossing certain streets in the same place every time, are like many laws: they don't make sense but must be followed.
Other Fatboys rules are more practical. In the NYC Marathon, runners are assigned to cross the Verrazano-Narrows Bridge - a double-decker suspension bridge that connects Brooklyn with Staten Island - on either the upper or lower level. If a Fatboy is assigned to the lower level, he or she must stick to the middle of the bridge.
Curry says a Fatboy in 1996 learned this lesson for all of them. "It's crowded, so he thought he would be clever and run along the north edge. This exposed him to the hazards of the upper deck. It's windy. People are anxious. He was showered in urine."
Another club rule was derived from an inquiry after the Fatboys were late for the Marine Corps Marathon in 2005. They made a detour to snag their ritual pre-race Starbucks coffee and missed the start of the race. It was a scandal:
Startinggate. Now one of the Fatboys who is a stickler for punctuality ensures that runners arrive at races with time to spare.
Waugh, caused another scandal this year being caught "red-handed with a medicine ball and trainer," said Curry.
Working with a personal trainer is strictly forbidden by Fatboys rules. They train and sign up for marathons together, but never manage to stay together during a race.
Curry, Steep, and Waugh finished this year at 3:59, 4:50, and just under 3:54. After the race, Curry and Steep found each other in the Essex Hotel lobby, but never did locate Waugh.
Over beers Curry and Steep lamented the occasional ignominy of marathon runner for a Fatboy: being passed by costumed runners. In Chicago in 2004, Curry was passed by a man dressed as a Rhode Island Red Rooster. "He distracted me and I tripped. He caused a Keystone Cops pileup," says Curry.
The rooster kept running. "It was oblivious to our struggle," Curry adds.
Another club member, who is a partner at McCarthy Tétrault, was passed by a bank machine in NYC in 2003. "Not just an ATM; a full-service banking machine. The kind where you can make your mortgage payment if you had to," says Curry.
This year, Steep, almost quit at the 16-mile mark until a giant hot dog ran by. The back of his shirt said, 'How do you like my wiener?'