Choudhury left investment arbitration to help developing countries defend their human rights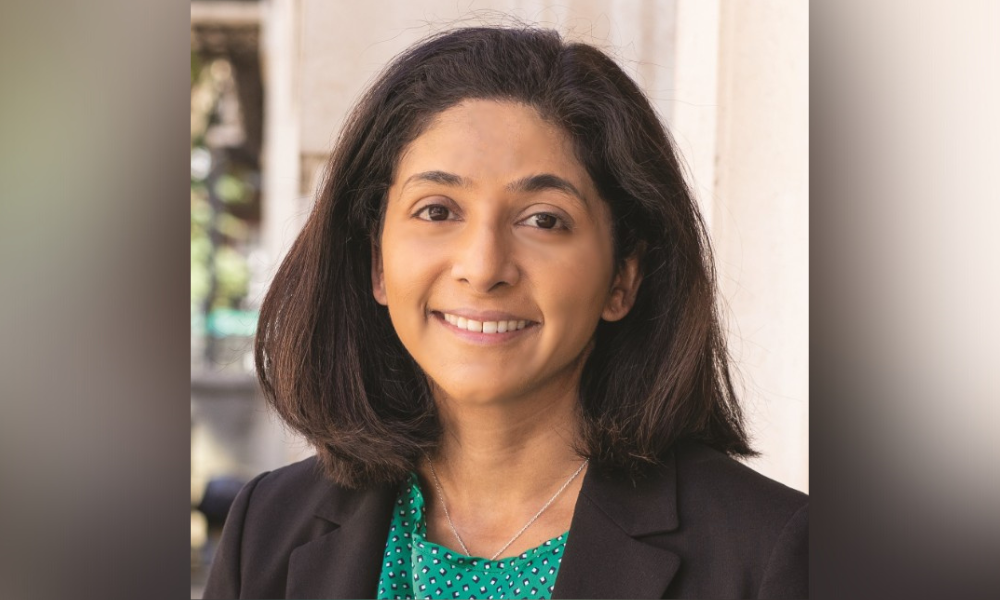 Osgoode Hall Law School professor Barnali Choudhury could play a role in the European Union's push to make its trade agreements more equitable and environmentally sustainable.
Choudhury, who also serves as director of the Nathanson Centre on Transnational Human Rights, Crime and Security at Osgoode, was selected by the European Commission as one of 11 international lawyers and academics to potentially chair expert panels on trade and sustainable development (TSD) to help resolve bilateral trade disputes between EU and non-EU countries.
Choudhury worked as a lawyer in investment arbitration before becoming a law professor.
"I've been a professor for the past 17 years and have worked and taught throughout parts of North America, Europe, Asia, and New Zealand. I've been in the UK for the past ten years most recently at University College London, and I moved to Canada eight months ago to teach at Osgoode Hall Law School," Choudhury says.
Choudhury's work looks at the intersection of economic and human rights issues. Mainly, her research focuses on corporate governance, corporate law, and international economic law as they deal with social justice issues such as human rights and environmental matters.
"I teach, research, and advise businesses and international organizations on these issues," Choudhury says. For example, she has advised the United Nations Working Group on Business and Human Rights and is currently a special advisor to the UN Special Mechanism on the Right to Development. Choudhury is also a co-principal investigator and on the Canada Climate Law Initiative board.
Choudhury attended Columbia Law School and says she was introduced to the concept of business and human rights when she took a class partially taught by an advisor to the GAP clothing company. After graduating, she worked in Toronto at a boutique investment arbitration firm, representing US Fortune 500 companies in their investment arbitrations, usually against developing countries.
"The idea that I was helping American corporations' profit at the expense of developing countries did not sit well with me, so I left the practice of law to work on helping countries – developing or otherwise – to protect their human rights particularly in investment arbitrations," she says. "My research then extended to the work of multinational corporations generally, that is in countering their ability to constrain human rights."
Choudhury says she was motivated to leave investment arbitration following a case where she represented a US corporation against the Argentina government. She eventually wrote an article favouring Argentina's ability to protect its citizens' human rights.
"Argentina had depegged its peso from the American dollar because of its financial crisis which was causing widespread poverty, but our client and numerous other US corporations were only concerned with their financial losses in Argentina."
Simultaneously, Choudhury was also attending an investment arbitration at the World Bank in Washington DC, where she says some of the lawyers were comparing their Rolex watches while they all stood in front of a picture of impoverished children in Africa.
"These two experiences started making me question whether I was on the right side of the fight."
Choudhry has written numerous books and articles advocating in favour of the state's right to protect human rights and the importance of corporations taking human rights and environmental issues into account. She has also advised different UN agencies and businesses and has given talks on these matters throughout North America, Asia, Australia/New Zealand, and the Middle East.
The European Commission selected Choudhury based on her expertise in law, international trade, sustainable development, and other matters covered by EU trade agreements.
According to the EU, selected candidates should be independent and impartial from any organization or government, be able to conduct an arbitration and/or expert panel proceedings and draft an arbitration award or a recommendation in English, French, or Spanish. In addition, candidates for the sub-list of chairpersons need to demonstrate experience in dispute settlement.
The EU states that many of the trade and sustainable development (TSD) chapters and state-to-state dispute settlement mechanisms in its trade agreements rely on a pre-agreed list (roster) of individuals who may serve as panellists or experts in a specific case, Choudhury says.
She says the EU must select candidates from two sub-lists of a roster – the sub-list of individuals for the EU who are in principle nationals of an EU Member State and the sub-list of chairpersons who are neither nationals of an EU Member State nor of a third country party to the trade agreement in question.
Choudhury says disputes concerning the application of the trade agreement are submitted to an arbitration panel composed of the arbitrators appointed under the agreement of the parties.
"Similarly, trade and sustainable development experts may be called to be part of an expert panel tasked with settling disputes arising in the context of the implementation of the trade and sustainable development chapter of EU's trade agreements."
Following the applicable provisions of the relevant trade agreement, the arbitral tribunal or expert panel shall render an award, or in the case of a trade and sustainable development expert panel, a recommendation, Choudhury says.
"The general idea is that the EU will call upon those from the pool of candidates to recommend whether a sustainable development provision in the trade agreement has been impacted."
The EU also recently announced that it would allow individuals to bring complaints against states for sustainable development infractions. In addition, it is extending the standard state-to-state dispute settlement compliance phase to the TSD chapter of trade agreements, meaning that a party violating any of the TSD commitments will have to promptly inform how it will implement the panel report and comply within a certain period.
Choudhury is unsure if the newly announced changes will fall under the mandate of TSD experts but says it would be exciting if so. She says being able to enforce a sustainable development provision in a trade agreement would be an enormous step forward.
"The only thing missing is now to be able to use the investment arbitration mechanism to hold corporations liable for infractions of sustainable development objectives. One hopes the EU will move to that aim next," Choudhury says.