Tom Granger doesn't fit the stereotype of a legal innovator.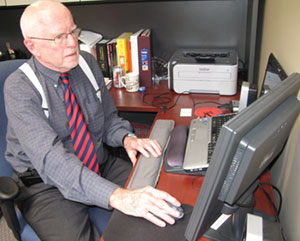 There aren't very many 75-year-old former judges at the cutting edge of the legal profession. But as a Superior Court judge, Granger pioneered the use of electronic trials in Ontario.
And now that he's back on the other side of the bench, the newly relicensed London, Ont., lawyer has set up shop as a one-person legal outsourcing outfit helping colleagues leverage technology and research their cases more efficiently. He also helps clients in need of a fresh pair of eyes for their derailed matters.
"My overhead is next to nothing, except the cost of an office, Internet service, and Quicklaw and DivorceMate and some of those programs," Granger says from the office of his new practice at Granger Legal. "I can charge $150 an hour, which is less than some paralegals are being charged at in big firms."
With the freedom of a solo practice, the experience should be a little less frustrating than his 23 years on the bench, where technological change has come at a trickling pace.
In the mid-1990s, Granger became involved with the judicial advisory committee to the Integrated Justice project. It envisioned a digital and paperless justice system in the province covering the police cruiser right through to the courts.
On the court side, the plan called for digital audio recording, electronic filing, and web-based case-management systems for criminal and civil matters. But cost overruns and delays dogged the project until it was finally scrapped in 2002.
"It was a fabulous system they had designed," Granger says. "In a way, they were just ahead of their time. All sorts of jurisdictions now are using that type of technology to streamline their system, so I saw what I thought would be a marvellous upgrade for the judicial system and it collapsed."
That same year, counsel for two sides in a dispute over breach of fiduciary trust related to the departure of four employees from a software firm approached Granger. The employees went on to form their own company while duplicating trade secrets and luring away customers from the old firm.
The case started in 1998, but by 2002 it was clear the parties wouldn't settle. With more than 5,000 potential exhibits scanned into a litigation support program, the lawyers needed a technologically savvy judge to hear the trial. Granger fit the bill.
Without much help from the court administration, the lawyers set up their own electronic courtroom for less than $1,000 using video splitters, laptops, and monitors.
Four years later and after nearly 300 hearing days, the trial was complete. Granger delivered his 700-page judgment in
GasTOPS Ltd. v. Forsyth
in September 2009 that ruled against the four breakaway employees in an $11.4-million award.
Photocopying and printing savings alone amounted to more than $50,000, according to Granger. But after accounting for time savings, he says the trial saved closer to $350,000.
Rather than the bankers' boxes full of paper that have become a feature of courtrooms, "the lawyers just came with a laptop slung over their shoulder and all the data was there," Granger says.
Granger notes he thought lawyers would drive the judicial system into the electronic world by demanding more of these types of trials, but once again the experiment seemed ahead of its time.
David Outerbridge, a litigation counsel at Torys LLP who chaired an Ontario Bar Association committee on electronic trials, says Ontario has trailed other jurisdictions on the issue.
While Toronto has one electronic courtroom, Outerbridge says some Australian states have fully developed systems with integrated software and processes. In Ontario, progress has been piecemeal. People can get an electronic trial, but the lawyers have to take the initiative.
"The court computer system is not capable of handling electronic exhibits," says Outerbridge. "In one recent case, we put the exhibits in electronic form, but the clerks converted it to paper form and marked them by hand."
In Granger's view, an unwillingness on the part of lawyers and judges to step outside their comfort zone has helped keep electronic trials the exception rather than the rule. "Very senior litigators never used a computer in the courtroom," he says.
"They probably use e-mail but they see litigating as a paper environment and they teach their juniors to litigate the same way. I was surprised I could never convince many judges to even have a look at what we were doing. I think they're afraid because they've never tried a case in an electronic environment."
But at some point, the decision will have to be taken out of the hands of judges, according to Granger. "Maybe it's time you say to judges, like they do in industry, the train's leaving to the electronic world on Jan. 1, and if you want to hop on board, then fine.
If you don't, we'll let you do landlord and tenant and those kinds of actions. Somebody owes it to the public to give them back access to justice."
This is the first article in Law Times' summer series on innovation in the law.
---
For more information on the paperless trial, see "
Case ends in $11-millionjudgment against Ottawa executives.
"