A senior Ontario Court of Appeal official last week hailed the court's first media lockup a success that resulted in immediate "accurate and rich" coverage of the historic decision to acquit Steven Truscott of the 1959 murder of Lynne Harper.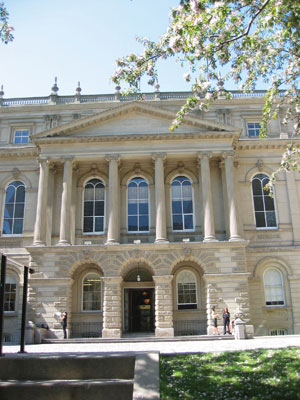 Two hours before the decision was publicly released Aug. 28, about 30 reporters were locked into a room in the downtown Toronto courthouse and given advance copies of the 300-page judgment, along with a synopsis.
All involved signed an agreement not to transmit their stories until the doors reopened, thus giving reporters a chance to absorb the massive judgment and work on their stories without the gnawing fear that someone could scoop them during the two-hour embargo.
More importantly, they could post or broadcast their first stories about the case when the lockup ended and the decision became public just before 11 a.m.
"The lockup resulted in immediate coverage that was both accurate and rich," says John Kromkamp, senior legal officer for the Ontario Court of Appeal. "Members of the media had a much deeper understanding of the complexity of the case. It was not a straightforward decision by any means."
Since reporters left the lockup having fully read the decision, it was possible to hold two press conferences almost immediately - the first with Attorney General Michael Bryant at 11:15 a.m., followed by Truscott and his defence team at 1 p.m.
Bryant and Truscott's lawyers received the judgment slightly earlier than reporters, but the same embargo applied to them, says Kromkamp.
"Everybody was ready at more or less the same time to meet with each other, and the attorney general was obviously in a position not to be caught off guard, or not to be in a position to say, 'I don't know what's in the decision so I can't make a comment.' He was ready to go, the defence team was ready to go, so I think it worked better for everyone," says Kromkamp.
Reporters also felt the lockup was crucial and extremely useful in this situation.
"Part of it is a timing issue," says National Post reporter Kelly Patrick. "It's obviously a pretty complex case, and you wanted to have something online as soon as it was made public. That's really the big thing.
"We knew people would be interested in this in a way that they probably are not in run-of-the-mill court cases," she says.
She joked that it was tempting to look over her shoulder and check out her competition's leads.
"I was sitting next to [London Free Press reporter] Jane Sims and there were a couple of times when we sort of leaned over and said, what's your money quote? Oh my God, did you see that line?"
Sims agreed the lockup was helpful because it prepared reporters for the press conferences, and allowed them to get their stories out to the waiting public immediately.
"This was a case that captured the public's attention for almost half a century. This is unlike any other case in the history of the Canadian justice system that we've ever seen," says Sims. "[The lockup] was extremely helpful."
But whether future appeal court decisions will warrant lockups is an open question.
"I can't think of anything that's come of out of the Court of Appeal [in the past] where it would be imperative to have that," says Sims.
"It will depend on the newsworthiness. We don't dictate the newsworthiness of a case," says Kromkamp. "There will be cases where a good amount of reading time will be required, and we'll be prepared to work with the media to assist them to do their job better."
The idea to hold lockups for high-profile appeal court decisions came from a media liaison panel, set up last year by Bryant and former chief justice Roy McMurtry, says Kromkamp, adding that the court will consider holding more when the media requests them.
The Supreme Court of Canada has since 2004 held media lockups about two or three times a year for vital or complicated decisions when the Canadian Parliamentary Press Gallery requests them, says the Supreme Court of Canada's legal officer Witold Tymowski.
But the top court's lockups operate a little differently from the Truscott version. There, reporters are given about 15 minutes to review the decision, and then court staff briefs them.
Media lockups also take place during provincial or federal budgets. That's why in-depth coverage magically appears online as the minister stands up in the house, says the Post's Patrick.