While the debate continues over the new mandatory victim surcharge, overshadowed in the controversy is the fact that monetary sanctions against convicted criminals have traditionally made up only a tiny fraction of surcharge revenue in Ontario and the new system may cost more to administer than it will raise for victims.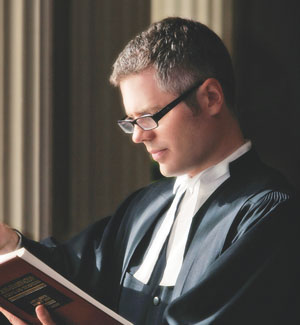 About 98 per cent of revenue generated for the Victims' Justice Fund in Ontario comes from surcharges imposed on provincial offences such as Highway Traffic Act violations. In fact, the number is more than 40 times what the government collects each year from criminal offenders. The surcharges in the Increasing Offenders' Accountability for Victims Act may alter that ratio slightly, but given that half of all guilty pleas in Ontario provincial courts in 2013 involved administration of justice or property offences, collection from many of these offenders may be difficult.
"Practically speaking, I don't see the province netting any new money," says Ottawa defence lawyer Paul Lewandowski.
"There might be a lot on the books," adds Lewandowski, who will be in court March 5 to set a date for a constitutional challenge to the mandatory surcharges he has filed on behalf of a client convicted of illegally possessing two painkillers outside a Salvation Army hostel in Ottawa.
The $100 surcharge Lewandowski's drug-addicted client faces would, if ultimately imposed and collected, go to the Victims' Justice Fund administered by the Ontario government. In each of the past two years, the revenue from surcharges imposed on provincial offences was more than $44 million while Criminal Code offender levies generated just over $1 million annually. The surcharge ratio is similar in other provinces, such as British Columbia, where driving and other provincial offences constituted about 96 per cent of the total victim fine revenue.
The Criminal Code amendments, which took effect last fall, require a surcharge of 30 per cent on top of any fine imposed by a court or, if there's no fine, a mandatory levy of $100 per summary conviction count and $200 per offence punishable by indictment. The changes to s. 737 of the Criminal Code no longer permit a judge to waive the levy and the surcharge is "in addition to any other punishment imposed on the offender."
The stated public purpose of the amendments was to generate more money for victims of crime and make offenders more accountable. Sue O'Sullivan, the federal ombudsman for victims of crime, publicly urged the federal government in 2011 to make the surcharges mandatory and referred to a 2006 Justice Department study of provincial courts in New Brunswick as evidence that judges routinely waived these levies without reasons.
Federal Justice Minister Peter MacKay pledged that "judges will see the wisdom in putting victims in a better place and respecting their right to be compensated" in a December 2013 interview with The Canadian Press.
Any additional funds raised from the surcharges, though, don't go towards directly compensating crime victims in Ontario. The revenue goes to the Victims' Justice Fund as dedicated money used to administer various programs. The fund provides grants to community agencies to assist victims of crime.
In the nearly four months since the new provisions took effect, Lewandowski says that from his observations, they've had a cold reception from the courts in Ottawa.
"Judges don't seem to like it. Clerks hate it. There is more paperwork," says Lewandowski. The defence lawyer also questions whether the removal of the right of a judge to waive the surcharge will merely cause more administrative problems in the provincial courts.
"There are offenders who have defaulted already. You can go back to court to ask for an extension of time, but legal aid does not cover this," says Lewandowski, who suggests there will be more unrepresented offenders back in court explaining why they don't have the money to pay the surcharges.
Almost 30 per cent of all guilty pleas in Ontario in 2013 involved administration of justice offences, such as failure to comply or breach of probation, according to statistics issued from the Ontario Court of Justice. Low-level chronic offenders could run up hundreds of dollars in surcharges while an individual convicted of a single count of first-degree murder may pay just $200. "I am not sure this makes the murderer feel accountable," says Lewandowski.
His client's case is believed to be the first formal constitutional challenge in Ontario to the provisions, although a number of provincial court judges have already been critical of the surcharges. Earlier this year, Justice Eleanor Schnall refused to impose the financial penalties against five accused in
R. v. Flaro
, a case that included a 50-year-old man facing $200 in surcharges for breaching his recognizance while out early in the morning on his bicycle collecting empty beer cans for some change to supplement his monthly assistance payments.
For more, see "
Judges resisting stiff crime laws
.
A LOOK AT VICTIM SURCHARGES BY THE NUMBERS

| | |
| --- | --- |
| $44,452,640 | Funds collected in Ontario in 2012-13 from victim fine surcharges |
| | on provincial offences such as Highway Traffic Act violations. |
| $1,172,498 | Funds collected in Ontario in 2012-13 from surcharges imposed |
| | on Criminal Code offenders. |
| 28 | Percentage of all convictions in the Ontario Court of Justice in |
| | 2013 of people found guilty of administration of justice offences. |
| 6 | Percentage of all convictions in the Ontario Court of Justice in |
| | 2013 for serious crimes against the person (homicide, attempted |
| | murder, robbery, sexual assault, major assault). |
| | |
| | Sources: Ontario Court of Justice and the Ontario Ministry of the Attorney General |