Nestled between the shores of the Credit River and Mississauga Road, Glatt's Lane is a quiet, discreet little stretch next to seven picturesque homes in Mississauga, Ont., that became the unlikely subject of a lawyer's legal odyssey recently.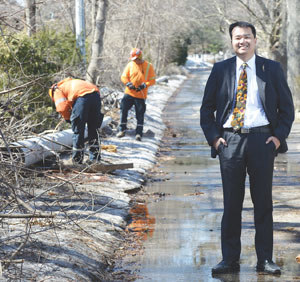 It began in 2012 when the city's electricity provider, Enersource Corp., said it couldn't service the laneway anymore because it didn't have permission from its owner to replace rotten hydro poles. The situation left the residents of the small neighbourhood perplexed.
Residents, who weren't fully aware of the private ownership of the laneway, faced many questions: Who's the owner of Glatt's Lane and, more importantly, where is that person?
Real estate lawyer Tony Nguyen, a resident of Glatt's Lane, couldn't have predicted then that those questions would be the start of "the craziest legal odyssey" he's ever been on. Nor did he know the Glatt's Lane's quagmire would send him down the path of 87 years of history and inheritance issues while solving tricky legal questions along the way.
To legally do work on Glatt's Lane, Enersource needed an easement, says Nguyen.
"We were in a catch-22 because in order to grant the easement, we had to own the laneway."
Transfer documents Nguyen gathered named Charlotte Muriel Hill as the owner of the laneway. But the transfer dated back to 1926.
"How do you find someone from 87 years ago?" Nguyen asks. He searched Hill's name on Google without any luck. He then came up with several possible legal alternatives to finding the owner of the laneway but also to no avail.
Nguyen called certified real estate specialist Alan Silverstein, who suggested getting a declaration order from a judge on the basis that he couldn't find Hill's heirs. But soon, the two figured a judge would ask them how hard they'd tried to find the descendants before issuing a declaration.
Back on Google, Nguyen did more searches. Finally, he found something about Hill's husband, Clarence Bruce Hill, a First World War veteran. One web site says Clarence Hill of Ottawa received his first military cross "for conspicuous gallantry in action in April 1918."
Later, Nguyen would find out Charlotte Hill had served in the Red Cross. Further research and more Internet miracles led Nguyen to the Hills' three children: Heather, Peter, and Trevor. Peter, a Second World War veteran, had died in 1999 and Trevor passed away in 2007. Heather is alive but has Alzheimer's disease and "doesn't even remember her name," says Nguyen.
Before Trevor died, he was a professor at a university in Virginia. Nguyen found a phone number for his widow, Shirley, and called to deliver the surprising news that she owned a laneway in Mississauga. A surprised Shirley put Nguyen in touch with her son, Derek, to deal with the legal ramifications.
"Just imagine you're working one day you get a call and [someone says], 'By the way, your grandmother who passed away God knows when owned a laneway and whether you like it or not, you technically own it.'"
Derek, who lives in St. Catharines, Ont., "was completely in shock," says Nguyen, adding it appears Glatt's Lane was part of a tract of land Charlotte Hill had owned and that after selling strips of it, she simply forgot to sell the laneway as well.
In the end, Glatt's Lane residents purchased their street for "a four-digit amount," says Nguyen. They formed a non-profit corporation to buy the land as it would be difficult to own Glatt's Lane individually. For one thing, sole ownership would make one person entirely liable for something like a slip-and-fall lawsuit.
There were other considerations as well. "We did not want the crazy situation that we had found ourselves in to happen again for possible future homeowners if, for instance, one of us were to hold title," says Nguyen.
"In the case of a not-for-profit corporation owning the lane, if the corporation was to somehow dissolve or discontinue, the laneway would legally escheat to the Crown."
Nguyen scoured the courts and found Hill's will. It named a company now owned by Scotiabank as an executor.
"He thought at some point maybe I can deal with the executor rather than deal with the beneficiaries, but we both came to the conclusion that Scotia wouldn't do anything until they knew who the heirs were so they could get consent from the heirs," says Silverstein.
Silverstein says Nguyen's odyssey underscores a few problems with the system. Although the government has done work to convert all properties from the registry to the land-titles system, there are "thousands" of parcels of land still listed under the older registry records, he says.
"Eventually, these things have to be cleaned up. There's lots of these," Silverstein adds, noting not everyone will be as successful as Nguyen in tracking down the information on their own.
In addition, unlike jurisdictions such as Quebec, Ontario doesn't have a wills registry system. "If you want to find out if there is an executor, you've got to search every county," says Silverstein. "There isn't a centralized database."
Incidents like the Glatt's Lane matter are rare but they do happen, Silverstein notes.
Last week, Enersource workers were at Glatt's Lane replacing the rotten hydro poles.
In the meantime, the legal quagmire has brought the laneway's residents together, says Nguyen.
Even with a lawyer in the neighbourhood, it was a complex journey, but Nguyen says he's grateful for the historic discoveries he made along the way. In a letter to the Hill beneficiaries, he said he was "truly honoured that fate, through a laneway, enabled me to brush shoulders with this remarkable family."
Should he ever need a private investigator, Silverstein says Nguyen is his choice. "He did a yeoman's job."