A call for input by the Law Society of Upper Canada on legal advertising has raised some interesting issues and concerns that the legal regulator needs to sink its teeth into before it can wrap its collective head around potential solutions.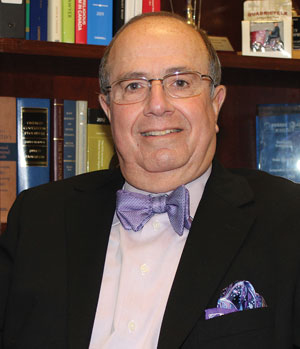 Malcolm Mercer, chair of the LSUC's professional regulation committee, says a few legal professionals are even calling for a full stop on all legal advertising, while others sway to the side of lesser regulation.
Either way, he suspects 2016 will bring about new policy for marketing legal services in Ontario.
Mercer says the rules used to be quite clear — no legal advertising at all — but adds that changed to address the public's right to know what services they have available to them. The question he and his committee will have to address is how far has the pendulum swung and how to balance the public's right of access to information against overzealous or unprofessional advertising.
"We're sorting out what we're going to do about the broader questions," Mercer says. "There's an appetite to have the issues addressed, but they're complicated matters, so there needs to be a genuine, thoughtful examination before we jump to conclusions."
Bencher Michael Lerner, a partner at Lerners LLP, broached the issue during the December Convocation meeting, saying he hoped there would be a report or recommendations coming forward soon. Mercer says one will come to the table for review at some point in 2016; however, he adds there is a lot of information and issues to filter through before those recommendations come forward for discussion.
"I'm old enough to remember when there were absolute restrictions on advertising, so we've certainly come a long way with professional advertising. But in some instances, I now think we've come too far and some of the ads are false, misleading, or exaggerated, and those ads demean the profession," Lerner says.
Some examples he's seeing are in the real estate realm where fixed fees are being advertised but the client faces multiple add-on fees, says Lerner, "so when the client gets the bill, it's nowhere near what's been quoted.
"And in the personal injury bar, we see a lot of ads on the television that I think are false and misleading to the point where they're nothing more than ambulance chasing," Lerner adds.
In the early summer of 2015, Convocation agreed to a call for input on potential changes to its existing regulations on advertising, giving legal professionals until this past October to comment. Mercer says the call for input stemmed mainly from concern by some lawyers and benchers about the proliferation of advertising in the personal injury realm in recent years.
"There were concerns expressed simply about the volume of it, but there was also concern expressed about the nature of the advertising, and some of that goes to the professionalism of the content," Mercer says.
Another issue that came up is the substance of what is being said in ads. Some respondents say there are claims being made in advertising that shouldn't be made, such as potentially misleading claims about awards. He says lawyers have also complained that some advertising suggests a lawyer is particularly aggressive or will take a hard-nosed, adversarial approach. He says if new policy is created, it will be a difficult balancing act between providing relevant information to the public and adhering to the highest professional standards.
"On one side, it's important that people have an opportunity to know who might provide them with services and having personal injury lawyers describe who they are and what they can do is a good thing, and competing for that business is probably a good thing as well," he says. "But on the other hand, if the marketing is misleading or doesn't give a fair picture, then that's a problem."
Mercer adds another interesting point raised by some legal professionals is advertising that "tends to lower the public confidence in the legal system is a problem in and of itself.
"There is concern by some that advertising that isn't professional, that isn't in an appropriate style, tends to diminish the regard the public holds in the administration of justice," he says. "There were certainly some who expressed enough exasperation with the issue that they'd be content to shut down advertising entirely, but those who were of the view there should be advertising were more interested in knowing with clarity what was permitted."
He says one broader issue that "right or wrong is worthy of consideration" is an increase in lawyers who pay referral fees to other lawyers who provide them with cases and how those firms advertise.
"There has been concern expressed that some of the referral fees are not a percentage of the ultimate recovery but are flat rates," he says. "The concerns of those who raised that issue are that the result may be the referring lawyer isn't interested in getting the file to the lawyer who can do the best job but to the lawyer that's prepared to pay the highest fixed fee; it's worthy of examination, how the referral fee system has evolved to reflect the question: Is this a system [that] is transparent, that is aligned with client interests or not?"
Mercer says because referral fees are a source of income for some, a new business model may be emerging where firms advertise not to do the casework but to refer the work on to others.
"The concern then is raised whether or not it's appropriate as a matter of transparency to the public. We want to understand how much of that is going on and whether or not the public interest is advanced by permitting a regime where people can invest large amounts in advertising, not for the purpose of doing work but for the purpose of getting fees for referring work," he says, adding that "some might argue that's not a bad thing because people can learn about their rights and find lawyers to do the work while others worry about the transparency and whether or not the work is going to the right place."
Lerner says advertising has been abused and "it's incumbent upon us to rein it back in to the way it was originally intended.
"I don't expect the people who originally permitted advertising ever in their worst dreams thought it would develop the way it has and now we have to put in rules and regulations to restrict and confine it to something that we think reflects well upon the profession," says Lerner.