That's History

John Douglas Arnup, one of the great Ontario lawyers of the20th century and one of the great leaders of his profession too, died Oct. 5.He was 94 and had been ill for some time, but I find myself thinking he diedtoo soon. Certainly there were legal history projects that he never lostinterest in, and that I would have been grateful to have heard more about.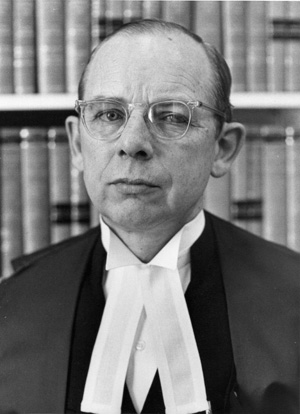 Born in 1911, the son of a Methodist minister and moderator of the United Church of Canada, Arnup learned law in one of the great litigation firms, Mason Foulds (WeirFoulds today) and he joined that firm when he was called to the bar in September 1935 — just 70 years ago.
At Mason Foulds, Arnup got a rigorous apprenticeship with Gershom Mason, Roy Kellock, Bill Gale, and others. He later said that it was seven years before he took a case to the Supreme Court of Canada — but when he did, he did it right, because of the Mason Foulds training.
After war service in Ottawa, he emerged in the late 1940s as one of Toronto's most highly regarded litigators. "He had a developed sense of relevance," said Barry Pepper, an unusual but perceptive summation of legal talent.
Arnup did countless cases in many courtrooms. One of his great cases, fought between 1966 and 1968, was Leitch Gold Mines v. Texas Gulf, a complicated commercial litigation that in its day was the longest trial ever heard in Ontario. Arnup represented the defendant and John Robinette was for the plaintiff. Arnup's old colleague Bill Gale presided.
Bertha Wilson, who also had a role in the case, called it "Ontario's two most outstanding counsel facing off against each other under the keen and critical eye of its most outstanding judge."
There were masses of technical evidence to assimilate, but a crucial factor was the credibility of the plaintiff's key witness. Arnup's successful demolition of that credibility gave him the win.
Popular and respected from early in his career, Arnup became a bencher at age 40 when most benchers were a good deal older. He had an extraordinary impact at the Law Society of Upper Canada. He was deeply involved in the remaking of legal education in the 1950s, in the moving of Osgoode Hall Law School to York University in the late 1960s, in the shaping of ethical and auditing standards, and particularly in the creation of paid legal aid in 1966, while he was treasurer.
In 1970, chief justice George Alexander Gale of the Ontario Court of Appeal told Arnup, "If I can get you, I can get anybody," and Arnup, soon joined by luminaries such as Charles Dubin, Bud Estey, and Arthur Martin, helped build the court into one of the strongest in Canada.
Retirement in 1985 allowed him to expand his other career as chronicler of his profession. He wrote many essays, some on substantial issues, some simply colourful stories, for The Law Society Gazette. He wrote a biography of a personal hero, justice William Edward Middleton. He struggled for years to bring into being a history of the Court of Appeal.
A decade ago, I was writing the bicentennial book Law Society of Upper Canada and Ontario's Lawyers. Told that Arnup, the great lawyer, the distinguished judge, the past treasurer, wanted to review my manuscript, I was alarmed. I prepared to defend myself against some crusty octogenarian eminence who would issue dicta about what was to go in and come out.
Instead he insisted I call him John and said very firmly the book was my responsibility and he was merely interested and eager to help. Then he proceeded to give my rough draft an extraordinarily vigorous, careful, and useful critique. If this law thing had not worked out, he could have been a very fine editor.
But he read the chapters in chronological order, and I grew nervous again as we approached the era he knew from personal experience. When Arnup told me he thought I'd got the feel of those times just about right, it seemed as fine a professional compliment as I'd ever received.
I only knew John Arnup in his 80s and 90s, and he seemed the nicest man you could imagine. Considering his career, I realized that in his day he must have been able to be tough, to put work ahead of all else, to be ruthless in court or convocation.
Doubtless he did. But to prepare this piece I looked over many years' worth of recollections of John Arnup. Seems just about everybody has emphasized what a nice guy he was.
Christopher Moore's most recent book is McCarthy Tétrault: Building Canada's Premier Law Firm, just published by Douglas & McIntyre. His website is www.christophermoore.ca