A prominent Sikh lawyer says he still fears for his safety after he was stabbed during a brawl outside a Brampton temple last week.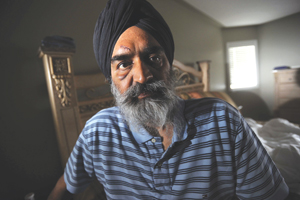 Manjit Mangat, a former justice of the peace who practises in Brampton, Ont., is also a trustee of the Sikh Lehar Centre, where protesters turned out on April 2 to demonstrate against the appearance of a controversial preacher.
"I don't know who my enemy is," Mangat says. "People are communicating hate on Facebook and on the Internet. It's hard to understand the situation, even for me."
Doctors treated Mangat for multiple stab wounds after the protest turned violent. Although he's now recovering at home, Mangat says tension in the community continues to simmer.
Mangat started receiving demands to cancel an appearance by Darshan Singh in the days leading up to the event.
Singh once held one of the highest positions in the Sikh religion but has stoked controversy by suggesting followers of Sikhism shouldn't accept one of its holy books, a view that resulted in his excommunication earlier this year.
Jagdish Grewal, editor of Brampton's Punjabi Post newspaper, says Singh's views are particularly controversial for Sikhs because the holy book in question touches on taboo issues such as sex and adultery.
"We can't even talk about that in our families, and many people don't want to bring that issue up," he says.
On the day of Singh's scheduled appearance, police advised Mangat to cancel the event because of a lack of security to control the crowd of more than 100 protesters gathered outside.
But even after he did so, demonstrators were still trying to get in, Mangat says. The spark for the fight came when he saw one of them in the temple.
"I don't know what came into my mind but I just walked outside with him. It was my stupidity because I was their target," he says.
Religious symbols became weapons as violence ensued. Grewal arrived on the scene shortly after the fight began.
"There was chaos unlike anything I've ever seen," he says. "Police were everywhere, and there were a lot of angry people."
Mangat says the last thing he remembers was a man trying to strike him with his kara, an iron bangle worn by Sikhs. When he woke up, he had four stab wounds to his abdomen, including one gash about 13 centimetres deep inflicted by a kirpan, the ceremonial dagger.
"I'm in a bad situation," he says. "The injury in my abdomen is deep, and it's hard for me."
Grewal says the Sikh community is now worried the incident could put public acceptance of the kirpan at risk and damage the general perception of Sikhs in Canada.
"It's our religious symbol, but when they use it to fight with each other, the authorities will probably start thinking about banning it," he says.
Despite all the trouble, Mangat says he doesn't regret putting on the event.
"It's my religious freedom. We don't enforce it on others. They were trying to force their point of view on me that I should not hold the event. I don't buy that, and neither does my congregation."
In the meantime, authorities have charged Sukhwant Singh, a 52-year-old man from Brampton, with attempted murder and aggravated assault in the case, according to Const. Wayne Patterson of the Peel Regional Police.