Immigration lawyers are reeling from a host of changes that are radically revamping Canada's immigration system within a short period of time.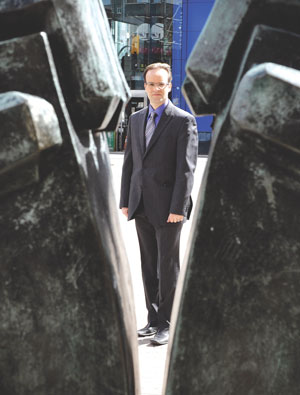 "They're moving through one immigration program at a time like a stack of dominoes," says Mario Bellissimo of Bellissimo Law Group in Toronto. "Yes, some of the changes have been very positive, but I don't think it's being looked at holistically and I think we really need to catch our breath.
I mean, unless they can say Canada's immigration system as currently constructed is entirely flawed, that's one thing. But they have to come out and say it."
Immigration Minister Jason Kenney has essentially been doing what Bellissimo suggests in defending changes that include eliminating scores of people from the backlog of applications.
"It makes no sense to tell people, 'Apply now, but put your life on hold for a few years before we'll even let you know if you qualify,'" said Kenney in a statement.
"I will continue to make changes to create a faster, more flexible immigration system. Canadians need and deserve a system that boldly puts Canada's best interests first."
The slew of changes includes allowing provinces to hand-pick skilled workers and immigrants to meet their labour needs; the removal of all applications clogging the federal skilled-worker applicant pool; more emphasis on hiring skilled tradespeople; assessing education credentials prior to entry to Canada; and the elimination of an entrepreneurship program to combat immigration fraud.
Under the changes to the federal skilled-worker program, nearly 280,000 people who applied before Feb. 27, 2008, will have their applications removed from the pool. In turn, they'll receive a refund for their fees and will have to reapply under the new guidelines.
Those guidelines include a requirement to have either experience in one of 29 occupations listed by the federal government as being in high demand or a job offer in Canada.
The new system also envisions processing applicants more quickly if they're young, highly skilled, and have the ability to speak English or French. In addition, it involves developing a separate stream for in-demand tradespeople and business investors.
As for the remaining immigrants who don't meet the new guidelines, a pilot program will allow provinces and territories to accept an additional 1,500 people a year from the current backlog of applicants.
Many immigration lawyers who disagree with the changes say that while they put Canada's economic interests first, there are downsides as well.
"The changes seem to turn immigrants into economic commodities and don't appear to take into consideration the family and societal values immigrants who may be excluded under the changes could bring to Canada," says Bellissimo.
"I understand not wanting to bring a group of people to Canada who are going to struggle and won't succeed, but are we bringing in people just to have them pass through our system or are we bringing them in to build a social network of success that will further develop our country?"
Bellissimo notes the changes to the skilled-worker program will come down particularly hard on applicants who in many cases have been waiting five years or more to enter Canada and have played by the rules.
"What do we say to those people: 'Sorry you did the right thing but we're going to close the door on you anyway?'" We shouldn't do away with the dream of someone getting the chance to come to Canada who played by the rules. It's a dangerous precedent and I think it will be subject to legal challenges in the future."
Bellissimo adds that while he agrees with Kenney that the immigration system should be faster and more flexible, there shouldn't be "a complete tear down" of it.
Not everyone agrees. Ottawa immigration lawyer Julie Taub, for example, feels the changes are on the right track. "There are enormous economic costs associated with applicant backlogs," she says.
"I think they have it right. Immigration should benefit Canada rather than Canada benefiting immigration. I think it really should be fine-tuned to meet Canada's economic needs."
In Taub's view, the changes rightly expect more from immigrants coming to Canada. "All immigrants that came before the late 1980s had to stand on their own two feet," she says.
"They had to work hard and they didn't get any handouts. Now, there is a sense of entitlement among some immigrants, and I think some of the changes are right to address that."
The new rules include changes to the Canadian experience class that allow certain foreign students and temporary foreign workers to obtain permanent resident status through their Canadian work and educational background more quickly. But foreign workers will have to receive accreditation in their home country before they can work in Canada.
"All accreditation should be done abroad," says Taub. "For Canadian taxpayers, it's in our best interest and safety to do so. There are a large number of doctors and engineers who come to Canada and aren't accredited and end up becoming taxi drivers or may end up harming people because they aren't up to our standards."
But Lloyd Ament, a partner at Basman Smith LLP in Toronto, foresees some problems with the changes. "In terms of the changes to the federal skilled-worker program in the permanent resident category, of the 29 categories workers can now apply under, there is only room for 500 applicants," he says.
"The popular categories are being filled up in a month in most cases and it doesn't really do much for the other 80 per cent."
Other categories affected by the changes include the family class under which parents and grandparents can now apply for super visas that allow quicker entry to Canada for extended stays.
At the same time, the government will now require spouses of Canadian citizens applying under that class to commit to a two-year temporary visitor designation before they can seek permanent residence in order to ensure the marriage is genuine.
"It sounds good on paper, but many parents and grandparents can't get the medical insurance necessary to apply for the visa and can't prove their sponsor has the resources necessary to support them," says Ament.
For more, see
"Dramatic immigration reforms necessary"
and
"What's Kenney's beef with lawyers?"