OTTAWA - The Law Society of Upper Canada has no plans to beef up a rule governing sexual relations between lawyers and clients, despite a steamy affair that felled former society head George Hunter - an affair that also led to his disciplinary suspension by a law-society tribunal, and has now sparked a $1.4-million lawsuit against both him and one of the largest law firms in Canada.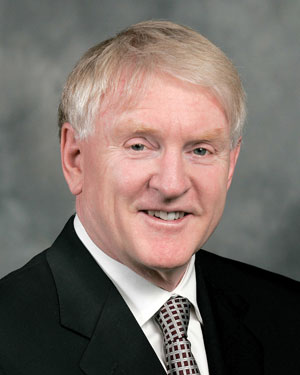 With the recent publicity over a statement of claim filed by 'AB', an anonymous client with whom Hunter was having an affair while campaigning to become the law society's treasurer in 2005, the case has resurfaced.
Questions are being raised as to the adequacy of the rule that protects clients, and to the appropriateness of the two-month suspension and $2,500 in costs imposed on Hunter by a society tribunal, after it found him guilty of professional misconduct last year.
"It is always open to the law society to reconsider its rules of professional conduct," says Susan Tonkin, the society's communications adviser, in response to questions provoked by the lawsuit. "At the moment, it is not considering any revisions to the rules."
The allegations made by AB, whose teenage daughter, BC, is also a plaintiff, run out like a red-hot drama script in the statement of claim filed by her lawyer, Matthew Wilton, in Ontario Superior Court last November.
The bare details first surfaced last February, when the law society posted the tribunal's ruling against Hunter.
He was found to have "engaged in professional misconduct" when he began a "sexual/romantic" relationship with AB, which the tribunal said lasted for 2½ years, after she retained him in November 2000 to settle a dispute over the supervised access her former husband had to their daughter.
The affair with Hunter began in April 2003, according to AB's statement of claim, after he assured her he and his wife were not having sexual relations, he was not having an affair with anyone else, and he was interested in a serious, monogamous relationship with AB.
Wilton notes that some of the allegations in the claim have already been confirmed during the law society disciplinary process. The tribunal decision included the finding that AB was "emotionally vulnerable" when Hunter made his advances, and that he failed to advise her to retain a different lawyer or obtain independent legal advice.
The decision also confirmed that on the same evening, much later, when Hunter admitted to AB that he had been having sexual relations with other women during their own affair, he showed her a copy of the society's clause governing conflict of interest and sexual relations, and "had" her sign an acknowledgment that Hunter had complied with the rule.
The rule, 2.04 (3), requires that a lawyer shall not "act or continue to act in a matter when there is or is likely to be a conflicting interest unless, after disclosure adequate to make an informed decision, the client or prospective client consents."
The law society tribunal ruled Hunter continued the relationship "without adequate disclosure of the circumstances that could make a conflict of interest likely."
AB's statement of claim alleges Hunter made his admissions to her on Nov. 21, 2005, only 15 days before he resigned as law society treasurer, according to Wilton. Hunter said publicly at the time that he was stepping aside because his marriage had broken down and he needed more time with his children.
The claim alleges Hunter also disclosed to AB that the two women with whom he had been having concurrent sexual relations were employees at his own law firm, Borden Ladner Gervais LLP. One of the women, the claim alleges, had opened his e-mails while he was on vacation and consulted the other woman at Borden Ladner, prompting Hunter to confess to his wife about all three relationships.
The developments, judging from the law society ruling, prompted Hunter to hire his own counsel and vainly press AB, who had broken relations, to confirm he had done nothing wrong.
"He telephoned and e-mailed the client on numerous occasions, in an attempt to have her confirm to his lawyer and law partners that the nature of their sexual/romantic relationship was as he described," the disciplinary tribunal ruling says. It goes on to say that Hunter once "attended at the client's home" without notice, in his efforts to get her support.
The statement of claim alleges Hunter e-mailed and called AB "numerous times," leaving voice mails and messages, and that he showed up at her house at 9:30 p.m. on Nov. 30, 2005, and "banged on AB's door when she refused to answer. AB found this visit terrifying."
As the national managing partner of Borden Ladner, Sean Weir, recalls to Law Times, that was the same day Hunter's relationship with AB "came to light" at the law firm.
Hunter resigned as law society treasurer a week later, barely more than five months after being elected. The first news report of a law society investigation into his actions appeared in September 2006.
"We think bringing the firm in [the lawsuit] is without merit," says Weir. "We have independent legal advice . . . and are satisfied that the firm will be found to have acted properly and professionally at all times, that the client received competent and proper representation as it relates to the legal matter, and that there will be no liability at the firm."
The statement of claim, alleges that AB believed Hunter was not following her instructions to resolve lingering custody and child-access issues with her former husband, and that by February 2005 he was turning office meetings meant to discuss those issues into "romantic or sexual interludes."
The claim says that, due to the stress caused by the relationship with Hunter, AB now requires therapy and medical attention, and was "obliged" to take AIDS tests after he disclosed he had unprotected sex with her and the other women during the same time period.
The Ottawa office of Borden Ladner Gervais includes prominent lawyers who have represented a string of high-profile political actors. Partner Peter Doody represented Jean Chrétien during Justice John Gomery's inquiry into the federal sponsorship scandal, as did another partner, David Scott, the brother of the late former Ontario attorney general Ian Scott.
Another partner, Guy Pratte, represented Jean Pelletier, Chrétien's former chief of staff during the inquiry, and also represented former prime minister Brian Mulroney during the recent Commons committee hearings into the Karlheinz Schreiber lobbying affair. Hunter himself, a 30-year veteran of Borden Ladner Gervais, represented former public works deputy minister Ranald Quail at the Gomery inquiry. Former Liberal MP Gar Knutson is an associate.
But Wilton plays down the significance of including the prestigious firm in the lawsuit.
"They're big cheeses, but that's fine," he tells Law Times. "Lawyers [take on] insurance companies every day that are bigger corporations than Borden Ladner Gervais - or banks or the federal government or the provincial government. What's determinative is usually the strength of the case, rather than the size of the party that you sue."