The life and career of Eddie Goodman, who died at 87 in August, marked some significant changes in the Canadian legal profession.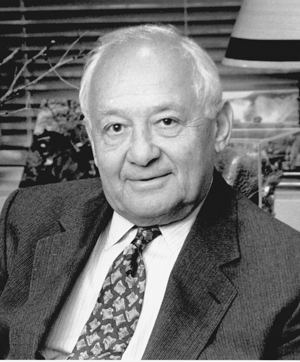 Goodman was probably most prominent as a Conservative Party organizer, a pillar of the Big Blue Machine in its heyday. He was also renowned for his community service, as a leader of many boards, and a patron of many artistic and cultural institutions around Toronto.
Among lawyers, he probably became most familiar as the builder, leader, and symbol of his law firm: Goodmans has always been acknowledged as Eddie's firm and Eddie's creation. A two-person firm when Eddie joined his father in 1947, it has long been one of the majors. It is now distinctive among the large firms as one of the few not to have gone national or international, and seems to have done just fine by running against that tide.
One achievement of Eddie Goodman now seems so antique it probably didn't get much notice among younger lawyers at the time of his death. Goodman was the representative figure in the historic transition that brought down the huge wall between the lawyers who were not Jewish and those who were.
I don't mean Goodman's Jewishness was the key to his career; more that he helped usher in the era when you could be a Jewish lawyer without that being the defining characteristic of your career.
Goodman was much less an outsider than most Jewish lawyers of the 1940s and 1950s. His father was a successful and prosperous business lawyer with notable Conservative party connections, and even before being called to the bar in 1947, Goodman was already a decorated war veteran and a provincial Conservative candidate.
Much of the early success of Goodman's law practice grew from his gift for finding small clients who rapidly became big ones and big clients who became huge. He was closely associated with Cadillac Fairview, Labatts, the Baton/Bassett media empires, and many other leading lights of corporate Canada during their periods of explosive growth.
Friends and colleagues say that was no accident. He was a very skilled lawyer, they argue, but even more skilled at getting right into the business of his clients, contributing both legal and business judgment.
He was also, they insist, extraordinary for his insistence on "pushing work down" and bringing young lawyers up. When I helped Goodmans assemble some material about its history a couple of years ago, one lawyer after another said their careers really took off after Eddie Goodman dumped a major responsibility on them and convinced both the client and the untested young lawyer that his choice was the perfect one.
Still, during the first half of Goodman's six decades of legal practice, Goodmans could not help but be a "Jewish" law firm. Well into the 1970s and '80s, establishment law firms were slow, staggeringly slow, to accept Jewish lawyers; most of them had none.
Many members of the Canadian judiciary, the bar, and academe who are today acknowledged as 20th-century giants had nowhere to practice except in Jewish firms. With talented young Jewish lawyers having no outside opportunities gravitating to Goodmans and other firms like it, a defacto segregation prevailed.
Yet non-Jewish businesses were notably prominent among Goodmans' clients. Clients of law firms, it seems, were a lot faster than non-Jewish lawyers to stop segregating their legal work. As the walls of segregation broke down, the existence of a large, successful, and prosperous firm like Goodmans was among the factors that helped convince the profession to put aside its hidebound ways.
Goodman's public persona as political insider, cultural benefactor, business confidant - as well as highly successful lawyer, law society bencher, and firm builder - helped demonstrate that ethnic or religious origins need no longer be an insuperable bar to success and prominence in Canadian public life. Not to someone like Eddie, at least.
Goodmans, more than any other firm, perhaps, became the Canadian prototype of the modern law firm unconstrained by ethnic backgrounds and unworthy prejudices.
I only knew Eddie Goodman very slightly, and only when his illness was already robbing him of his lively tongue and story-telling gifts. But I was persuaded by someone who said that anyone who had more power and influence than he had in his heyday probably wasn't the nice guy he was, and anyone nicer probably hadn't got his power and influence.
{mosimage}