Toronto sports lawyer Gord Kirke is no headhunter - the closest he's come to a talent search is filling student positions at a large firm.
Yet Maple Leaf Sports and Entertainment is relying on him in assigning arguably the most scrutinized office in Canadian professional sports, if not the country's entertainment industry in general: president and general manager of the Toronto Maple Leafs, a storied franchise mired in a 40-year Stanley Cup drought.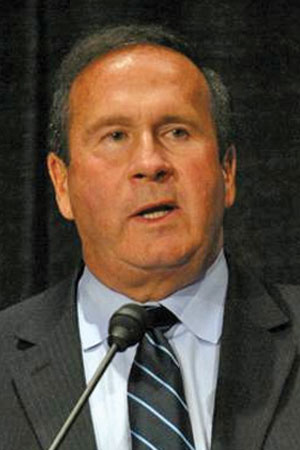 "I've told students for years that having a good, sound basis in law and working to become a good lawyer enables you to do things that are somewhat outside the box," Kirke, who teaches sports and entertainment law at the University of Toronto faculty of law and at Osgoode Hall Law School, tells Law Times.
With that in mind, many commentators aren't at all surprised to see Kirke alongside Leafs interim general manager Cliff Fletcher and MLSE president and CEO Richard Peddie in the group charged with filling the position vacated by the firing of former Leafs GM John Ferguson. Some even say hiring Kirke is the best move the team has made in years.
"In truth, Kirke will function like the canary in the coal mine," Sportsnet.ca NHL columnist Jim Kelley wrote in a recent blog posting. "If he's fired or resigns his commission, it's a safe bet that it happened because he felt the company was making the same mistakes it has so often made in the past."
Kirke has over 30 years of experience as a sports lawyer, representing everything from teams and athletes to executives, broadcasters, unions, and sponsors, amassing along the way a list of contacts few in the industry could match. During a 10-year stint as a sports agent that ended in 2005, Kirke came face to face with many general managers during negotiations, many of whom will be considered for the Leafs position.
"The bottom line was [the Leafs' executives] thought a lot of these people would know me and have a comfort level with me," says Kirke. "The second thing is, the name would be familiar enough that they would certainly return my calls and engage in a meaningful discussion."
His peers, including Cassels Brock & Blackwell LLP lawyer David Goldstein (who also happens to be a part-time sports journalist), match that praise.
"Respect is a word that comes up in every description of Gord," says Goldstein, who took Kirke's class at Osgoode and worked with him as a summer student at Goodmans LLP. "It's always, 'Respected sports lawyer, respected attorney, respected counsel.' I think everyone in the sports world knows who he is, what he stands for, and respects what he stands for . . . As a fan of the Leafs, I'm happy they chose him."
The 60-something Kirke grew up in Toronto as a Leafs fan and got into law after his childhood dream of becoming a cowboy faded, thanks in part to his father's observation that cattle and equitation were rare in their urban community.
After graduating from Osgoode and being called to the bar in 1971, Kirke started his career as a litigation lawyer at Goodmans. He soon moved into the entertainment and sports law field, where he helped negotiate player contracts for the fledgling Toronto Blue Jays that eventually led to consecutive World Series championships in the early 1990s.
Over the years Kirke has represented stars like NHLer Eric Lindros and Olympic gold medalist Donovan Bailey, and he remains legal counsel to the Blue Jays, as well as to the Canadian Football League's Toronto Argonauts, the Ontario Hockey League, and the Canadian Hockey League.
In 1997, he produced a report on abuse in minor hockey, which now guides locker-room conduct. He's the current president of the Sports Lawyers Association, the first Canadian to hold the title.
That pedigree will likely help Kirke deal with the demands he will face in searching for a new Leafs GM.
"There is enormous pressure," Kirke concedes. "Part of it is, of course, from the Leafs organization that wants to succeed, but the media and the fans exert tremendous pressure. This city and this province­ - and, to some part, this country - focuses so much on hockey; and the Leafs, in many respects, are the hub of that focus. So there's a lot of pressure, but it's welcomed pressure.
"I try to do it with good humour," he responds when asked how he deals with those expectations. "Sometimes you have to put it into perspective. There are bigger and more important things happening in the world. There's famine, there's genocide, there's war . . . If you put into perspective that we're really talking about entertainment here, that helps."
Another question is invited: why would a nice guy with such an unblemished reputation want to risk the possible public lashing that would follow the selection of another failed Leafs GM?
"The reason I took it on was, if the job is done as well as I think it can be and should be done, I think there's a lot of gratification. As a lifelong Torontonian, there's a lot of good feeling about having done a job to help the Leafs organization, and into the future it would feel very good to have made a contribution."
Much of the reason Kirke was selected for the role is his expertise in mediation and negotiation, and in contracts. His experience in that area is expected to come into play when the Leafs are closing in on a final deal with the chosen candidate.
He offers the following advice for lawyers when it comes to conducting med-arb matters:
"I think we lawyers love to talk and prove how well we talk and how articulate we are," says Kirke. "We sometimes forget to listen, and it's a mistake that I see happen way too often with very confident and very intelligent lawyers. They're too frequently on send and not enough on receive.
"If you do that, you are running the risk of missing some real gems that you can pick up in a mediation, or an arbitration, or a negotiation, from the other side."
Kirke also expects to put his time-management skills to the test as he juggles his practice with demands of helping select a new Leafs GM.
"I have to maintain my practice and be true blue to my regular clients and to do their work. So this is, sort of, superimposed upon my normal practice. It will increase the number of hours I'm working greatly, but I think it's very worthwhile and there's certainly a fun aspect to it too."