When Hermie Abraham made the seemingly innocuous decision to grow dreadlocks at law school, her friend, a black lawyer on Bay Street, thought it could have serious repercussions on her corporate law career.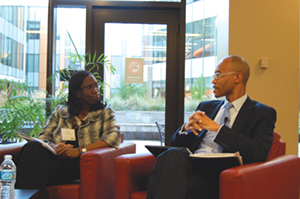 "She told me, 'Good luck getting a job with those,'" Abraham said. "It seems ridiculous, but I thought it was true and I'd have to find a different type of career that would fit the way I look."
Some time later, she interviewed with Cassels Brock & Blackwell LLP for an articling position with the dreadlocks. "It wasn't an issue at all," said Abraham, who got the job.
She fears minority lawyers are ruling themselves out of certain legal careers, including Bay Street firms, simply because of a feeling that they don't belong there.
Abraham, a speaker at an event on diversity in the legal profession organized by Ryerson University's Diversity Institute and Law Research Centre last week, told the audience that feeling shouldn't eliminate an option they'd otherwise consider.
"I think we often approach with the feeling that we are somehow lesser but we have to realize we have trained and we're just as good as anybody else," Abraham said.
Constance Sugiyama, a partner with a Japanese background
practising at Gowling Lafleur Henderson LLP, said she has faced many barriers in her 30-year legal career because of her ethnicity and her sex.
But as large clients demand diversity from their legal partners, she thinks firms are more likely to respond thanks to their primary driver: money.
"There's nothing that motivates a firm more than a client saying it matters to them," she said. "If you've got systemic barriers, you're shooting yourself in the foot.
People think diversity is about affirmative action, but it's not. It's about making the playing field level and removing barriers so those great people can come into your firm. Fundamentally, it's a competitive issue."
Frank Walwyn, a partner at WeirFoulds LLP and president of the Canadian Association of Black Lawyers, said lawyers from minority groups can leverage their backgrounds to their advantage, something firms are starting to catch on to.
His own practice is largely based on high-end, lucrative litigation in Caribbean countries where the holding companies of many large businesses are located. Walwyn uses his Caribbean roots to fight on behalf of hedge funds in commercial disputes in jurisdictions such as St. Kitts, Antigua, and the British Virgin Islands.
"When you want to get to the real money, that's where you've got to go," he said. "It opened a window to a part of practice my firm would never have had exposure to if I wasn't there.
It's a profit centre created not because the firm is a remarkably good litigation firm but because it has a member of a diverse community who is able to tap into that."
Closer to home, Esi Codjoe, a union-side labour law practitioner, said lawyers from diverse backgrounds are particularly useful for firms that serve a client base with a large minority population.
She's currently in-house counsel at the Ontario Nurses' Association, whose members' countries of origin commonly include places like India, the Philippines, and several African nations. In her experience, it was easier for her to gain the trust of many grievers she represented because she, too, was a racialized person.
"I can see the look when racialized folk see someone like them, and it's one of relief," she said. "There's a comfort level when you feel it's someone who will fundamentally understand your issue and you don't have to do a lot of background explanation."
Several of the panellists said they were uncomfortable with the notion that they should "tick the diversity box" in applications for law schools and jobs given fears of the implication that they were simply there to fill a quota.
Douglas Sanderson, a professor at the University of Toronto Faculty of Law, said he understood that fear but repeated the advice Justice Murray Sinclair, Manitoba's first aboriginal judge, had given him.
"In your life, people may give you things simply because you are an Indian," he said. "You will get opportunities others might not. Take them."