As falling oil prices add another wrinkle to already-uncertain economic conditions, several law firms are expressing guarded optimism that they'll be able to weather the storm and continue to adapt to changing markets this year.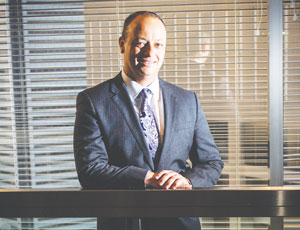 Lower oil prices will "undoubtedly" mean challenges for some oil and gas producers but they also present opportunities for clients in other sectors, says Brock Gibson, chairman of Blake Cassels & Graydon LLP.
"Oil prices have been volatile in the past and are clearly volatile over the last few months," says Gibson.
"They are generally priced in U.S. dollars, so the drop in the Canadian dollar mitigates some of that. It will undoubtedly create some challenges for some of the oil and gas and energy producers and it will create opportunities for others who are looking to acquire."
He adds: "There will be changes in capital expenditure and undoubtedly consolidation opportunities for some of the clients and so we're here to serve all of the clients both in seizing the opportunities that it creates and dealing with any challenges."
A weaker Canadian dollar could also benefit export-oriented clients, according to Gibson, who also notes the currency drop will help attract more foreign investment.
The optimism, of course, follows a year that saw major concern about the future of legal business given the collapse of Heenan Blaikie LLP in February. While there was rampant speculation about which firm would be next, Gibson says the last year turned out to be a good one. "I do feel that 2014 was a good year for Blakes. It was one of our best years and I expect 2015 will continue to be robust for us. Our strategy has been to assist our clients in the leading industries, markets, and practice areas that are most active in Canada. Those areas vary from year to year," he says.
"Some industries, markets, and practice areas are more robust in any given year than others, but our strategy is to be positioned for our clients in all of those market cycles and so we anticipate 2015 will be similar to 2014 adjusted for where market activity is," he adds.
For some small- and mid-size law firms, the focus for 2015 is less on global economic trends and more on the business of law.
"Our business is litigation and from a litigation perspective, we're always optimistic that people will still have reason to litigate," says Brian Grant, managing partner of Lerners LLP's Toronto office. "My own view of what's ahead for us is less to do with broad economic factors and more with respect to the business of law."
There will be "huge implications" should the Law Society of Upper Canada move towards allowing alternative business structures and public ownership of law firms, according to Grant. "That is a real conversation that's going to have to take place across a broad spectrum in the coming year. It has huge implications. I think the [Canadian Bar Association] believes it has implications for access to justice. That may be so, but it has huge implications for legal culture, accountability, independence, and solicitor-client privilege. It has a potentially large impact on how law firms organize themselves. That conversation is going to be front and centre this year."
The possibility of alternative business structures is causing even more apprehension in the personal injury bar.
"The most significant challenge we could possibly foresee is if the law society decided to do something drastic and unnecessary to the structure that we have," says David Levy, managing partner of personal injury firm Howie Sacks & Henry LLP.
"Right now, we work within a system that allows us to do good work on behalf of our clients and help us get them the compensation they deserve and make a good living doing it. If the law society doesn't interfere with that, we expect to be able to continue to do so," he adds.
Over at boutique law firm Hicks Morley Hamilton Stewart Storie LLP, managing partner Stephen Shamie says he's "cautiously optimistic" about 2015.
"As a boutique human resources law firm, we believe our clients will continue to look for specialized [or] subject matter expertise advice that will allow them to deal with the challenges of their businesses," he says.
But law firms will continue to face demands from their clients in terms of value-added services and the need to be more cost-effective, according to Shamie, who notes those focused on human resource law may find new opportunities in areas such as the new medical marijuana regulations.
"As a human resources law firm, the issue of medical marijuana in the workplace can be a significant issue for our clients and one which we expect to see in 2015 together with other workplace, accommodation, and related issues," he says.
Grant says law firms will likely seek to diversify their revenue bases this year, a lesson many took from the Heenan Blaikie collapse.
"Whenever you're in uncertain economic times — and I'd say that terribly, that's where we are — we're always looking and I think law firms are looking to diversify their lines of business and maintain a diverse revenue base," he says.
"One of the many potential lessons we could learn from Heenan Blaikie is that if you put all your eggs in one or two baskets, then you set yourself up for difficulties when economic conditions change. So certainly going forward, I would think law firms will, to the extent they can, look to diversify their revenues and reduce their reliance on one major source of revenue or business."
But other firms are quick to point out that Heenan Blaikie's demise left them with no scars.
"As a specialty boutique law firm, many of the pressures experienced by full-service law firms simply do not apply in our case," says Shamie. "We have focused on our core strengths over the years, which has served us well."
But even bigger law firms like Blakes express a similar sentiment. "We're pleased with our strategy of focusing on leading industry, practice areas, and markets, primarily in Canada but also elsewhere and we remain completely confident in that approach," says Gibson.
"We haven't changed our strategy or management or approach to the market or anything we do in any respect whatsoever as a result of the Heenan collapse. That has been a non-event as far as we're concerned."