Toronto's legal sector will suffer if greater numbers of qualified women don't start making their way into senior leadership positions, according to a report by Ryerson University's Diversity Institute in Management & Technology.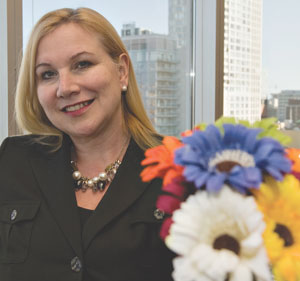 Released this month, the DiversityLeads 2012 report suggests the exclusion of qualified women from top leadership positions in the Greater Toronto Area's legal sector could translate into significant financial and client losses as well as dwindling business performance that could hurt Bay Street's bottom line.
According to the report, 26.7 per cent of senior leaders in the legal sector were women last year. It found 40.2 per cent of judges were women as were 42.9 per cent of Crown and deputy Crown attorneys. For partners at law firms, the number was 25 per cent.
By comparison, the report found Toronto's education sector had the highest representation of women in senior leadership positions at 40.8 per cent.
Among minority women, the results were significantly lower. They accounted for 3.2 per cent of Toronto's judges and two per cent of law firm leaders.
There were no minority women among Crown and deputy Crown attorneys, the report found.
"There is no doubt that diversity is good for business," says Wendy Cukier, author of the report and vice president of research and innovation at Ryerson.
"There has been undeniable progress, but it was pretty clear from the interviews we conducted during our research that many women in corporate firms felt significant barriers.
They often felt they were held to a higher standard than men and there was a striking contrast between what men and women reported that we didn't expect. Women are in the legal profession but for some reason they're just not rising to the top of Toronto's Bay Street firms."
Lawyer Julia Hanigsberg, vice president of administration and finance at Ryerson and a founding member of Ryerson's Law Research Centre, says that while the results of the report may be disappointing, it serves as an important barometer in assessing women's upward mobility within the legal profession.
"Overall, I'm not surprised by the results," says Hanigsberg. "The profession has been wringing their hands about what to do for many years. But it is important that the awareness is out there, that it shows a problem does exist."
The report, which analyzed top leadership positions among 19 Toronto law firms and courthouses, found while there were significant financial incentives realized by those that had women in senior roles, they often found it difficult to retain female lawyers.
While research has shown that women have often moved to equity partnership in the past, the popular thought was they left law firms to pursue a better work-life balance. But the report suggests another reason may exist.
"Other research has found that women lawyers see a number of barriers to career advancement, including few mentoring opportunities and role models, as well as exclusion from informal networks," the report, which also referenced the challenge of systemic discrimination, noted.
But Hanigsberg says that as the number of women in law schools now exceeds that of men, it's unlikely so many women are leaving the profession solely in an attempt to balance work and life priorities.
"Everyone faces the challenge of balancing life and work. That's not a significant explanation. I don't believe there aren't any qualified women out there who can fill these positions in any area of the profession."
By excluding women from leadership roles, Hanigsberg adds, law firms often miss out on significant business opportunities.
"I don't really know if the bar will change with one report, but if law firms are in the business of making money — and they certainly are — they would be wise to realize they need to make diversity a priority."
In order to increase the number of women in senior positions, Hanigsberg suggests Toronto law firms create leadership teams that genuinely value diversity and encourage young women with positive role models.
"We need senior leadership committed to diversity in the private bar. That is the only way change can happen," she says.
Other suggestions in the report include creating female-friendly policies that encourage the retention of women in senior leadership positions; strong and transparent human resources practices across all sectors; and ensuring women in positions of power have the opportunity to mentor young women in their chosen profession.
"Law firms in general have not necessarily been well-known for highly developed human resource departments," says Cukier.
"But if you have consulting firms that can grapple with these issues and do it well, it seems odd that the legal profession couldn't adopt some of those practices. In that case, they want to make the workplace welcoming and supportive so it works."
Brande Stellings, vice president of Catalyst Canada Inc., says that while the gap between the number of women in senior leadership positions and the talent pool is disparaging, another suggestion may lie in women's ability to access influential networks.
"From our research, we have found the key is really focusing on sponsorships," says Stellings, whose organization promotes opportunities for women in business.
"Paradoxically, women are often found to have significantly more mentors than men but they often don't feel they have the clout to ensure the proper networking takes place. It's also about educating women about making key connections and making sure law firms are inclusive."
Stellings adds that encouraging sponsorships by senior leaders for minority women in the legal profession is also important.
"To the extent that women face a glass ceiling, visible minorities face a concrete ceiling," she says. "Access to influential networks is so important, particularly when it involves people who can act as powerful sponsors toward women and can ensure they have access to key clients and difficult cases that are often distributed informally."
Still, Hanigsberg says she hopes the report will contribute to the advancement of both minority and non-minority women.
"I would like to see more strong, talented women in senior leadership positions working as role models to young female lawyers," she says. "I want to give women something they can aspire to."
For more, see
"Profession putting diversity on the agenda."