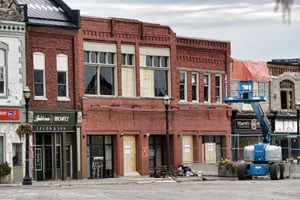 When lawyers at the Ross Firm Professional Corp. in Goderich, Ont., moved into their newly renovated office in the city's Courthouse Square in April, they figured they'd be working at that location for years to come.
Their new office ended up lasting just four months, however, following the tornado that struck the town on Aug. 21 and subsequent rains that left it badly damaged.
"Our new offices survived the tornado only to be badly damaged by the torrential rains that blew through Goderich three days later," says Heather Ross, senior counsel at the firm and a bencher with the Law Society of Upper Canada.
Due to safety precautions, all 18 members of the firm were prevented from re-entering the office for a week, which meant they couldn't recover computers, equipment, files or furniture.
"We did not think to include tornado in our business plan," says Ross. "But we had taken important steps to prepare for the possibility of our law practice being interrupted or harmed in some way."
One of the key measures the firm had taken prior to the renovation of its offices was to review its insurance coverage. It enabled employees to continue to receive their pay immediately after the storm.
"We beefed up our insurance coverage to ensure that we were protected in a comprehensive way, not just for property damage but for all important business interruption insurance and payroll coverage," says Ross.
Disaster planning was an important theme during the American Bar Association's annual meetings in Toronto last month.
"Even if you believe that you live where cataclysmic events don't occur, all lawyers and law firms are at risk of disaster disrupting their practice," said ABA past president Stephen Zack shortly before the event.
Being prepared for unexpected practice disruptions is something the Canadian Bar Association has been addressing as well.
"Whether the power is out or you are [physically] kept out of your office, it's the same result," says Robert Patzelt, past CBA national treasurer who also finished a recent stint as chairman of the Canadian Corporate Counsel Association. "You have to figure out what to do to stay in business or get back to business quickly."
In 2003, Patzelt authored a report for the CBA on disaster recovery for small- and medium-sized law practices. While physical damage following a crisis is often emphasized, he says law firms must be ready for potential disruptions to their business operations.
He cites, for example, the impact that hurricane Juan had on Halifax firms and businesses in 2003. "Juan didn't do that much damage physically [to businesses] but it knocked the power out for a week, which caused a huge amount of business interruption," Patzelt says.
According to Ross, her firm was able to have its servers running in one of its partners' houses. At the same time, lawyers had access to their files within three days of the tornado. This was largely due to planning beforehand, she says.
"The Ross Firm has been backing up our computer system each day and making sure that current backups were always safely located off-site," she notes.
The system, she adds, involves five external drives. "As part of this system, we scan all documents in a shift to a paperless practice."
According to Patzelt, small firms, unlike their larger counterparts, have to remain especially diligent in managing their files. "Firms like the Seven Sisters firms, they have built-in scale. They have the ability to move massive amounts of resources very quickly. . . . Because of scale, they have also devoted time and resources to planning and process."
Those resources aren't necessarily available at small firms, he adds. "Someone who is at a three-lawyer firm or one-lawyer firm and who is principally concerned with day-to-day operations or keeping their head above water, it's a matter of will they have their mind directed towards [disaster planning]? And if they have, have they recently updated their files?"
In response to the ongoing needs of lawyers and clients in Goderich following the tornado, Ontario Bar Association president Paul Sweeny says the organization has tried to provide practitioners in the town with access to their provincial peers.
"We've set up a hotline that lawyers can call if they have specific questions or needs, [which will] connect them with other lawyers in the province who can assist them," he says.
At the same time, Ross notes firms in Huron County received advice and checklists for unexpected practice interruptions from LawPRO.
Besides affecting some of the local law firms, the tornado also left the Goderich courthouse badly damaged, which prompted the need for alternative arrangements.
"The Ontario Court of Justice and Superior Court services have been moved to the Walkerton court," says Ontario Attorney General Chris Bentley.
Bentley adds that Ontario government staff, working with the court building's landlord, will be conducting an assessment to see what repairs are necessary and when it will be ready to resume court sessions.
For her part, Ross says all 18 members of her firm have found temporary space where they can all work under one roof and try to resume business as usual.
"Nothing can prepare you for the experience of a disaster like a tornado, but you can prepare for the event itself," she says. "In the end, planning was the key to our ability to meet the crisis and the needs of our clients in a timely way."
Despite the prudent planning, Ross says the tornado will continue to affect people in other ways.
"After a disaster of this magnitude hits, things become a little more complex. In our case, a large part of a community was decimated and parts of the prettiest town in Canada, including some buildings on the historic Courthouse Square, were reduced to rubble.
Our courthouse has been rendered unusable for the foreseeable future. The psychological effect on the community was visceral and, of course, we and our staff were all affected."