Between acting for their clients and acting on stage, it's been a busy week for a dozen lawyers who performed a play last week at the Toronto Fringe Festival.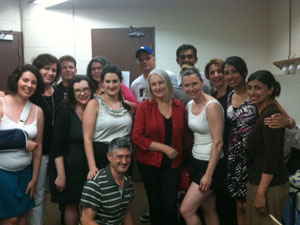 The lawyers staged a play titled
Watching Seana McKenna Watch Paint Dry
, a performance that "questions the value of art in theatre," according to one lawyer and actor in the show.
The idea for the play came last year when a group of thespian lawyers were having drinks and one of them who had just seen a play starring Canadian actress Seana McKenna said he liked her so much that he would go to the theatre to watch her sitting on stage watching paint dry.
Another lawyer, Peter Hamiwka, decided right then that
Watching Seana McKenna Watch Paint Dry
would make a great title for a Fringe play. The lawyers put the title into the draw for the Fringe Festival and happened to win the lottery.
The play features a character acting as McKenna as she watches paint dry on stage while the rest of the cast, who act as an audience in the performance, break into a debate over whether McKenna's act is in fact artistic or just a pointless bore.
"One of the main characters in the play says, 'This isn't art. What is this — someone sitting on stage staring?'" says Ajay Krishnan, a commercial litigation lawyer cast in the play.
"By the end of the play, just through a lot of banter and argument, we all get convinced that in fact art lets us see things in new ways and it's art because we all got this big emotional response from it. That makes it art."
To the lawyers' delight, the real McKenna showed up at one of their performances last week and knocked on their dressing room door after the show to have a chat.
"She loved it. She was very gracious," says Hamiwka, who was a filmmaker for 10 years before becoming a lawyer. Hamiwka coauthored the play with playwright and former lawyer Diane Mason.
"It's been going very, very well. We couldn't be more pleased," he says.
Hamiwka says being a lawyer was always his first career choice but notes he got "sidetracked" by filmmaking. While some of the cast members had rigorous training in theatre, others like Krishnan were relatively new to the stage.
Krishnan debuted in theatre last year in a William Shakespeare play performed for the Lawyer Show, a Nightwood Theatre production.
"I guess I caught the bug now," says Krishnan, who also ran for the Liberals in Whitby-Oshawa in the recent Ontario election.
He notes his love of public speaking, debates, and music led him to venture into the theatre as well.
About half of the 12 lawyers cast in the play have rigorous theatre backgrounds and training whereas others fell into the art by chance.
"It's been a really good opportunity for personal growth and also professional growth quite frankly from all the networking that's come from it and just in terms of getting comfortable in my skin," says Krishnan, noting stage performance helps with litigation work as well.
The funds gathered from the play will go to the Lawyers Feed the Hungry program.
"One of the things with lawyers is we always get a bad rap in the public, that we're slaves to money and things like that. But certainly for the cast of 12 of us, public service is first and foremost where we come from," says Krishnan.
"We really see value in that and so to be able to combine that with something we really enjoy is sort of a win-win."
The lawyers put on a total of seven shows during the festival.