Paul Temelini isn't letting bygones be bygones. After all, he says, he lost a profitable law practice because RCMP officers didn't do their jobs properly when they charged him with fraud 30 years ago.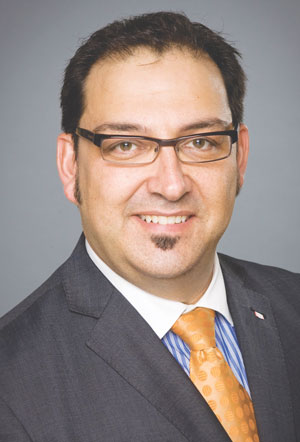 "The law society said I could go back, but go back to what?" asks the Sudbury, Ont., real estate developer and former lawyer.
"As a lawyer or doctor or a professional person, you can't go back. They destroyed me. A lawyer charged with fraud is no longer capable of practising law."
The story goes all the way back to 1982 when Temelini was charged with six counts of fraud. He agreed not to practise law while the charges were pending.
Two years later, he beat the charges and a real estate agent pleaded guilty to one of the them. But by then, he says, the damage had been done. The situation decimated the practice he had built up over the previous 15 years.
So he sued. All of these years later, the lawsuit involving the RCMP and what was then the Canada Permanent Trust Co. remains ongoing.
Temelini suspects it could well be among the country's oldest unresolved cases still before the courts. When asked about the lack of a resolution, an RCMP media relations officer suggests posing the question to the courts instead.
In the meantime, Temelini refuses to give up. He has a new lawyer who's working on contingency, meaning Temelini no longer has to incur the legal costs directly.
He's pushing forward with his fight in other ways as well. Beside the lawsuit, he has circulated a petition asking the federal government to help bring his dispute closer to some sort of a resolution.
He's also asking the government to modernize the legislation governing the RCMP to ensure that others like him are able to challenge the actions of a federal police force he claims is acting "in contravention to modern protocols of harassment and discrimination."
Sudbury MP Glenn Thibeault has decided Temelini's cause is worth going to bat for. In 2009, Thibeault met with and encouraged the then-RCMP commissioner to bring some sort of a conclusion to Temelini's 30-year battle.
This year, he's taking Temelini's petition to the House of Commons.
"I do what I can for Paul as I would for any of my constituents," says Thibeault, an NDP MP first elected in 2008. "I have a constituent who has a legitimate concern . . . and I support him in any way I can."
Thibeault expects to bring the petition forward in the coming weeks. The government has 45 sitting house days to respond, so Thibeault expects some sort of an answer by December.
Early in his career while practising law, Temelini also invested in real estate. But it was his work as a lawyer that was at the core of the 1982 fraud charges against him.
He had been involved in the purchase and sale of numerous properties in Sudbury while acting mostly for the vendors but also for some of the purchasers.
In dismissing the charges against Temelini in 1984, judge M.J. Fortier said he had serious doubts that Temelini's actions in the transactions should result in criminal sanctions. Temelini should have the benefit of that doubt, the judge ruled.
His multimillion-dollar lawsuit, originally launched in 1985, was for malicious prosecution of the 1982 charges.
He's suing Canada Permanent Trust, now TD Canada Trust, for breaching client confidentiality by illegally providing the RCMP with his business and financial information in the early 1980s.
Temelini maintains he was the victim of a set-up and says police should never have charged him based on the information they had collected.
As a result, he says, his law practice suffered and he had trouble attracting financing and clientele for his business interests. Cash-flow problems followed and then the creditors came along.
"They chose to ignore what wouldn't fit into their theory," he says.
Since launching the lawsuit, he says he has faced roadblocks, obstruction, and interference that have resulted in delays. He hopes, then, that his efforts in Parliament through Thibeault will help. "The government is mandated to answer this," says Thibeault.