The Superior Court judge deciding the political fate of Toronto Mayor Rob Ford has been presented with sharply different interpretations of the law that must be applied in determining whether he should be removed from office.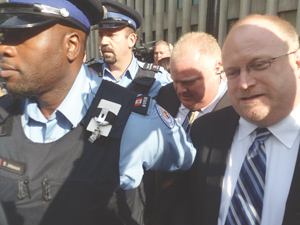 Justice Charles Hackland must choose from arguments that portray the mayor as a reckless politician who refuses to abide by rules he disagrees with or as a victim of a process that is trying to misuse the Municipal Conflict of Interest Act for political reasons.
The case is about "protecting the integrity of the city," said Clayton Ruby, lead counsel for the applicant, Toronto resident Paul Magder (not the longtime furrier), as the hearing began on Sept. 5.
Alan Lenczner, lead counsel for Ford, warned against expanding the scope of the hearing. "This is about one event on one day in February 2012," he said. "We are not here to conduct an assessment of Mr. Ford's prior conduct."
The Superior Court proceeding took place in Courtroom 6-1 at the 361 University Ave. courthouse in Toronto, one that's normally reserved for high-profile murder trials. Nearly all of the 165 seats in the public gallery were filled as Ford began his testimony. Six court security officers were present, a level of security normally reserved for street gang trials with multiple defendants.
Adding to the unusual nature of the hearing, Ford was escorted in and out of the building by security, his chief of staff, and his older brother Doug Ford, who in football-like fashion led the way through a throng of media photographers during the lunch break as the politicians sprinted to a side entrance of city hall just metres away from the courthouse.
The application before Hackland is seeking to remove Ford from office for allegedly violating the conflict of interest provisions when he spoke to and voted on a city council motion in February. The act prohibits councillors from taking part in any discussion or voting on any matter in which they have a direct or indirect pecuniary interest.
A finding that the act has been breached requires a judge to declare "the seat of the member vacant" unless the conduct was a result of inadvertence or an error in judgment.
The council motion in February looked at whether to rescind its previous decision in August 2010 that ordered Ford to comply with a recommendation by the city's integrity commissioner to repay $3,150 she found he had improperly solicited for the Rob Ford Football Foundation while he was a city councillor. The private foundation raises money to pay for football equipment for high school students in high-risk areas.
Ford gave what he admitted was a "passionate" speech about his foundation during the February council meeting. "The program does a phenomenal job. It saves kids' lives," Ford testified.
The report by integrity commissioner Janet Leiper found Ford had breached the code of conduct for members of council because he used city letterhead, a city logo on the back of the envelope, and the services of his staff in 2009 and 2010 to solicit donations for his foundation. Leiper, a Toronto lawyer, ordered Ford to repay money that had been donated by lobbyists or companies that had done business with the city.
Ford didn't comply with an August 2010 council motion that endorsed Leiper's findings. "To this day, I don't see why I would have to pay it personally," Ford testified.
By his own count, Ford repeated what he believed to be the definition of a conflict of interest more than 20 times during his court testimony. "How I define a conflict of interest is if it is financially beneficial to the city and financially beneficial to myself. I don't see how this benefits the city in any way," said Ford in reference to his foundation. The mayor insisted he did nothing wrong in addressing council on the motion about whether to rescind the order to repay the donations.
"I said it numerous times and I will say it again. In my mind, it takes two parties to have a conflict. This was only one party," said Ford.
Lenczner told the court there could only be a conflict if a matter relates to a city's financial interest.
It would be a "denial of natural justice" if Ford weren't allowed to speak to council on a motion over which it was debating whether to order a financial penalty against him. "You have to have the right to speech," said Lenczner, who argued the conflict of interest provisions don't apply when an issue relates to a code of conduct finding.
As well, he suggested Leiper had erred in recommending a financial penalty against Ford because while it's permitted in the code of conduct, it's not one of the two sanctions permitted in the City of Toronto Act.