Ever since she was a little girl, Tanya Walker wanted to be a lawyer.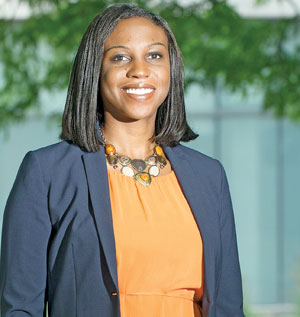 The commercial litigator is now set to become the first black female bencher elected to represent Toronto at the Law Society of Upper Canada.
Walker was born in Toronto, but she grew up in Ajax, Ont., the daughter of Jamaican immigrants.
Called to the bar in 2006, after graduating from Osgoode Hall Law School, Walker worked at two different downtown firms before deciding to start her own firm, Walker Law Professional Corporation, in 2010.
She quickly worked off her student debt and bought a condominium downtown within just two years of being called to the bar — something she says took a lot of determination and hard work. The 38-year-old says she inherited her work ethic from her family.
The wall behind Walker's computer monitor in her downtown office is peppered with inspirational quotes about perseverance by an array of athletes and politicians — from Winston Churchill and Colin Powell to Serena Williams and Bruce Lee.
"Quotes are very motivating, especially if I have to come into the office at six or seven o'clock on a Saturday or Sunday," she says.
"I look at these quotes and these very successful people and think to myself, you just have to work hard. It drives you."
When she was a young girl, Walker always admired television character lawyers, such as Clair Huxtable from
The Cosby Show
.
"I like that she appeared to be humble, well poised, very family oriented . . . I could see a part of myself in her or something I wanted to be in the future," she says.
Walker says the ability to help people drew her to law and that her affinity for business as well as her commerce degree from McMaster University pushed her towards commercial litigation.
"I think it's just a wonderful way to use the knowledge you have to help other people," she says.
Walker will not officially assume her role as bencher until Convocation reconvenes at the end of the summer.
Walker came in 22nd place in the bencher's election in Toronto with 2,871 votes. Members elect 20 members from inside Toronto in each election and 20 from other regions.
Walker became next in line to become a Toronto bencher after Isfahan Merali filled the vacancy left by former treasurer Janet Minor. Treasurers serve as ex-officio benchers and do not hold office as elected benchers.
Toronto bencher Paul Schabas' recent election to treasurer then left a spot open for Walker.
Janet Leiper, the chairwoman of the law society's equity and aboriginal issues committee, says Convocation has become more diverse since she first started working on law society files in the 1980s.
The law society imposed term limits in 2009, which benchers say made space for new faces and voices.
"It opened up the potential number of spots at the table to newcomers," Leiper says.
"I was one of those newcomers — not this time, but the time before."
The 2011 bencher election saw 18 women elected, which was the highest number of female benchers Convocation had ever had. With Walker's rise to bencher, Convocation will again have 18 women elected for this term.
In addition to adding more racial diversity to Convocation, Leiper says Walker's ascension to bencher will bring a young voice into the conversation.
"It's very important we have different generations of lawyers around the table, which is another source of diversity and another reason why I think Tanya will be a great addition," Leiper says.
The law society is currently working on finalizing a report concerning the barriers faced by racialized licensees. An interim report released last year found that a large number of lawyers from minority backgrounds thought their ethnicity or race was a barrier to advancing their career in the field.
Donna Walwyn, the president of the Canadian Association of Black Lawyers, says the law society has struggled with diversity, but it is working hard to tackle the issue by reaching out to marginalized groups.
"Any time we can introduce additional diversity into our governance, our regulatory process, is a good thing," she says.
"I think we all know diversity of opinion, diversity of experience, and diversity at large is a beneficial thing to anybody, to any group or organization and the same is true for benchers in the law society."
Joanne St. Lewis was the first elected black bencher outside of Toronto, when she first became a bencher in 2001. Hope Sealy was the first black female lay bencher for Toronto from 1992 to 1998, but the lieutenant governor in council appoints lay benchers.