A shortage of bilingual superior court judges is hampering access to justice for English and French speakers, according to findings in a report by the commissioner of official languages.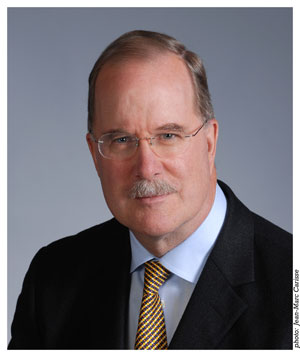 Commissioner Graham Fraser presented a report on bilingual capacity in the courts to Canadian Bar Association members at the organization's annual conference last week.
The report recommends applying some of the recruitment practices for selecting Ontario Court of Justice judges to their federally appointed counterparts, including those working in the superior courts.
Speaking at the conference, Fraser said: "While access to justice is a concern for all Canadians before the courts, equal access to justice in either of Canada's official languages is an additional challenge for the approximately two million Canadians who are members of official language minority communities."
Litigants who want to appear before judges in either English or French must "all too often" plead their case in the other language or "deal with additional costs and delays," said Fraser.
One reason is the "bilingual capacity of the judiciary for superior courts," he added.
The report's findings stemmed in part from a survey of 373 lawyers, the biggest proportion of whom came from Ontario.
More than three-quarters said that in regions or cities where it was more difficult for cases to proceed in minority languages, bilingual judges weren't always available. Three-fifths of respondents said bilingual judges' language skills were insufficient.
The study also looked in detail at the appointment processes and language assessments used to recruit federally appointed judges.
The Office of the Commissioner for Federal Judicial Affairs Canada takes a first look at applications for these roles to check whether candidates have met basic criteria. Candidates must have at least 10 years' standing at the bar.
The judicial affairs office then sends lists of candidates to provincial advisory committees. The committees whittle down the list before the justice minister confirms an appointment.
The report states: "While bilingualism is on the list of competencies that are sought, it is not evaluated systematically or based on objective criteria. The advisory committees very rarely interview candidates."
In contrast, bilingual judges must fill certain posts at the Ontario Court of Justice. Ontario, along with New Brunswick, Quebec, and Manitoba, also interviews candidates to evaluate, among other things, their language skills.
Candidates applying to be justices of the peace are assessed on their oral and written French skills in line with provincial language standards.
The commissioner highlighted these practices as ones that could apply to federally appointed judges.
The report calls for Justice Minister Peter MacKay, together with the attorneys general and chief justices of the courts in each province, to set standards for bilingual judges' language skills and carry out systematic tests.
It also suggests identifying the number of bilingual judges required in each province.
It sets a deadline of Sep. 1, 2014, for the minister to "ensure appropriate bilingual capacity in the judiciary of Canada's superior courts at all times."
Speaking to
Law Times
at the CBA conference in Saskatoon, Fraser said: "Whenever we've raised the issue in the past with previous ministers of justice and the department, they've always said, 'We consult with the chief justice and each province and they say there's no problem.'"
While MacKay has said legal competency should be the most important criteria for selecting judges, "I would argue that language skills have to be considered to be an important legal competence," said Fraser.
MacKay addressed the findings at a media briefing last Monday. "It's not a question solely of resources. It's trying to find efficiencies, trying to identify the right people in the system, and trying to get to a place that will have more bilingual judges available to work within the system. That's the overall goal, clearly."
Asked about the Sep. 1, 2014, deadline set by the commissioner, he said: "I'm reluctant to say I'm going to meet that deadline until we've assessed what all the recommendations are and what the enormity of the challenge might be. That's a nice goal to work toward."
He noted he needed to digest the report fully before providing a "more fulsome response."
Access to justice was a hot issue for the duration of the CBA conference. The CBA produced its own report on the issue that criticized the "abysmal" state of access to justice in Canada.
It set out a road map for turning the situation around by 2030 that it says would involve more federal funding for legal aid and better data collection, among other measures.
Closing the conference on Tuesday, access to justice committee chairwoman Melina Buckley highlighted the fact that Canada has ranked 54th out of 66 countries on access to justice.
All lawyers have a "responsibility to in some way commit to helping with access to justice," she said.