ST. JOHN'S — A sustainable legal profession will involve the ability to sell law firm shares to non-lawyers and lawyers rubbing shoulders with other professionals at work, according to the final report of the Canadian Bar Association's Legal Futures initiative that looked at ways the industry must change to remain relevant.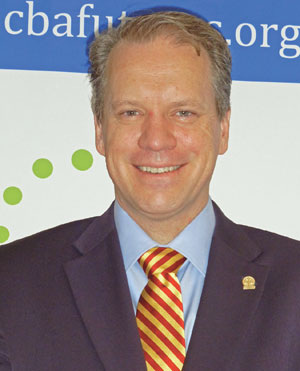 "The era of exclusive relationships with a lawyer sitting behind a mahogany desk administering expensive advice is coming to a close," according to the report that made 22 recommendations for change across the industry to promote legal innovation.
The proposals offer members of the profession "flexibility and choice in how to be a lawyer," said Legal Futures steering committee member Karen Dyck at the launch of the report during the CBA conference in St. John's on Thursday.
While the committee is proposing "pretty dramatic changes," the recommendations come from "best practices from all over the world," said Allan Fineblit, another member of the steering committee.
Clients are looking for more choice and flexibility in the delivery of legal services, according to the report. It noted people who haven't gone to law school may be in a better position to provide some of those services. "For example, many are seeking a medical clinic model where other service providers work in conjunction with lawyers to provide targeted and as-needed services."
The report even encourages fee-sharing and referral fees between lawyers and non-lawyers subject to conflict, privilege, and other rules.
But in the future envisioned by the report, non-lawyers' involvement would also extend to ownership of law firms. A "liberalized" regulatory model would allow for publicly traded law firms, according to the report. "Employing a liberalized model would allow the profession to uphold the public policy rationale underlying regulation while welcoming the investment and capital that spurs innovation, allows for global competition, enhances efficiencies, and facilitates new ways of serving clients."
Additional capital and flexibility would foster new ways of meeting client needs now left unsatisfied by an existing regime that "is no longer current or relevant," according to the report.
Outgoing CBA president Fred Headon said the current regulatory framework limits what lawyers can do. The need to work with others has to do with cost, he said, adding it's also about bringing more ideas to the table about how to provide services to clients who are demanding more. "We acknowledge quite clearly that you can only do so much innovation inside a box," he said.
"We need to find a way to balance the loosening of regulation on one side with new models of regulation that will help us facilitate working with other professionals while maintaining those principles and values that are so important to what we do."
Headon hopes lawyers will see opportunities as opposed to a threat in these ideas. "We certainly conclude that what lawyers do is as crucial as ever; how we do it needs to be updated and quickly," he said.
"There's a great deal of opportunity for Canadian lawyers to do more for their clients, to do more for their practices, and for our profession to do more as we play that important role that we do in society," he added.
While there's a concern for the independence of lawyers' opinions while working at firms co-owned by non-lawyers, Headon said new forms of regulation can address those issues.
"We can put in place arrangements that will allow for investment from non-lawyers into the firm yet provide the kind of protection that the public needs," he said. "We see this happening in the U.K. We see this happening in Australia."
A good way to ensure those protections is to move towards entity regulation, according to the report. Instead of regulating individual lawyers following a complaint against them, as is currently the practice, the CBA Legal Futures team is recommending proactive compliance-based regulation of law firms as well as the practitioners themselves.
Clients expect both individual lawyers and law firms to be responsible for their files, according to the report. "By assigning responsibility for compliance within organizations, there is typically substantive movement towards getting things done," according to the report. It cites a two-thirds drop in complaints against legal service providers in New South Wales, Australia, as "perhaps the most persuasive argument" for compliance-based regulation.
Business coach Gary Mitchell says the report is a challenge to lawyers to embrace change. "The idea of coming up with new forms of business structure after 200 years of tradition is well and good, but the real challenge for Canada's lawyers is to embrace change, not fight it," says Mitchell of OnTrac Coaching. "To change, they need time to think [in order] to plan and to build contacts with other professions and business disciplines. Perhaps the biggest obstacle to change is persuading lawyers to take even a little time away from billable hours today to prepare for a new style of business tomorrow."
In her speech during the CBA conference last week, Supreme Court Chief Justice Beverley McLachlin lauded the organization for taking the innovation issue on. At a press conference later on, she said she couldn't say whether outside ownership of law firms is the best model for the profession but noted the public would benefit from a debate on the issue.
For more, see "
Bold move by CBA
" and "
Embracing reform
."