With at least 19 of 40 Law Society of Upper Canada benchers preparing to vacate their seats this spring, a number of lawyers are working to make sure their replacements won't look just like their predecessors.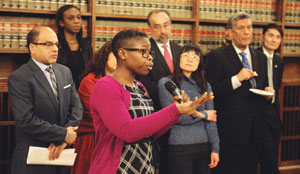 "There's a saying: If you're not on the table, you're on the menu," said Renatta Austin, speaking at an event last week for minority lawyers seeking a voice at the law society's governing table.
This year's bencher election follows a law society report that found a significant number of lawyers from minority groups feel their skin colour is a barrier to entry and advancement in the legal profession.
Part of the conversation on that report revolved around representation at the law society itself, and with so many incumbents not able to run this year due to term limits, the time is ripe for change, according to Lai-King Hum, chairwoman of the Roundtable of Diversity Associations, the group that hosted last week's event.
"In light of the recent law society consultation paper on challenges faced by racialized licensees, the current bencher elections take on particular importance," said Hum.
About a dozen racialized lawyers who attended the event on March 3 spoke about why they're running. "It's absolutely time for young lawyers and for diverse lawyers to finally have a voice at the law society," said Austin, a 28-year-old black lawyer and one of the youngest candidates in the April 30 elections.
In case anyone is wondering why someone with just two years of work experience in the legal profession wants a seat at Convocation, Austin said she wonders why lawyers who haven't been in law school for four decades have been making decisions about articling and legal education.
Austin said she was in her final year of law school when the law society embarked on the articling debate. "It was very clear to me and it was very clear to many of my peers at the time that the discussions that were being had and the people who were having those discussion were very far removed from the articling process and the experiences of articling students," she said. "It was very frustrating at the time," she continued. ". . . We were saying, 'Is anyone talking to us? Is there someone down at the law society who understands what's going on?'"
For some of the incumbent candidates like Bencher Raj Anand, the appeal in running again is to be part of the imminent change at Convocation.
Anand, who's running for a third term, admitted he was one of those who advocated for a two-term limit for benchers and noted he struggled "almost daily" with the decision to put himself forward again.
"This is quite honestly true: I decided to run because I saw it as an opportunity to see a critical mass of younger and more diverse benchers in Convocation," said Anand.
Bencher Janet Leiper, who's part of the working group that investigated the issues faced by minority licensees, is teaming up in the election with Isfahan Merali, counsel with the Consent and Capacity Board and a public interest lawyer.
"Janet decided to take a step past mentorship of new candidates and actually champion new candidates," said Merali, who's part of the law society's equity advisory group.
According to the law society's report on racialized licensees, many non-white lawyers ended up in sole practice due to their sense of alienation and lack of opportunities despite feeling unprepared to hang their own shingle.
Lawyer Henry Chang noted he was one of those lawyers. He noted his career had taken a "more zigzag" path compared to some of his colleagues after he had trouble finding work at law firms when he finished his articles.
"For many of us, that's what led us to start our own practice; it's lack of opportunities," he said, noting he had to build a reputation and client base for himself as a sole practitioner for 18 years before joining his current law firm, Blaney McMurtry LLP, where he's now co-chairman of the firm's international trade and business group.
"The bottom line is I've experienced all of the barriers that are described in the report by the law society," said Chang, adding that while he'd like to think things had improved over the last 20 years, the law society report is proof the challenges still exist.
Those challenges include feeling like you're "not a real lawyer," said Gilbertson Davis LLP lawyer Lee Akazaki, who's also a candidate in the election and a former president of the Ontario Bar Association.
His career path wasn't always the easiest, said Akazaki, adding he always felt he had to work twice as hard as many of his colleagues. "It's a path along which all of us in this room have had to travel not so much because it's a typical career but because, despite our efforts, despite our talents, despite our creativity, we're made to feel, or we feel, like we're not real lawyers because of the colour of our skin," he said.
Other minority candidates in the upcoming bencher elections include Douglas Sanderson, an associate law professor of Cree background at the University of Toronto; Joanne St. Lewis, a professor of law at the
University of Ottawa; Mississauga, Ont., lawyer Harry Mann; Ministry of Attorney General lawyer Sandra Nishikawa; Tanya Walker of Walker Law PC; Brampton, Ont., lawyer Raj Sharda; and Dianne Corbiere of Nahwegahbow Corbiere Genoodmagejig in Rama, Ont.
Incumbent benchers Jeffrey Lem, Avvy Go, and Jack Braithwaite are also seeking re-election this year.