Real estate lawyers are decrying what they say is a lack of consultation on a new federal relocation services contract, expected to set fixed rates below market price for their services.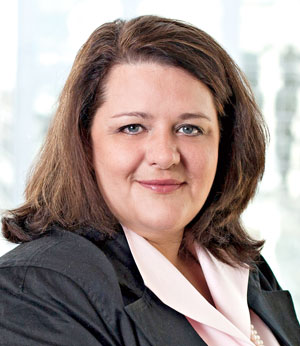 The contract is for the Integrated Relocation Program, which provides relocation services to federal employees, such as RCMP officers and members of the military, who have to move for work.
Each year, around 18,700 employees and their families are moved through the program.
The federal government is in the process of re-issuing the contract, which sets out the terms of services, which includes any legal work involved in the relocation.
Lawyers say they were not consulted on the previous multi-year contract and that they have not been consulted on the renewal process.
"The problem that I have with it is that nobody consults the real estate bar," says Merredith MacLennan, chairwoman of the real estate law committee of the Federation of Ontario Law Associations.
"Nobody went to the real estate bar and asked could you do this work for this price."
Under the current contract with Brookfield Global Relocation Services, real estate lawyers' fees are fixed at a rate, which they say is well below market rates.
In Ontario, lawyers receive $700 for a purchase and $475 for their work on a sale transaction under the contract.
The Working Group on Lawyers and Real Estate — a joint initiative by the Ontario Bar Association, FOLA and the Ontario Real Estate Lawyers Association — released a suggested fee schedule that recommended a lawyer be paid a minimum fee of $850 for a purchase on a property that was $100,000 or less.
For transactions on properties worth more than that, it recommends the minimum fee in addition to a percentage of the price of the property.
MacLennan says market rate prices for purchases tend to be between $800 and $1,200, and for a sale a lawyer would typically charge between $600 and $900.
"It's definitely well below market rate in Ontario," she says of the fees on the current contract, which was issued in 2009 with extensions.
Lawyers say the rates for real estate lawyers have been locked in since then, without consideration for inflation or increased costs. Lawyers also say they cannot afford to take on this work, meaning the employee who is being relocated sometimes has to cover the difference between the contract's fee and the lawyer's usual rate, if they wish to use a particular lawyer.
Timothy Kennedy, the past chairman of the Ontario Bar Association's Real Property Law section, says the current situation can therefore stop government employees from using the lawyer of their choice.
"The way the existing relocation contract is set up and the new one is being proposed, it doesn't allow some of our best citizens the opportunity to choose the lawyer that they would like," he says.
"They are restricted to lawyers who have agreed to abide by the terms of the service provider's contract.
And one of the things that makes that contract very onerous is the cost associated with the legal services are artificially low."
The request for proposals for the new contract lays out requirements that the relocation services company sets maximum rates for the legal work attached to such services. Lawyers worry that this will incentivize the bidders, who win the exclusive right to provide these services, to find lawyers who will offer extremely low rates and to fix those rates over the length of the contract.
And while real estate agents are paid on a commission, based on a percentage of the value of the property, lawyers' rates are fixed under the agreement.
MacLennan says this is problematic as not every purchase and sale is straightforward and may include unforeseen complications.
"If there is any sort of difficulty, if we need extensions, if there's issues that then need to be resolved, if there's further negotiations that have to happen, there is no provision in this contract for the lawyer to charge additional fees," she says.
"So you're stuck at this sort of block rate that is already below market."
Kennedy, who used to provide relocation services, says more experienced lawyers are increasingly realizing it is not realistic to do this work at the fees provided.
"I am aware of lawyers that did the work and will no longer do it because of the reporting requirements and the costs that they were allowed to charge," says Kennedy, who is now general counsel at MaxSys Staffing & Consulting.
MacLennan says the low rates mean that less experienced lawyers have been more willing to do this kind of work.
"When you start out you need to do whatever work comes your way," she says.
"More and more lawyers are saying I used to do that work, but I'm not doing that anymore."
Robert Tchegus, a Kingston real estate lawyer, says his firm, Cunningham Swan Carty Little & Bonham LLP, decided to stop doing the relocation work as it simply could not afford to continue doing the work.
"You don't have to do relocation if you don't want to," he says.
"Our problem was just that the fees were ridiculously low."
The firm, of which Tchegus is a partner, pulled out in 2008, when the federal government was in the process of re-issuing the contract.
Tchegus says he cannot envision how any lawyer could hold up his or her professional obligations under the Law Society of Upper Canada's Real Estate Practice Guidelines for Lawyers, given the volume of transactions they would need to take on to make doing the work profitable.
"When one goes through the law society's requirements — the professional checklist that they have for a real estate transaction — I challenge anybody, for those fees you cannot satisfy your professional duties," he says.
"So if you can't do that, somebody is hurting."
MacLennan says some lawyers have felt pressure to keep doing the work as they fear real estate agents will stop giving them work if they do not pick up the relocation services jobs.
She says those who continue to do the work also do so out of a sense of duty to existing clients.
Carleigh Taggart, an Ottawa real estate lawyer who provides the relocation services, says while the contract's fees are below market rates, no one is making her do the work.
"If I had to rely on the program for my livelihood, then sure, I wouldn't make much money, or I would have to close an incredibly high amount of deals to keep my firm profitable," she says.
"However, only a select few of my closings are through Brookfield.
"Given the military and RCMP move their members around the country often, it makes sense that the rates are below what most lawyers charge."
Taggart compares the relocation work to Legal Aid cases, where lawyers expect to do the same work they would do privately for less money.
MacLennan says she would like to see the contract altered so that lawyers' fees are not set in stone.
"We're trying to either get the legal fees exempted from the contract or work out [and] find some other mechanism to set the fees rather than at a set fee," she says.
Public Works and Government Services Canada, which issued the RFPs for the contract, did not provide comment before deadline.