With the Law Society of Upper Canada confirming the death of Toronto lawyer Javad Heydary, who disappeared amid an investigation into millions of dollars of missing client funds, the lawyers representing his former clients say they will now be seeking payment from his estate.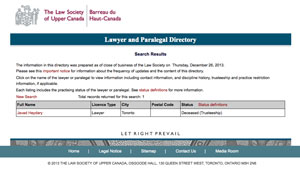 The circumstances of Heydary's death remain a mystery, according to Samantha Keser, one of the lawyers representing Samira and Hassan Abuzour, who are missing $3.6 million held in trust for them by Heydary Hamilton PC. Heydary's cause of death has not been publicly released, but the Law Society of Upper Canada says it confirmed his death through official documentation.

"The law society was provided with government issued documentation indicating that Mr. Heydary had died," says LSUC spokesman Roy Thomas. "On this basis, the law society changed the status on the lawyer directory on our public web site to reflect that Mr. Heydary was deceased."

Heydary left Toronto for Iran on Nov. 18 just after a court-imposed deadline to hand over $2.1 of the $3.6 million held in trust for the Abuzours. According to Keser, Heydary reportedly died on Nov. 24 and his body was repatriated to Canada on Dec. 20. Those who attended his funeral in Richmond Hill, Ont., confirmed his identity to the law society, she adds.

Mark Hayes, now-former co-director of one of the Heydary firms, Heydary Hayes PC, says he heard about Heydary's funeral in the media after it happened.

"I've heard nothing more about it at all," he says.

Hayes adds he is in the process of moving client files to his former firm, Hayes eLaw LLP, where he still maintains partnership. He resigned as co-director of Heydary Hayes PC as soon as the fiasco over missing funds began.

At this point, "We're carrying on the best we can," he says, noting he is working with the law society to ensure a smooth transition of client work.

"What I expect is going to happen is that we're going to have an agreement with the law society and all of the client files will transfer over to Hayes eLaw as will all the financial material — the trust funds and the general funds," he says. "We have to finalize some of that with the law society and some of the creditors of Heydary Hamilton but I'm expecting that's going to get done in the next week."

Hayes eLaw will either have a new location or become affiliated with another firm over the next few months, adds Hayes.

On Nov. 29, Superior Court Justice Julie Thorburn found Heydary in contempt of court for contravening her order to return the funds to the Abuzours. During a court appearance on Dec. 17, Thorburn preferred to reserve her sentencing ruling until the law society finalizes a report based on its investigation into the Heydary law firms, Keser tells Law Times.

"Justice Thorburn found it better in our clients' interest that the tracing [of funds] be completed by the law society . . . and to see what comes out of it," Keser says, adding the sentencing is now set to take place Jan. 20.

"[Thorburn] was very adamant on the law society getting the report done as quickly as possible," says Keser.

In addition to Heydary Hamilton PC, Keser says her clients will be seeking restitution from Heydary's estate.

As to how Heydary died, "We have no idea. We honestly don't know," Keser says, adding it's curious that Heydary's wife attended his law offices in Toronto on Nov. 21 and said her husband had died while the documentation shows he didn't die until Nov. 24.

"It's still a mystery. Everything is still a mystery."

The latest developments don't change her clients' predicaments, notes Keser. "They're out of $3.6 million."

Counsel for Robert Hamilton, who is listed on official records as a co-director of Heydary Hamilton PC, has told the court that his client does not recall ever consenting to be a director of the firm and has not been a part of the firm since 2003.

LSUC obtained trusteeship over all business activities at the Heydary law firms after Heydary left the country. At the time, Thorburn said she believed Heydary was aware of her Nov. 14 order asking his firm to return the funds when he left Canada. Thomas says despite Heydary's passing, the law society will continue to carry out its function as court-appointed trustee of Heydary's professional corporations.

In November, Michael Cochrane, co-director of Heydary Green PC, told Law Times his firm is separate from Heydary Hamilton PC and it's "carrying on business as usual." Last week, phone calls made to lawyers at other affiliated Heydary firms went unaswered and straight to full voicemail inboxes.