If Legal Aid Ontario has the money to hire more duty counsel, it should also invest in private-bar services through certificates, according to the Criminal Lawyers' Association.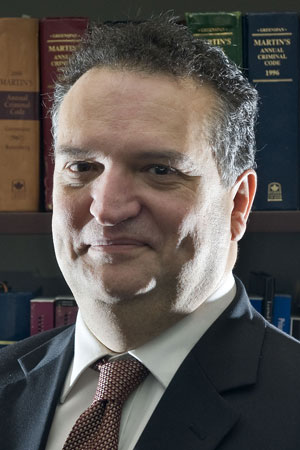 "The issue is why not invest in the private bar with this surplus?" asks Lou Strezos, who chairs the CLA's legal aid committee, of LAO's improving financial situation.
The comments come as LAO has begun a spate of hiring of duty counsel with the potential for those staff lawyers to handle more complex matters up to and including trials in some cases. "Where is the corollary expenditure with respect to a vibrant, independent bar?" asks Strezos.
LAO has vigorously denied the new duty counsel positions represent any kind of move towards a public-defender system. CLA president Anthony Moustacalis believes otherwise and suspects the move is a bid to head off a future boycott of legal aid matters by defence lawyers similar to the one they launched in 2009-10. "In my view, what's underlying this expansion of services . . . it's also a desire to maintain control over the delivery of services in a way that LAO hasn't had a discussion about," he says.
Moustacalis has other concerns as well. First, he says turning to duty counsel is unfair as it denies legal aid recipients the same right to counsel of choice that others enjoy.
He also says LAO is undertaking the current expansion with little notice or consultation with the private defence bar or the public. LAO, he argues, is "making public policy decisions without public consultation. That's anti-democratic."
When the CLA and LAO reached a memorandum of understanding to end the boycott in 2010, Moustacalis notes, part of the deal included block fees. While the fee amounts were low, he says LAO suggested lawyers could balance out more complicated cases by taking simpler matters they'd spend less time on. But a lot of those simpler matters ended up going to duty counsel, he adds. "There's a lot more of them than there used to be," he says of duty counsel, whose ranks have been growing significantly over the years.
In its responses to the concerns, LAO says it believes in a mixed system that includes a strong private criminal defence bar and notes it's embarking on hiring staff duty counsel after a financial analysis showed doing so was cheaper in some areas than retaining outside defence lawyers to do the work. It also says duty counsel rarely handle trials and notes the current expansion is consistent with its mandate to serve the poor. "If I can satisfy a client's need with a duty counsel service, I'm going to do that," David McKillop, LAO's vice president of policy, research, and external relations, said during a question-and-answer session at the County & District Law Presidents' Association plenary in May. He was responding to questions about the expanded role of duty counsel and whether they'd be doing more complicated matters such as murder trials.
"Duty counsel cannot do complicated, complex work," he said.
Asked directly about duty counsel doing murder trials, McKillop said: "I do not anticipate they'll be doing murder trials."
But he added: "It depends on what the qualifications of the person would be. I can't say it would never happen but it's not necessarily part of the plan."
McKillop also addressed the concerns about clients having choice of counsel. "People have choice of counsel, and if they want to use the staff service, the can do so. If they want to utilize a member of the private bar, they can do so. We will not be steering certificate work to these folks."
While there have been suggestions the current expansion is a major one, neither LAO nor the CLA were able to offer detailed numbers on the hiring. At the CDLPA plenary in May, McKillop noted LAO had already hired three senior counsel with plans to fill more positions this summer. The goal of the new senior hires, he said, was to assist in areas not served by the private bar as well as to mentor other duty counsel. He cited the lack of private defence lawyers to take certificate matters in some areas due to the greying of the bar as an additional reason to hire more duty counsel. "I can't afford to wait until the day that happens," he said.
Essentially, McKillop said that if duty counsel feel they're capable of resolving a matter and they have the client's instructions, they'll do so. That's the case even if the client is facing jail time, something he admitted hasn't generally been the approach in Ontario. In general, they'll likely handle matters where someone's facing up to 30 or 60 days in jail, he noted.
The duty-counsel expansion is among a number of moves that have been making things more difficult for defence lawyers over the years, according to Strezos. "We also saw last year a tightening of discretion," he says of LAO's willingness to compensate lawyers who put in claims for extra pay due to the added demands of a case.
Defence lawyers have also struggled as LAO issues fewer legal aid certificates. But according to LAO, the decline in certificate numbers is more a reflection of decreasing crime rates and declining activity in the criminal courts than anything else.
The duty-counsel expansion isn't the only legal aid change coming down the pipe. In the coming days, legal aid clinics will be eagerly watching the release of a report on reform of their system with an expected proposal to rationalize it with just three organizations in Toronto with an additional one each for York and Peel regions. Among the critics of the proposal is Gary Newhouse, a Toronto lawyer who handles workers' compensation claims and chairs the board of Kensington-Bellwoods Community Legal Services. While it's a plan he says will "in effect blow up the clinics," Newhouse hopes other organizations will join his board in expressing concern about the proposal with a view to coming up with a different model. "There's certainly some concern with the model but nothing that's coming out officially at this point," he says of the other clinics.
Newhouse says his organization continues to participate in the clinic transformation effort and says there are other ways of addressing concerns about the current framework. If clinics are too small, he says, one way to fix that is to provide more funding to allow them to expand. He also says smaller-scale mergers may be possible and admits it may be necessary to relocate clinics that now find themselves in gentrified neighbourhoods.
Jack De Klerk, one of the clinic lawyers leading the transformation efforts, has said mergers are necessary to address inefficiencies in the system in light of the limited resources available. While there will be fewer organizations, the proposal would also provide for neighbourhood services provided in co-operation with other organizations.
Following the report's release in the coming days, the plan is to take it to the various clinics to see how they feel about it. "I think that the authors of the report are going to [undertake] a hard sell of that report with the clinics," says Newhouse.