Last month, Statistics Canada reported that between 2012 and 2013, the index that measures crime rates and the severity of offences went down by almost 10 per cent.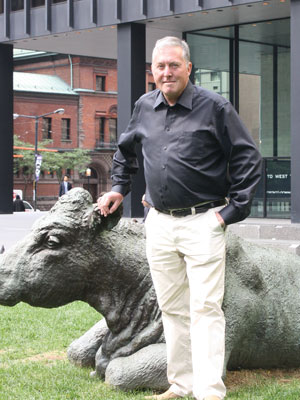 The report follows a steady decline in crime rates in the last decade that also saw a 36-per-cent drop in the severity of offences.
Yet discussions about overcrowded prisons continue as governments build new or expanded facilities to manage the overflow.
According to lawyers and prison experts, everyone from the federal government to criminal defence counsel have played a role in creating the paradox.
A major part of the issue lies with police, Crown prosecutors, and even the courts in missing the spirit of bail release provisions, says Toronto defence counsel Bill Trudell.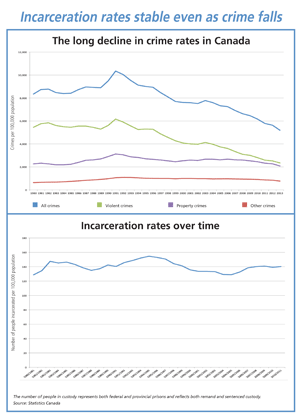 "I think there's too many cases where police officers who have the right to release under the Criminal Code aren't aware of it or don't exercise it," he says.
"So it's a lot easier to just remand somebody and have the courts deal with it."
Once cases get to the bail courts, they often land in the hands of young and less-experienced Crown counsel who tend to be even more risk averse, Trudell notes. "You don't want to be the Crown who releases somebody and read about a murder the next day," he says.
"It's a lot easier to keep somebody in custody or it's a lot easier to ask for conditions of bail that are hard to manage and so sometimes people are in custody for quite some time."
But what drives the culture of risk aversion even when the incidence and severity of crimes are on the decline?
"The elephant in the room is, of course, the Harper government's election on tough-on-crime policies, making mandatory minimums, and cutting parole and so forth," says prison lawyer John Hill.
There's a sense that Canada is adopting an "American-style" corrections system, according to Hill, who notes the reality is in fact changing south of the border.
"We're turning over to what we think is American style, but even they are moving away from it," he says. He gives the example of Texas, where authorities are trying out alternatives to putting people in jail after their first non-violent offence. "So I think we, [in Canada], are being left in the dust."
Legislation introduced under titles like the Safe Streets and Communities Act gives people the impression that their towns and cities aren't already safe, Trudell suggests. "It's really a dishonest message," he says.
"The culture of risk aversion is built in from the government when they pass down legislation."
Defence counsel aren't blameless either, says Hill. Instead of seeking the appropriate prison terms for their clients, some criminal lawyers simply ask for something less than what the Crown wants, he says.
"Especially at pretrial levels, the Crown would ask for a certain incarceration time and I unfortunately see some of my colleagues just saying, 'OK, well, we'll take a little bit less.' I think too many defence counsel say, 'The Crown wants 12 months; I can get you seven.' It's sort of a game. They're not looking at the overall picture."
Defence counsel also agree to numerous bail release conditions that are hard to meet, says Trudell, something that contributes to the high number of people who are in custody for administration-of-justice offences.
Canadians pour billions annually into the corrections system. According to Statistics Canada, expenditures on adult corrections, excluding the Yukon and Nunavut, totalled $4 billion in 2010-11. That's a 40-per-cent increase from 10 years ago.
The most troubling part of the issue, according to London, Ont., lawyer Kevin Egan, is that prisons aren't turning criminals into better people, which he says is one of the reasons for putting offenders into the corrections system. Canadian jail conditions don't promote respect for the law, he says.
"When people are treated like animals, they tend to accept that that's what they are and begin to behave that way," he says.
The problem is cyclical, he adds. "The overcrowding issue really exacerbates the problem in a way because people who aren't otherwise really bad people end up in jail and get institutionalized to the way of thinking of the more hardened type of criminals."
Adding to the problem is mental illness, according to Trudell. When people look like they may be a danger to themselves or others due to mental illness, they're more likely to remain in remand custody, he says.
With the closure of mental-health facilities across North America, "we've really turned prisons into storage houses for people who have [psychological] illnesses," Hill suggests.
After a peak in the early 1990s, crime rates have gone down significantly in Canada. According to Hill, the decline in the country's crime rates is consistent with changing age demographics. He notes the "big [crime] bubble" following the rise of young baby boomers is fading away as that generation ages.
He says that for the most part, "crime is a young man's disease and the only cure is birthdays."
According to data collected by the International Centre for Prison Studies in 2012, Canada's incarceration rate is about one-sixth of that of the United States but is higher than in many European countries of similar social and economic development.
---
As Canada's penitentiaries begin to overflow, a four-part
Law Times
series this summer is looking at the issue of remand and other trends within the correctional system in Canada. Using data from various reports, the series is exploring why more people are ending up in jail even as crime rates go down.


For more articles in the series, see "
Prison segregation rising
," "
Women inmates on the rise
," and "
Reliance on sureties boosting Ontario remand numbers
."