Goli Amirpour says she paid former lawyer Angelina Codina $24,000 to bring her brother and his friend to Canada from Iran.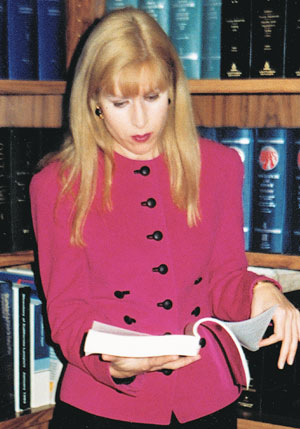 But a year later, Codina, who was disbarred for bilking Legal Aid Ontario out of thousands of dollars, "did nothing," says Amirpour, who was one of many people who contacted police regarding the former lawyer.
"I am so outraged; I am so angry," she says. "I cannot believe this is Canada."
Last month, police arrested Codina in a project called False Angel and hit her with a slew of fraud charges for allegedly posing as an immigration lawyer.
"The woman is not an immigration lawyer, and in some cases, did not render any services beyond collecting fees," according to police.
Codina is facing 12 counts of fraud, but police believe there may be even more victims. Although police arrested her last month, they had been receiving complaints about Codina's downtown Toronto firm since 2011. None of the allegations have been proven in court.
Amirpour says she and many others were under the impression that Codina was either an immigration lawyer or an immigration consultant. Daniel Roukema, spokesman for the Immigration Consultants of Canada
Regulatory Council, tells
Law Times
Codina was never a member of the council "in any shape or form." While the council aims to protect consumers and raises awareness of immigration fraud, Roukema says consumers are ultimately responsible for the choices they make.
Stomping out fraud is a complex endeavour evolving multiple regulators and government bodies, according to Mario Bellissimo, president of the Canadian Bar Association's national immigration law section. Since the passage of Bill C-35 that amended the Immigration and Refugee Protection Act, officials are prosecuting fraud cases more actively and there has been an improvement in
co-ordination among the various authorities, he says.
But since the provincial government is getting more involved in immigration, "there also should be an additional consideration for them to become involved in fraud prevention," he adds.
This isn't the first time Codina is facing accusations of fraud. She served nine years in a New York prison after the Manhattan State Supreme Court found her guilty of posing as an immigration lawyer 14 years ago. She was also ordered to pay $108,840 in restitution.
But when it comes to facing her legal troubles, Codina has fought them vigorously along the way. Following her conviction in the legal aid case, for which she received a six-month sentence, she took the matter to the Ontario Court of Appeal. After it rejected her appeal, she filed for leave at the Supreme Court of Canada, which dismissed the application.
Upon her release from prison in 2009, she followed through with an appeal of her disbarment, an application previously deemed abandoned. In her plea to reschedule the appeal, Codina said if the regulator could go after lawyers acquitted by courts, it followed that it should at times find in favour of lawyers who have been convicted.
"In my view, acquittals are very different than convictions," wrote hearing panel chairman Mark Sandler in 2010.
On one web site on which several posters accuse her of taking their money and not doing the work she promised, a person writing under Codina's name replied with a strong denial.
"Wow! It is truly unbelievable that these kinds of postings are being permitted without verification of claim or identity," says the reply written last year. In a different comment, a poster under Codina's name said the various complaints were in fact coming from a disgruntled former employee.
In response to one online complaint, a poster under her name wrote: "Here is a person who claims that his application was rejected when in fact it was approved and the proof is available. Having identified himself in this manner, the matter can certainly be taken up in a court of law and not only will he be liable for libel and slander but his status in Canada may certainly be jeopardized further."
According to Codina's LinkedIn page, she attended law school at the University of Ottawa Faculty of Law after completing a political science and philosophy degree at McMaster University. In addition to a number of sports-related awards, her page also notes she has diplomas in Spanish, German, and Greek.
Amirpour says Codina's resume was convincing and she didn't believe a person without the proper credentials could obtain a business registration in Canada.
"I don't know how she could do these things and no one stops her," she says.
The Law Society of Upper Canada has "a limited role to play" in immigration fraud cases, says spokesman Roy Thomas.
Although the Law Society Act prohibits unauthorized practice, "the law society has no special authority or power to investigate unauthorized practice," he says. "The authority under the act can be exercised by police and others as well. Where another agency has more specific authority to investigate, the law society may support those other investigations as the circumstances require."
Much of the governing legislation regarding immigration fraud is under the jurisdiction of the Immigration and Refugee Protection Act and the Criminal Code, Thomas adds.
Amirpour says she worked as Codina's Farsi consultant when she lost her job this year. That's when she found out no work had been done on her file, she says. When she contacted police and the law society, both said they had received other complaints about Codina, she notes.