'An educated client is a good one'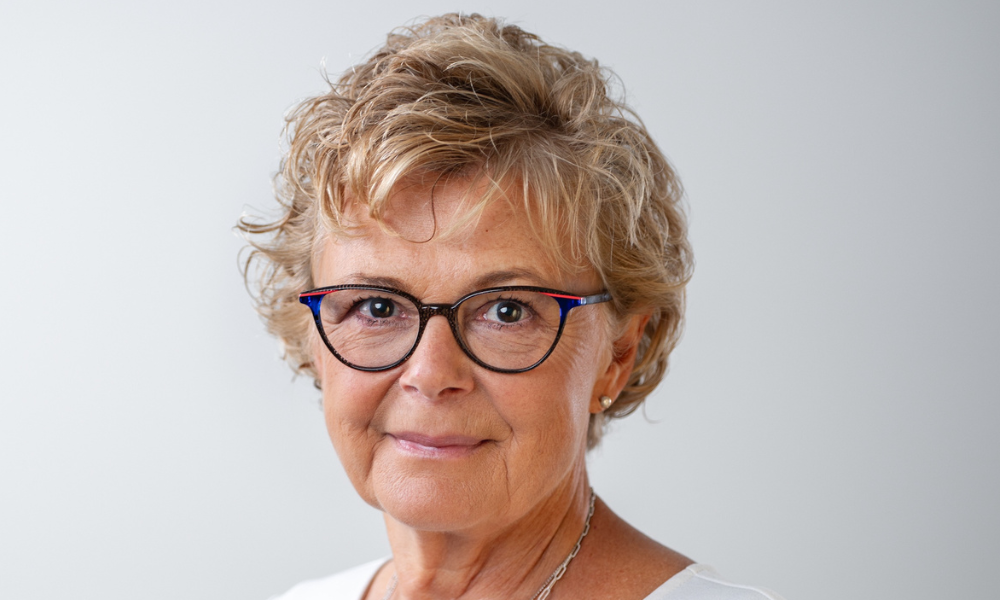 In 1996, when Barbara Legate launched her own practice in Woodstock, Ont., there were only a few women leading litigation firms and fewer on the plaintiffs-only side. In this "high-risk, entrepreneurial" practice area, lawyers must distinguish themselves in the courtroom before the risk reaps a reward. And this takes time, focus, and money, she says.
"The only path is through the courtroom door. There are more women leading firms today, but we need more to recognize they can do it. If I have a legacy, I hope that will be part of it."
Legate is the senior trial lawyer at Legate Injury Lawyers in London, Ont. Called to the bar in 1981, she has been practising law for over 42 years. She has a daughter who entered the profession in 2019, and her daughter's education and introduction to the law have given Legate an opportunity to reflect on what has changed.
After abandoning an initial plan to become a kindergarten teacher when she discovered it would take seven years of school to qualify, Legate applied and was accepted to Western University's law school after only two years of undergraduate studies.
"Law schools at the time were not terribly friendly places for women."
She discovered this quickly, studying the chapter in her contracts textbook titled "Mental incompetence, children, and married women" and listening to a professor tell a female classmate – who is now a Crown attorney – that law was "really hard work" and women were not cut out for it.
Once practising, she found courtrooms could also be unfriendly. One judge in a family law matter told the court that "it's people like Miss Legate here" who are the problem with Canadian society. That "problem" was married women in the workforce.
"That was my milieu," she says.
Legate notes that her contemporaries struggled against that environment and brought the profession to where it is today, with equality, diversity, and inclusion a priority.
"I will go into a courtroom, and the judge is a woman. All the lawyers are women. The medical witness is a woman… Bringing women into the profession – quite apart from what that judge had to say – has improved it immeasurably."
"Today, when I go into a courtroom," she says, "I am just looked upon as who I am. I will be given the respect that my argument deserves and nothing more and nothing less. In that respect, I do believe that things have changed a lot over my 43 years of practice."
A turning point during those 43 years came during Legate's time as a director of the Advocates' Society in the mid-90s. She and several other prominent female litigators spoke about how their best and brightest were going to the bench and what that would mean for the next generation of female litigators who would lack mentors and role models.
"I would think about that conversation, and it would give me pause. So, I did decide to take my practice in a different direction." She steered her practice into personal injury, took leadership roles in the field, and was the first president of the Ontario Trial Lawyers Association. She also devoted herself to writing.
"One of the things that's attractive about being a judge is the opportunity to write what you think and to move the law forward that way," says Legate. Her husband, who has written 15 textbooks and many scholarly articles, encouraged her to think of writing as an influential tool. "It has been," she says.
Legate recently received the 2023 Ontario Bar Association Award of Excellence in Insurance Law. The award recognizes a lawyer's contribution to the development of insurance law through advocacy, teaching, writing, or legislative reform; professional leadership; maintaining the highest standards of professional competence, honesty, integrity, and civility; and enhancing the profession and community well-being.
For its award for excellence in insurance law, the OBA awards one regional and one Toronto-based lawyer. Deborah Berlach of Stieber Berlach LLP, who practises in Toronto, also won the award.
"When you look back on a career like mine – which is long and has gone through a few iterations – you can't help but learn some things about what makes a successful lawyer and a practice that you can be proud of," says Legate.
She learned early on that "you take care of the law, and the law will take care of you… you got to get the law right first." Another crucial point is that relationships matter. In the aggressive atmosphere of Legate's early family law practice, forming friendships at the bar went against how she understood her role. "It's something that I've repeated to my juniors and associates. Those relationships actually do matter. The people you work with are good people. They're doing their job. It's very important to recognize that."
Legate also notes that "an educated client is a good one." She and her colleagues explain concepts of fault, causation, damages, and medical negligence – which can be difficult to understand. They are transparent about fees and how they achieve a settlement recommendation or a recommendation to go to trial.
"As a consequence, a lot of people have said to me, 'Gee Barb, you only have good clients!' I have the same clients that everybody else has. It's just a cold call. But I think you can turn someone who might be a marginal client into a good client by respecting them and educating them and helping them to feel comfortable with the process."