Through his ride, Avis is raising money for RAVEN Trust, the First Nations legal defence fund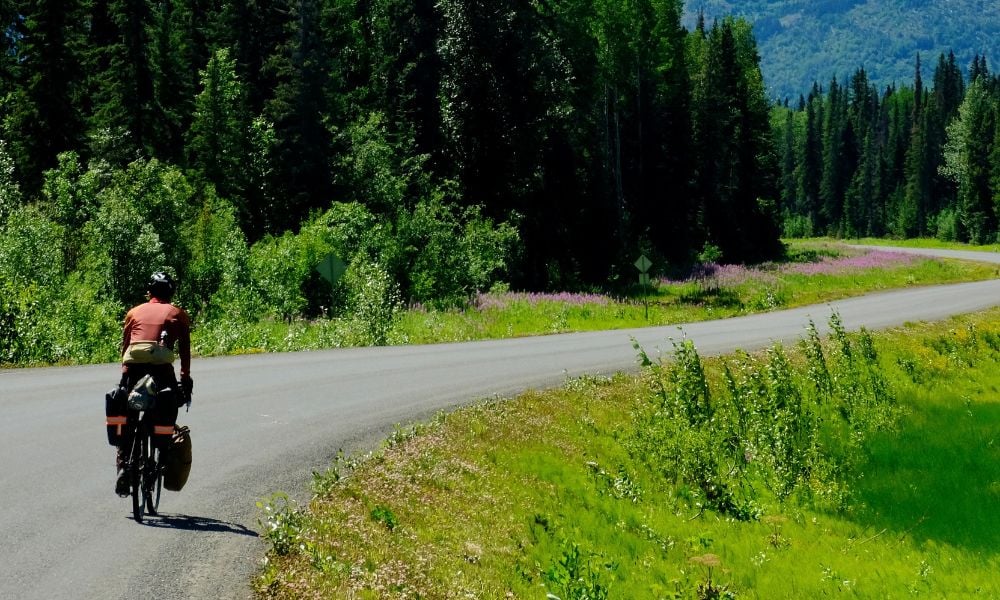 At 29, Nick Avis has not had much time to pause and look around since he left high school intent on becoming a lawyer. In six years, he got a bachelor's in business administration and completed law school. Studying at Western University, he had the option of doing the final year of his business degree while in law school, thereby shaving one year off the process.
"To some extent, I feel like that typifies the way I've looked at my career and the academic side of things," says Avis, who grew up in Goderich, Ont. "I've got a goal, I want to go for it, and that becomes my focus. It ends up being pretty intense."
He succeeded, graduating top of his class among an older cohort. He also summered, articled, and then became an associate at Stikeman Elliott in Toronto, practising restructuring and insolvency. In 2022, he took a job doing the same type of work at Akin Gump Strauss Hauer & Feld in London, England. In close to five years' practising, he has liked the work, the clients, and his colleagues.
"It was all a really good experience – quite enjoyable, for the most part."
But after a decade building a career, he felt he needed to shift the focus to his personal life. Like quicksand, it seemed as if the partner track would be harder to get out of the further he ventured into it.
"I thought it might be wise to sort of step back and reevaluate. What do I want to do?"
Growing up, Avis was never a jock but was raised to lead an active lifestyle. He took up running in high school, and long-distance road-biking in university. One summer break, he biked from Kingston to Halifax, which is around 1,700 km. After articling, he cycled from Mexico to Canada along the Rocky Mountains' Great Divide Trail. Around 4,200 km, it took him 21 days.
With the same attitude that has driven his education and career, Avis asked himself what the next step would be. He decided on a coast-to-coast-to-coast trip across Canada, from north to south, then west to east.
When Law Times spoke to Avis he was in Pemberton, BC – 200 km north of Vancouver. Arriving in Vancouver would mark the completion of the first leg of his journey, which began on the coast of the Arctic Ocean. He had already peddled 3,500 km from the hamlet of Tuktoyaktuk, in the Northwest Territories.
Avis will turn east in Vancouver and head toward St. John's. In total, he estimates the journey will cover between 10-14,000 km and take him around four months.
Lawyers tend to push themselves by seeing how many facta or legal briefs they can write, how much research they can do, or how late they can stay up to get work done, says Avis.
"But now, to push myself from a physical perspective is really interesting – something that I haven't really had the chance to do too much. And I really do enjoy this."
"Every day has been unique."
Avis has already been cycling for a month and says he has been amazed at the geographic diversity he has seen.
"When I started off in the Arctic, it was sunny 24-hours-a-day. It was hot – like, it was really hot. It was about 30-35 degrees, and there are no trees. It's just Arctic tundra, which is really green. I was not expecting that. And bright, crystal-blue lakes, just an incredible sight."
The tundra turned into mountains and Avis had to navigate around bears, moose, and wildfires. He rode an entire day with an n95 respirator on, and last weekend, he arrived at a town where he planned to set up camp for the night but was met with a large sign that said an evacuation order was in effect. Another town was completely engulfed in flames, and he felt the heat radiate and ash rain down on him as he approached.
Avis has mostly been without a phone signal and has had to navigate his route and inquire about upcoming conditions by talking to whoever he finds in his path.
"The people I encountered along the way make this all worth riding – the kindness of strangers, the friendly conversations I've been having, and the opportunity to learn more about Canada and its people is what keeps me going."
Avis is also riding for a cause. His goal is to raise $1 for every km he covers and he will donate the proceeds to RAVEN Trust, a legal defence fund for Indigenous nations pursuing their rights in court.
"I do think that as a settler in Canada, we all have a duty to make sure that we uphold and protect and enforce Indigenous rights," he says. "That is something that governments across Canada have consistently failed to do, leaving, essentially, litigation as the only method for a lot of nations to enforce their rights."
"As someone that believes in the rule of law, supports the constitution, and wants to make sure that we do the moral and ethical thing, I thought that working with RAVEN would be the right choice."