Former Justice Allen Linden Remembered Osler Launches Innovation Challenge Shevaun Mcgrath Joins Mccarthy Tétrault Law Times Poll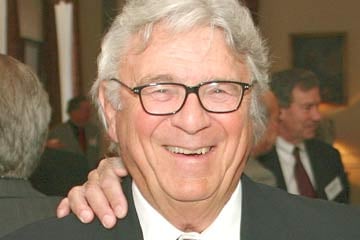 FORMER JUSTICE ALLEN LINDEN REMEMBERED
Lawyers who knew a retired Federal Court of Appeal judge who died in late August remembered him as a brilliant legal scholar and a deeply caring person.
Colleagues and friends lauded Allen Linden as a pioneer of Canadian tort law, who taught internationally and wrote extensively.
"A legacy of achievements can be attributable to one's inherent wisdom or amicable humour or relentless passion or a range of other character traits," says University of Ottawa law professor Jeremy de Beer, who served as Linden's law clerk between 2001 and 2002.
"Justice Linden was all of these things — wise, funny, passionate and more — but his most significant impact, I believe, is attributable to his basic attitude about relationships among people."
Colleagues say Linden played major roles in significant policy reform initiatives, including the introduction of no-fault auto insurance and compensation for those injured by crimes.
Linden was a law professor at Osgoode Hall Law School for years before he ascended to the bench.
He was first appointed to the Ontario Superior Court in 1978 and was later selected to serve on the Federal Court of Appeal in 1990.
Called to the bar in 1960, Linden received his law degree from the school at which he would later teach. He also achieved a Doctor of Science of Law from the University of California at Berkeley.
Lorne Sossin, the dean of Osgoode Hall Law School, describes Linden as a passionate law professor, law reformer and jurist.
"His love of law and its potential to help people solve their problems was infectious," Sossin said in an email.
"His commitment to mentorship was legendary."
Last year, Linden was awarded the Order of Canada alongside his brother, Sidney.
OSLER LAUNCHES INNOVATION CHALLENGE
Osler Hoskin & Harcourt LLP has started an innovation challenge for its associates. Called the Associate Innovation Challenge, the initiative will see associates from a number of the firm's offices look to develop innovative legal ideas.
Ryerson University's Legal Innovation Zone helped launch the challenge by providing a legal tech overview and design thinking exercises to associates.
SHEVAUN MCGRATH JOINS MCCARTHY TÉTRAULT
Corporate lawyer Shevaun McGrath has joined McCarthy Tétrault LLP's Toronto office as a partner and co-head of the firm's national private equity group. McGrath joined McCarthy Tétrault from Goodmans LLP, where she practised for 17 years.
LAW TIMES POLL
A Law Society of Upper Canada tribunal has removed a former treasurer from representing a lawyer in a discipline proceeding.
Readers were asked if they agree with this move.
Roughly 66 per cent said yes, it's reasonable to have a policy that benchers cannot be retained to represent practitioners before the tribunal prior to completing a one-year cooling-off period.
The remaining 34 per cent said no, the decision is unfair and the cooling-off period is too long.