Canadian Named Firm's Global Chair Rhodes Wins TLA Award Case Management Pilot Launches Law Times Poll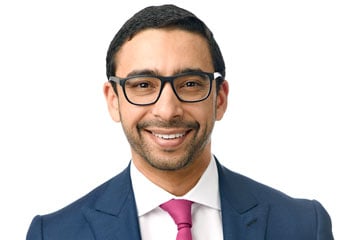 CANADIAN NAMED FIRM'S GLOBAL CHAIR
Walied Soliman has been named global chairman of Norton Rose Fulbright, heading up the firm's supervisory board.
Soliman says he has multiple goals for his time in the role as chairman.
The first is to engage with clients around the world to expand their practice areas, the second is to focus on diversity and inclusion within the firm, and the third is to continually evolve the firm's processes around mental health, and a focus on the firm's global governance.
"Our number one goal remains our commitment to being widely regarded as the leading business law firm in each of our jurisdictions," he says.
He says that under the leadership of global chief executive officer Peter Martyr, the firm has gone through "unprecedented expansion."
"Essentially, my role is going to be the chair of the global partnership board — a non-executive function but important governance function within the partnership and an important ambassadorial role outside of the firm," says Soliman who is also Canadian chairman at the firm in Toronto.
RHODES WINS TLA AWARD
Emma Rhodes, who works in association with Paradigm Law Group, will be awarded the 2019 Honsberger Award on Feb. 27, the Toronto Lawyers' Association announced.
Rhodes was chosen for the Honsberger Award — presented to candidates that exemplify knowledge, community and advocacy — for her work advocating for children and youth, the TLA's announcement said.
The ceremony will take place Feb. 27, at the Omni King Edward Hotel, at 37 King Street East. At the same ceremony, Justice Rosalie Abella of the Supreme Court of Canada will receive the 2019 TLA Award of Distinction.
CASE MANAGEMENT PILOT LAUNCHES
As part of a two-year pilot program, Ontario's Superior Court of Justice aims to test whether a type of case management called "one-judge case management" can make civil cases faster and less costly. The pilot begins Feb. 1, 2019, according to a Jan. 3 announcement by Superior Court of Justice Chief Justice Heather Smith.
The supplemental case management system lets the case-management judge preside over all pre-trial hearings, case management conferences, and the trial, according to Smith's announcement. Regional senior judges will select participants in the program, but parties can apply by sending in a form, Smith wrote. The form is online at ontariocourts.ca.
LAW TIMES POLL
A group of personal injury lawyers say they support a bill to end "postal code discrimination" in auto insurance rate-setting in Ontario. Law Times asked readers if they support the proposed bill. A majority, 61 per cent of respondents, said they agreed with the bill, and that the bill makes sense to prevent residents of the GTA paying different auto insurance rates based purely on their place of residence.
A minority of respondents, 39 per cent, disagreed with the bill, and said most jurisdictions in Canada and around the world include geography as one of their factors when setting rates.