OBA Launches First Innovator-In-Residence Program Groom Joins McMillan, To Focus On Labour Windsor Seeks New Professors Law Times Poll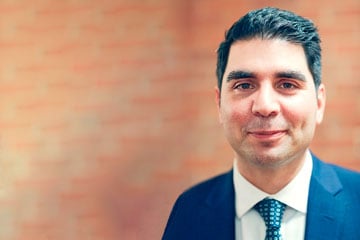 OBA LAUNCHES FIRST INNOVATOR-IN-RESIDENCE PROGRAM
The Ontario Bar Association has announced its inaugural Innovator-in-Residence will be Peter Aprile, a tax litigator and founder of Counter Tax Lawyers and a producer of the firm's Building NewLaw podcasts. The OBA launched the Innovator-in-Residence program recently to identify and develop innovations that will help members better serve their clients.
During the residency, Aprile hopes to "investigate ways in which law firms can evolve and unleash the potential in their people," he says.
"I think it starts with an open-minded investigation in terms of what's out there, what's possible and what's needed."
Technology is secondary in importance to organizational structure and culture of law firms, Aprile says, and while it's fine to look at "shiny new objects" such as artificial intelligence and blockchain technologies, "it's talent that wins."
It's critical to society that the legal profession continues to thrive and survive, says OBA president Quinn Ross, in explaining the motivation behind the OBA's new program.
"As client expectations and economic pressures grow, the OBA innovator program will provide the tools to take advantage of disruptions and change, year over year," he says.
GROOM JOINS MCMILLAN, TO FOCUS ON LABOUR
Patrick Groom has joined McMillan LLP in Toronto as a partner in the labour and employment group, the firm announced. Groom has a particular expertise in construction labour relations and will also assist clients on workplace injury and accidents issues and workplace investigations. Groom previously worked at Sherrard Kuzz LLP in Toronto and at Cavalluzzo Shilton McIntyre Cornish LLP.
WINDSOR SEEKS NEW PROFESSORS
The University of Windsor's Faculty of Law has posted jobs for two tenure-track assistant professor faculty positions. The job description encourages applicants versed in Indigenous legal traditions and criminal, contract, tort or constitutional law, family law, tax law, trade law, administrative law and client-facing theory and practice to apply. Windsor Law currently has 31 faculty members and said that candidates should have a graduate degree in law or equivalent experience beyond the first law degree, as well as a demonstrated record of research and teaching. The application closes Sept. 6 and requires an online application, including three reference letters. The faculty roles begin July 1, 2019.
LAW TIMES POLL
Toronto lawyer Rocco Achampong is among lawyers voicing opposition to the provincial government's plan to cut the number of city councillors in half.
Law Times asked readers whether they agreed with the move by the provincial government to cut the number of elected Toronto city councillors.
About 53 per cent of respondents said the move will promote efficiency and cost savings, while 47 per cent said cutting the number of councillors is harmful and will hurt the democratic process.