Legal Aid Ontario Collects Race-Based Data New Partner At Law Firm Pilot Project Via USB Law Times Poll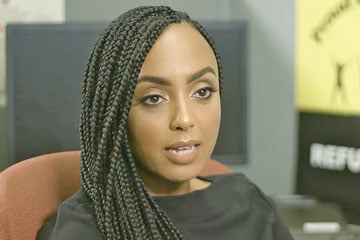 LEGAL AID ONTARIO COLLECTS RACE-BASED DATA
As of April 1, Legal Aid Ontario started to collect race-based data from individuals who are applying for legal aid and individuals who will receive legal aid services.
The practice has been encouraged by the Ontario Human Rights Commission for years, and now there is support for LAO's action by internal and external community organizers and organizations, including Project Rosemary and Color of Change. Moya Teklu, LAO's acting lead of racialized communities strategy and policy counsel, says this is a step toward greater access to justice for racialized communities; these include all individuals who don't self-identify as white.
"We recognize racialized people have different outcomes in the justice system, and we want to know how to deliver our services better and how to create the types of programs these groups need," says Teklu.
LAO has data from Métis, First Nations and Inuit peoples, but it doesn't have any information from clients of any other race yet. In the past, LAO's screening process focused only on its clients voluntarily self-identifying as Aboriginal. Now, this will expand to all racialized communities.
"When we receive this new data, we will make that data public in the future," says Teklu.
NEW PARTNER AT LAW FIRM
Michael Osborne has joined Cassels Brock & Blackwell LLP as a partner in the firm's advocacy and competition, antitrust and foreign investment groups. Osborne will be assisting clients in relation to proceedings brought by the Competition Bureau, such as "criminal matters, abuse of dominance and marketing and advertising matters."
Osborne defends clients in private proceedings under the Competition Act, including price-fixing class actions, according to a press release from the firm.
PILOT PROJECT VIA USB
As of April 3, civil parties must submit long motion evidence in civil matters on a USB and provide paper documentation in front of judges at 393 University Ave. The pilot project was launched by the Court Services Division of the Ministry of the Attorney General and the Superior Court of Justice to improve the process of filing court documents in Toronto. This pilot project doesn't apply to long motions before masters, according to information from the Toronto Lawyers Association.
LAW TIMES POLL
In this week's poll, Law Times reported that the Law Society of Ontario appealed an order that required the regulator to provide more disclosure to a lawyer facing an interim suspension who was dismissed. Law Times asked readers if they agreed with the move to require more disclosure from the LSO.
Eighty per cent said yes, the decision will be important for lawyers who face interlocutory suspensions going forward.
Twenty per cent said no, imposing such disclosure requirements on the law society will delay matters and compromise investigations.