Treasurer moves Convocation to in-audio after bencher Wilkes calls other benchers' views insane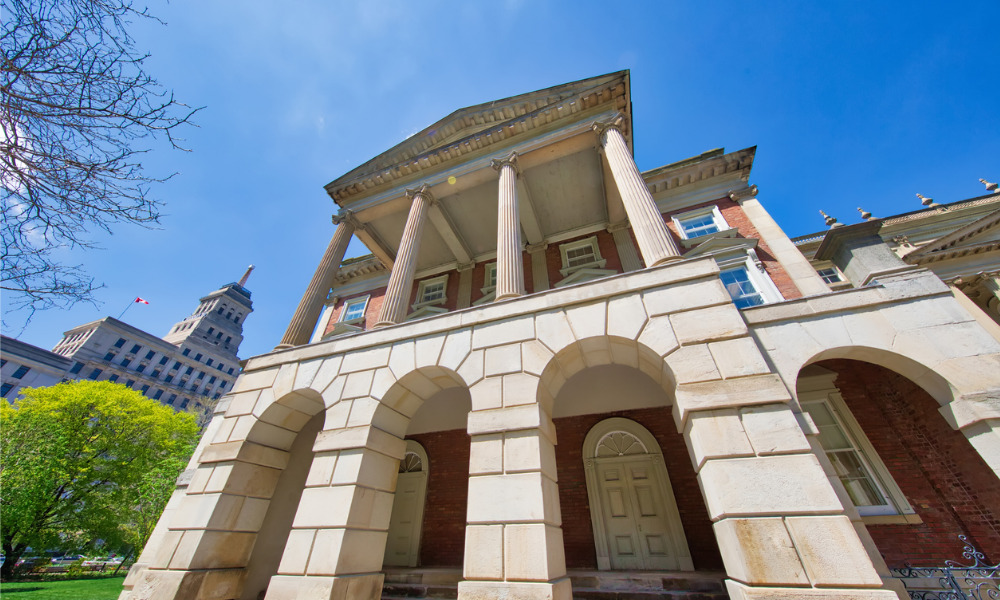 On Thursday's Convocation, the Law Society of Ontario benchers came to a head after the equity and Indigenous affairs committee submitted the LSO equity advisory group appointees report for information only.
StopSOP bencher John Fagan expressed his disapproval of the EAG after LSO treasurer Teresa Donnelly confirmed Convocation had no role in the appointment process of the EAG appointees except hearing it after approval by the EIAC. "This is not a matter that should be taken out of convocation's hands especially since there is no longer any need for the equity advisory group," Fagan said.
Convocation must revisit this equity and advisory groups existence, mainly because the "current equity advisory group does not want to engage with the current equity and Indigenous affairs committee," he said, referencing the equity partners working group report by the EIAC in June.
In the EIAC equity partners report, the equity partners expressed the desire to continue engagement with the EIAC through consultations and meetings but hesitated to participate in LSO committee discussions because of disagreement amongst benchers on procedural and substantive issues. Most of the equity partners also called for increased cultural awareness and sensitivity training for staff and benchers of the LSO.
Regardless of the "situation" that triggered the creation of an EAG, Fagan said there are now equity advocacy groups that can stand up for themselves. "We must deal with the superfluous equity advisory group and the unacceptable manner of how it is set up and its appointment made."
According to the equity partners report, the EAG is a part of the EIAC equity partners and represents the diverse interests of lawyers, paralegals, and students who are members of one or more equity-seeking groups historically underrepresented at Convocation. The EAG has been assisting the EIAC in developing policy options to promote equity and diversity in the legal profession for over 17 years.
Vice-chair of the EIAC, Atrisha Lewis, said the EAG and other equity partners are vital to the work of the EIAC, and the discomfort of the equity partners does not equate to not working with the LSO because they do so continuously. She says the EIAC creating an equity partners working group was to make the collaborative process with the LSO equity partners more positive and provide recommendations.
"Our equity partners may not feel comfortable because a lot of our members don't believe in equity. They're not going to feel comfortable working with us when we have benchers who don't support equity."
Bencher Julian Falconer distanced himself from Fagan's remarks and urged the LSO to follow course, saying it is frightening that the law society face the prospect of being seen as tone-deaf to the challenges faced by racialized professionals in the profession in 2021.
"What we uncover day after day is the realities of systemic racism, colonialism, and all the pieces that people have born as trauma. We continue to traumatize people when we deny the journeys that they face day after day and those journeys continue right into our profession."
Falconer said he is struck by how often the StopSOP group highlights problems with the equity mechanisms at the LSO but fails to offer alternative solutions to equity issues.
"I never hear them build, I only hear them dismantle and now there's an effort to dismantle our equity advisory group," he said. "I want to emphasize that after almost three years, what we now see is that there is only one agenda, to dismantle equity. No offering of other solutions around equity, simply a denial of the problem and a dismantling."
Falconer said the LSO must at some point identify those who dismantle and never want to build "because the absence of that second piece is proof positive that they don't want to be part of the solutions."
Bencher Etienne Esquega also distanced himself from Fagan's comments saying the LSO cannot do the work of equity and inclusion without the equity working group, and he was surprised Fagan would propose that they are unnecessary.
"I don't know how he proposes that we conduct the work that we're supposed to do. I also don't accept his characterization that they don't want to work with us. We've never had a situation where they've never showed up. They're always showing up and when we ask them for feedback on consultation, the work that they do is superb."
StopSOP Bencher Sam Goldstein dissociated himself from Fagan and Falconer's remarks saying that the problem the LSO was facing was its abandonment of equality and embrace of equity, which is a non-liberal western tradition.
Goldstein stated further that he disagrees with Falconer's equity agenda but understood equality and told Fagan that it's crucial to ensure that everyone is taken into consideration and encouraged to apply equality.
"I don't understand Bencher Falconer what you mean by racialized," Goldstein said. "I understand when people talk about ethnic minorities and religious minorities because that's about ethnicity, not race, and equity is that it adopts critical race theory and makes everything about race."
Lewis said the term racialized is embraced and adopted by the Ontario Human Rights Commission. "It's a very well-known word, so I'm not sure why that's a sticking point for people."
StopSOP Bencher Alexander Wilkes responded to Falconer's comments on the slate's difficulty with current equity policies and lack of alternatives, saying that he does not believe there is a venture of the LSO that does not hope for an equitable society where people are equally and adequately treated based on quality character, but not on immutable characteristics.
"The idea that the law society and others seem to have that we should take a power point in the past, identify historical discrimination, and then solve that by a current act of discrimination based on immutable characteristics and a zero-sum game is insane."
Treasurer Donnelly interjected after Wilkes remarks, expressing her disapproval and ended the public session of Convocation. "To have you say that some people's position is insane, I'm ending this now."