The wide-ranging Q&A covered aspects of McLachlin's life both on and off the bench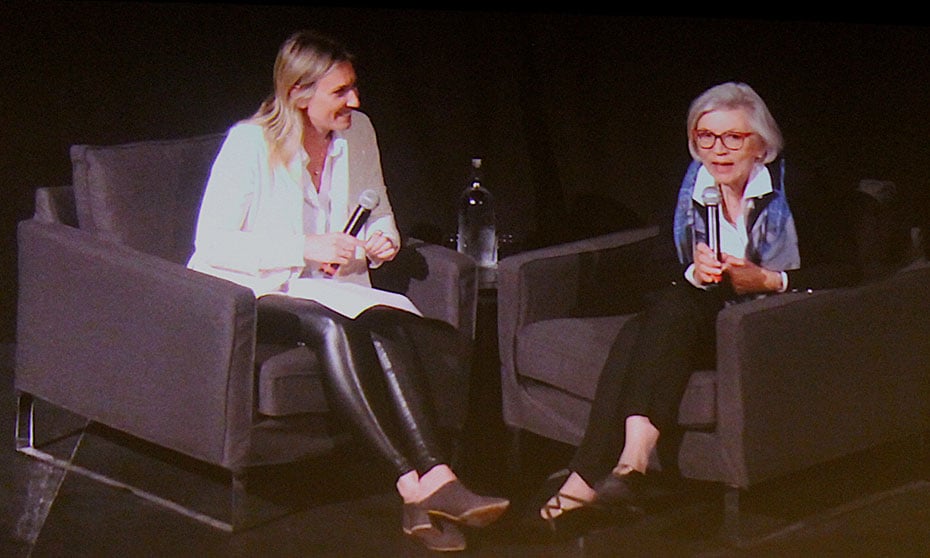 Former Chief Justice of the Supreme Court of Canada Beverley McLachlin said that — depending on what is being asked — there is nothing improper about governments asking for the help of former judges.
The question was posed to McLachlin by a reporter asking McLachlin about the SNC-Lavalin affair.
"Judges are required to retire at 75. And if they're not allowed to continue their life — many of them have lots of lots of wisdom and experience and things to share and ways to help people," McLachlin told a Toronto crowd, who had gathered for a Q&A related to McLachlin's new book, Truth Be Told: My Journey through Life and the Law.
"To say, 'Well, you can't be a judge anymore and you can't be anything else either is pretty harsh. And I think a lot of these retired judges who have gone into practice with law firms — I have not — they are there, they give advice, they help people with legal problems, and sometimes that client would be a government. So, I think that's perfectly in order has been going on for a very long time."
The role of former judges came to the fore this year after an ethical report about SNC-Lavalin's relationship with top government officials amid potential fraud and bribery charges.
Former Supreme Court Justice Frank Iacobucci acted as legal counsel for SNC-Lavalin, and, according to the ethics commissioner, Iacobucci reached out to McLachlin and other former judges. McLachlin was also approached by prime minister's office officials about giving advice to Jody Wilson-Raybould.
McLachlin opted not to get involved, she told Laura Stone, reporter for The Globe and Mail's Queen's Park bureau, at the Sept. 23 book-signing event.
"Governments approach lawyers and former judges all the time. . . . It depends what they are asking for," she said of the SNC-Lavalin affair. "I'm not called to practice law, I had no desire to give a legal opinion. And, I had no desire to be involved in this."
Stone also asked McLachlin about the term "activist court."
"It's one of those loaded kind of slogans that suggest some impropriety. I was an activist judge in that I took my cases seriously — what was I supposed to do, sleep on them?," she said. "I think what it what the phrase symbolizes in many people's minds is judges who are making changes to the law that should be left to the politicians."
McLachlin said that while judges aren't elected and can't be kicked out arbitrarily, they have to be very measured in what they do. But she said that if a judge is convinced a law violates rights, it's important to speak up.
McLachlin said that judicial activism has been used a lot "south of the border," less so in Canada, and is not used as much now as it was in the 1990s.
"People . . . . fear that unelected judges will change their society in profound ways. And they don't want those changes, even if those changes flow from the Constitution, the Charter of Rights and Freedoms," she said. "I don't think it's quite as black and white as that. Judges have their role, politicians have their role. Our executive leaders have their role."
The wide-ranging Q&A covered aspects of McLachlin's life both on and off the bench. She also discussed her support for training judges in sexual assault law, sexism in the legal profession, access to justice and the importance of mental health.
"There's been a huge amount of great work done over the last 20 or 30 years by the National Judicial Institute — in fact, some of the leading work in the world — on how judges need to be sensitive to gender issues, how they need to be very sensitive to how a victim or complaint feels in a sexual assault trial, what the rape myths and other myths are that the judge has to clear out of her or his head," she said. "But certainly judges, judges should be able to approach sexual assault trials in a rigorously impartial and sensitive way."
One reason she wrote the book — a rare move for a Canadian chief justice — was to reach "young women out there who dream of becoming a lawyer or a judge," and to help inspire people to be stronger and more resilient, she said.
"I mean, anybody who reads this book, and sees how things were when I started the practice law in the early 70s. And knows how it is now will say, yes, it has come a long, long, women are much more accepted," she said.
But there is still much to do in getting law offices to gender parity, even though the overt barriers may be disappearing, she said. For instance, a well-meaning CEO of a company may try to choose a successor with similar qualities who will uphold his legacy — which means a man might choose another man to step into his shoes, she said.
On the other hand, women sometimes have a hard time continuing in the practice of law to develop brilliant careers, because they face the assumption that they are the default caregiver. She noted that her husband was around the house more than she was.
"The way the practice is often structured, the demands are immense: long hours, long days, and being there at the beck and call of the client with very little flexibility. And that is built into kind of the ethos of the place, the expectation. And this used to work in Edwardian days about 100 years ago. And papa was available all day and night if necessary to deal with the problem because mama was in the house looking after everything else. Our our social structure has changed. . . . but we haven't changed our working culture."
McLachlin said it's important for there to be more diversity in the legal profession all the way up to the bench, and says she's hopeful that many of today's law students and young lawyers who are indigenous and racial minorities will become judges soon.
"Judges have to look at all sides of the question. And they have to be fair. Their ability to appreciate the lives that are affected by their decisions, values, and so on, have to come from deep inside them. And women will come with sometimes different sensitivities and perspectives. And so do people of racial minorities, indigenous people, and so on. And I believe we need all those perspectives on the bench," she said.
A question from the audience that prompted some chatter was whether capping lawyers' fees would help access to justice. McLachlin praised the work of pro bono clinics but also noted that many other organizations, like non-profits, also help with issues that might otherwise require a lawyer.
"Many people say I can't afford to go to court, I can't afford to hire a lawyer for all that time, I can't afford to get justice. And that seems to be wrong. So whole swathes of the population are perhaps left without proper legal redress," she said. "So in the last decade — I don't think there is a ceiling on legal fees — but there is so much that has been done . . . .There is legal aid, perpetually people say underfunded and there are issues with that in this province at the moment."
Another flashpoint for the legal profession this year has been around mental health. Supreme Court Justice Clément Gascon opened up about his depression and anxiety, and a panic attack that triggered his brief disappearance this spring. Having worked with Gascon, McLachlin said she never suspected anything, and found him to be thoughtful, polite and even-handed.
McLachlin's book describes a period of her teens where she was engulfed by dark thoughts. She said she's glad these issues are no longer swept under the rug.
"I think a lot of adolescents have very trying thoughts. And we know that we have too many suicides amongst teenage people, particularly indigenous people, but generally. And these children keep it inside, often their parents don't know — my parents didn't," she said. "We need to acknowledge that we are human beings. Judging is a difficult task. Judges can become so obsessed with getting the right answer, working things through, that they lose perspective. . . . . mental illness can happen."