Paul Sanderson stood out among his colleagues at Osgoode Hall Law School in the early 1980s.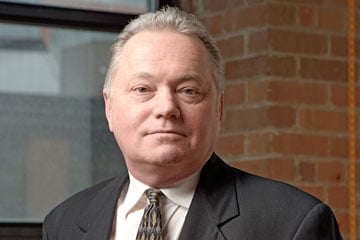 Paul Sanderson stood out among his colleagues at Osgoode Hall Law School in the early 1980s.
"A lot of them had fallen into law and didn't really know what they wanted to practise," he explains. "But I was laser-focused. I was there to make the plight of musicians and other artists better, and there was nothing else I was interested in."
Without a well-worn trail to follow, Sanderson blazed his own, taking any seminar he could that touched on entertainment law, and even convincing a film law professor to let him write his paper on the law as it affects music rights.
Outside the classroom, he could be found in local bars, plying his other trade as a guitarist. In fact, he'd only made the leap to law after trying out a string of part-time jobs in order to make ends meet while attempting to build a following as a performing artist. One of those temporary gigs saw Sanderson working as a legal messenger at Borden and Elliott, a predecessor of Bay Street giant Borden Ladner Gervais LLP.
"It made a big impression on me because I could see that the lawyers were paid a lot of respect, which was something I was short of in the bars where I was trying to make a living," he says. "I thought if I could marry those two disciplines it would be perfect because I could continue to play while at the same time practising in a field I was interested in."
More than three decades later, the principal at Sanderson Law in Toronto has established himself as a leader in the field of arts and entertainment law, in part through his authorship of the seminal legal text Musicians and the Law in Canada. Meanwhile, you can still catch him performing live this summer at a variety of festivals as part of the group Blue Room.
"I've been able to get some economic stability and be the patron of my own arts," says Sanderson, who is also a published poet and award-winning photographer.
Sanderson co-founded Artists' Legal Advice Services, a legal clinic providing free summary advice, with the aim of helping younger artists across all disciplines, but he says his dual role as legal professional and performer also lends him credibility with his more seasoned clients as he helps them navigate the challenges of a changing landscape.
"When I first started, record deals were mainly geared toward vinyl records. Since then, we've cycled briefly through cassettes and into the CD era, which began around 1989 and ran its course into the 2000s. They're still around, but [they] have been overtaken by downloads and now streaming," he says. "It all affects the deals, which is what we're all about in an entertainment practice.
"In many ways, those in the music industry have been canaries in the coal mine for the way that people consume digitally and online," Sanderson adds.
Similar issues have vexed some of the media production clients of Ottawa-based Edwards PC.
"Technology has changed very rapidly, and the result has been some very significant changes in the business models around the creation, financing and distribution of entertainment products," says Mark Edwards, the firm's principal. "The producers, who are most frequently our clients, are scrambling to try and find out where the market is, and even if they can find one, how to turn it into production funding.
"The Copyright Act struggled a little to keep up, and the same can be said of some of the tax credits," he adds, noting that it's only in the last year that the Canadian Audio-Visual Certification Office, which administers tax credit programs run by the federal government, announced a reinterpretation of its enabling legislation to extend eligibility to productions exhibited online, rather than exclusively on more traditional outlets, such as mainstream broadcasters or movie theatres.
Both Edwards and his colleague, fellow entertainment lawyer Byron Pascoe, draw on their own experience in the creative industry when advising clients. After his undergraduate degree, Pascoe co-founded an independent production company focused on TV and new media, while Edwards took a break from private practice to join a client animation company and then founded a game platform for professional and collegiate sports before returning to the practice of law.
"They appreciate our legal perspective, but from a practical point of view, I think it's also helpful for them to have someone who can relate to the realities of production having been there producing programs ourselves," Pascoe says.
One of the way Pascoe stays plugged into the city's thriving entertainment industry is via Artists' Legal Services Ottawa.
He sits on the board of the volunteer group connecting local creative types to legal information and resources, which recently celebrated its fifth anniversary.
"We're heavily invested in the success of our clients and of artists generally," he adds.
Though their interests are skewed toward intellectual property issues, ALSO president Lyndra Griffith says artists and content producers share many of the legal needs of clients in less glamorous industries.
"That could be agreement drafting, employment issues or conflict resolution," she says. "I've definitely noticed that artists are becoming more aware of their rights and wanting to protect them. I'm not sure whether it's to do with social media or the digital age, but people are definitely taking these things more seriously.
"We put on panels throughout the year in several areas around town, and they're usually standing room only," Griffith adds.
Inspired by those developments, ALSO marked its five-year landmark with a conference focused on the theme of artists' rights, including sessions on tax issues and succession planning, as well as a number of workshops streamed by genre of art.
"We had some great feedback," Griffith says. "The next steps for us are to try and improve the connections between everyone and be an even better resource for artists."
Editor's note: June 20, 2018. Change made to remove reference to Lyndra Griffith as co-founder of ALSO.